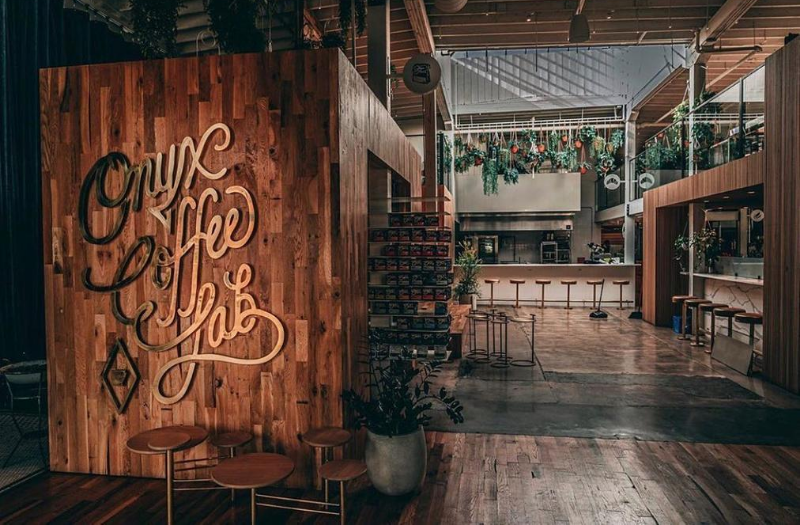 There has not been an event in recent memory that has transformed society as strikingly or as quickly as Covid-19. Businesses have been temporarily and permanently shuttered, employees have been let go, furloughed, or working from home, and individuals in every country have felt physical and emotional pain over their wellbeing as this global health crisis persists into the second half of 2020.

Every industry around the world has been impacted by the coronavirus in one way or another. But coffee companies, and the foodservice industry as a whole, have been dealt an existential crisis as their futures are thrown into tumult. Cafés of all types have been forced to reenvision their service or close their doors, as the coffee shop experience requires in-person service and hospitality – a risky act in the age of this pandemic. Specialty coffee shops like Stumptown, New York's Gimme Coffee and Chicago's Bridgeport Coffee have been forced to permanently close many of their cafés. And in June, Starbucks announced that it would shut down 400 of its locations globally.

But there has been an important silver lining for coffee companies – they were initially deemed 'essential' business as foodservice providers, allowing them to stay open for takeaway orders as stay-at-home orders were announced by state governors in the U.S. And as those restrictions have been lifted in various capacities, cafés can open with certain limitations in place.
How One of America's Top Specialty Cafés is Managing the Coronavirus
One coffee company that learned to make the most of these difficult times is Onyx Coffee Lab in Arkansas. Onyx is one of the premier specialty coffee roasters in the country, with three café locations, two roasteries and more than 100 wholesale partners. Onyx is especially esteemed on the coffee competition circuit: several of its baristas have been crowned U.S. coffee champions in the past several years, including Onyx's co-owner, 2020 United States Barista Champion and Urnex Ambassador, Andrea Allen.

When the coronavirus began to grip the United States in March, Andrea knew that it would change much of what Onyx does as a company. As a company with a customer-driven operation, it isn't possible to maintain all the touch points that a hospitality business strives for when individuals are mandated to stay socially distanced. But Andrea's goal throughout the outbreak has been to implement changes that felt controlled and kind, and that would uphold Onyx's core values.

On March 16, took a step that many other coffee shops and restaurants made: Onyx announced that all three of its cafés would be open for takeaway only, including its massive 30,000-square foot headquarters called the 1907, which houses one of its roasteries, cafés and many other outside businesses.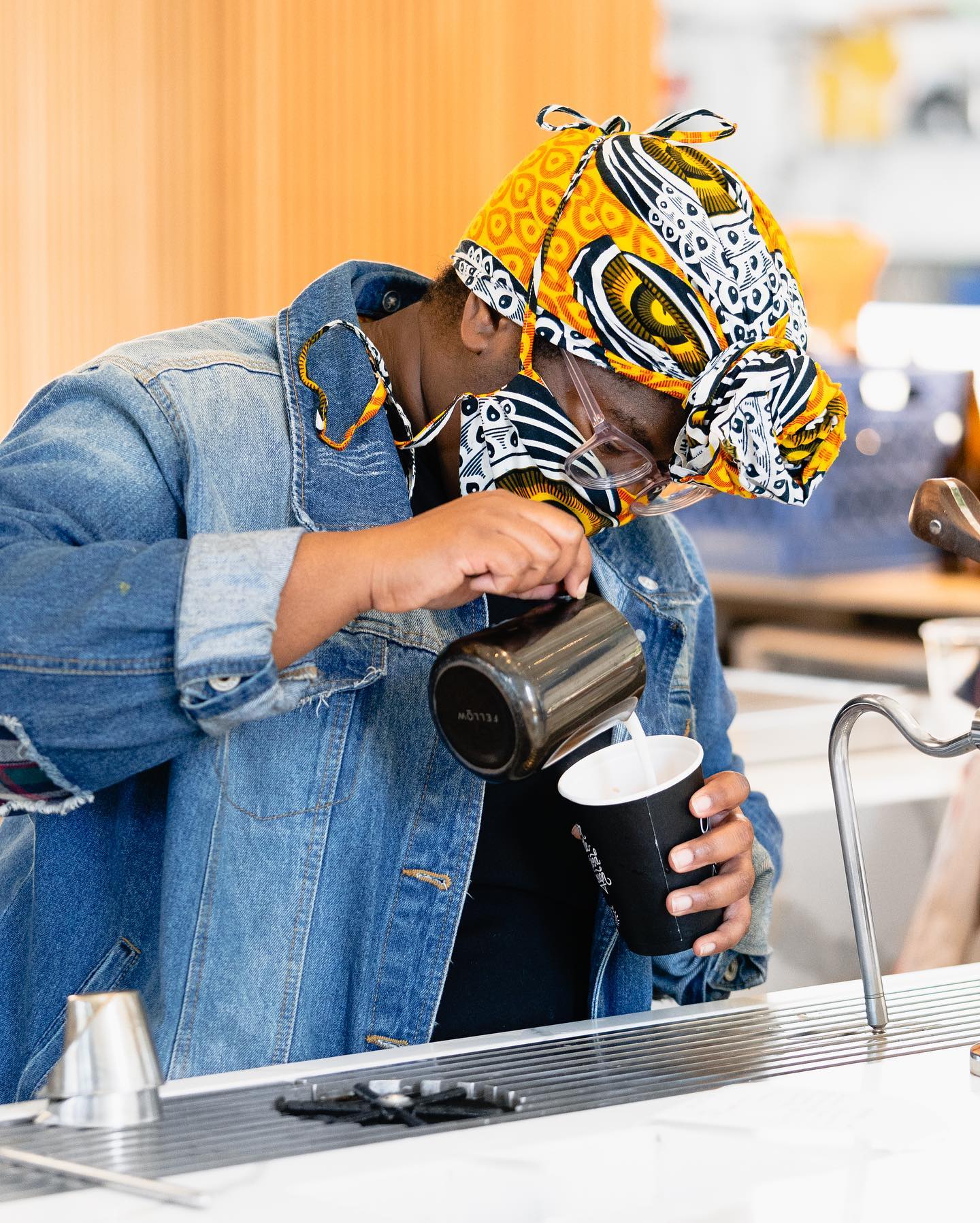 But even as Onyx has closed its physical locations, it has opened more access points for customers to purchase their coffee. Onyx created walk-up windows for customers to pick up coffee after calling their order ahead of time or ordering online. Onyx has also established itself as a delivery service, shipping orders of $50 or more anywhere in its community of Northwest Arkansas, in addition to its nation-wide delivery of retail coffee bags.

Onyx has also introduced its new batched iced lattes and cold brew concentrates called Big Gulps, so customers can enjoy large-format versions of their favorite craft beverages from Onyx at home. This takeaway innovation has been replicated at other renowned specialty shops like and Black & White Coffee in North Carolina and Monogram Coffee in Canada. Additionally, Onyx has begun offering local deliveries of Home Bundles, in which customers can mix and match orders of baked goods, pantry items like chai tea concentrates and milk cartons, and bags of their favorite Onyx coffee.

Onyx has also made significant changes to prioritize the health and wellbeing of its staff. The company has staggered the shifts of its roasting, production and café teams to ensure its staff can keep a safe distance from each other and customers, as well as to maintain the option to quarantine staff members if they become infected with the virus.

Overall, Andrea has aimed to mitigate the risks inherent in operating a business during a health crisis, and to help her staff feel safe coming to work and her customers feel safe drinking their coffees.

"This has been a very difficult balance," Andrea said. "We put health and safety first. We are doing everything we can to try to continue our business while maintaining a high level of quality in a safe way."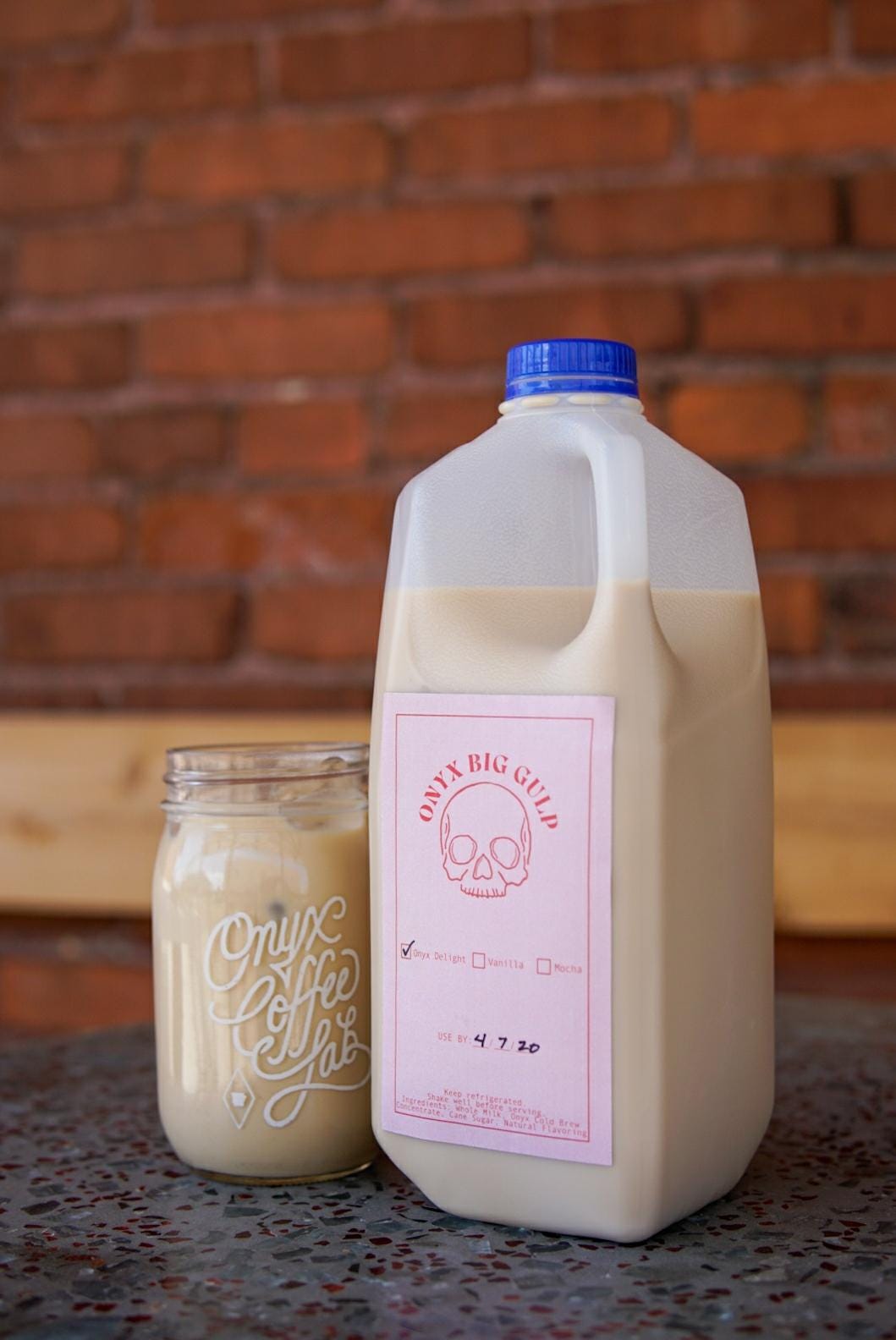 One of the biggest challenges Onyx has faced is confusion over information about the virus: whether that information is accurate, whether the recommendations on reopening are enough to ensure safety and navigating the differing opinions over the outbreak.

On June 10, the governor of Arkansas announced "Phase 2" of the state's reopening, which allowed restaurants and coffee shops to increase their occupancy from one third to two thirds. That day, the state's seven-day average of new infections stood at 329. Since then, Arkansas's caseload has skyrocketed, as it has in many parts of the country, and more than doubled to a seven-day average of 735 daily infections in late July.

This led to the governor to issue a mandate that people wear a mask when social distancing isn't possible, an order than went into effect on July 20. But even before the statewide ruling, Onyx had been complying with its local municipalities' mask mandate. Its cafés even provide masks to customers that don't already have one, and Andrea said most customers are wearing masks "happily".

Like many businesses, Onyx is monitoring the situation in its area in order to make decisions about its reopening strategy. Andrea admitted that she thought the local caseload would fall to manageable levels in the month of May, but now is unsure when that will happen.

But even as the future of the virus's spread is uncertain, Andrea maintains optimism about the future of Onyx.

"Our outlook is good," Andrea said. "We realize that we may never recover to what was once normal business. For us, we are not just in it for the world or for financial gain, but ultimately, we are in it because we love coffee and the coffee community.

"We will have to make changes, everyone will. We are hopeful that as things unfold and continue to change that we will be able to serve people well and with the same intentional hospitality that we have always tried to do."
Managing the Coronavirus as an Independent Barista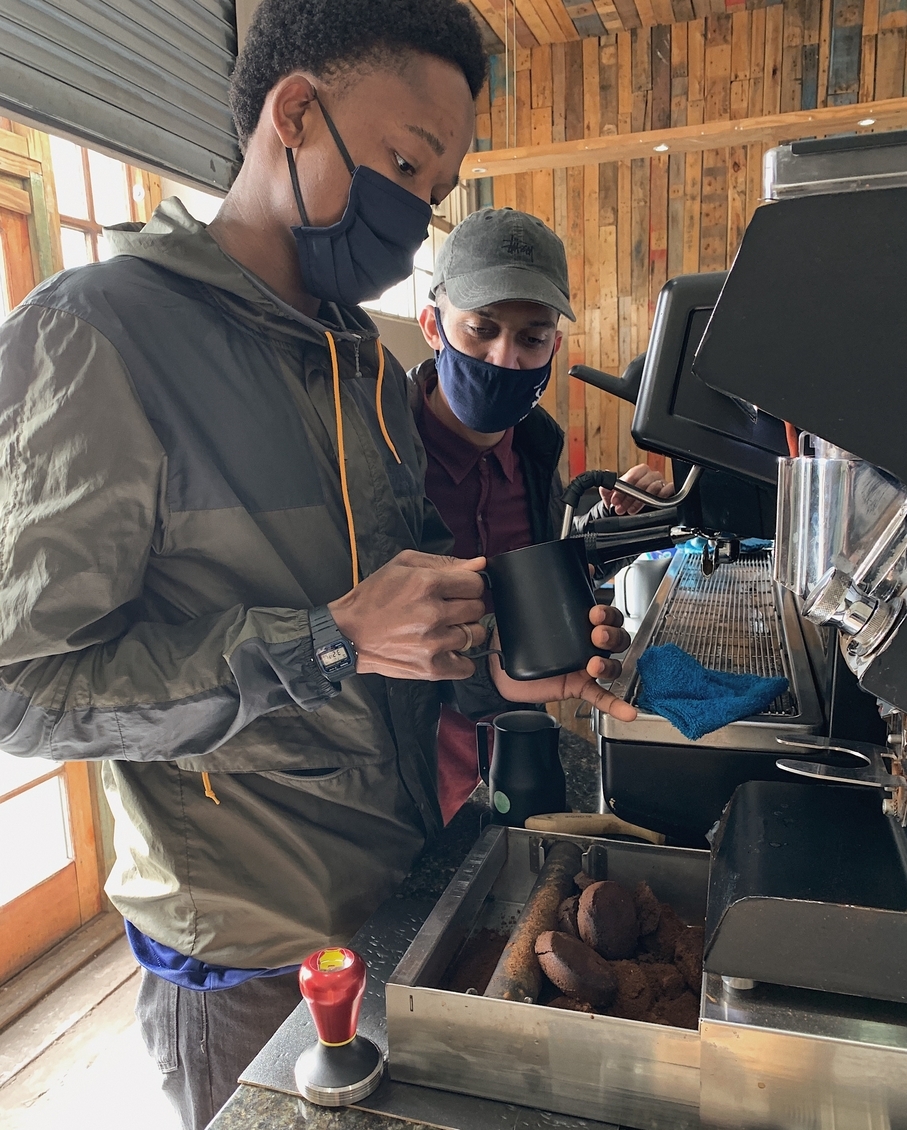 Halfway across the world in Cape Town, South Africa, the coffee community there has experienced upheaval from the virus outbreak as well. A strict Level 5 lockdown was implemented across the country from late March to mid-April, in which only essential businesses and employees could operate. E-commerce was also halted during this time, so coffee could only be purchased at grocery stores.

These closures have had a massive impact on working baristas. Winston Thomas, a three-time South African Barista Champion, freelance barista and coffee trainer and consultant based in Cape Town, was unable to work at all during the city's Level 5 lockdown. All his barista shifts were scrapped, and his training courses postponed.

However, since June 1, Cape Town's lockdown has been eased to a Level 3, in which cafés can offer takeaway options and limited sit-down service. And Winston has been able to resume some of his in-person coffee courses, with significant adjustments. He has implemented safety precautions such as taking the temperatures of each of his students, sanitizing surfaces and social distancing during theory sessions. He has also made changes to his course based on the SCA Modified Cupping Protocol and the CQI Lab and Hygiene requirements.

But even though Winston has been lucky to reopen his live courses, they don't quite feel the same as before the times of social distancing.

"I get really excited when I see my students progress in my training, so I naturally want to pat students on the back or give them a high-five," Winston said. "Restricting this is an adjustment. It definitely makes the training feel more rigid. But it's best to ensure safety."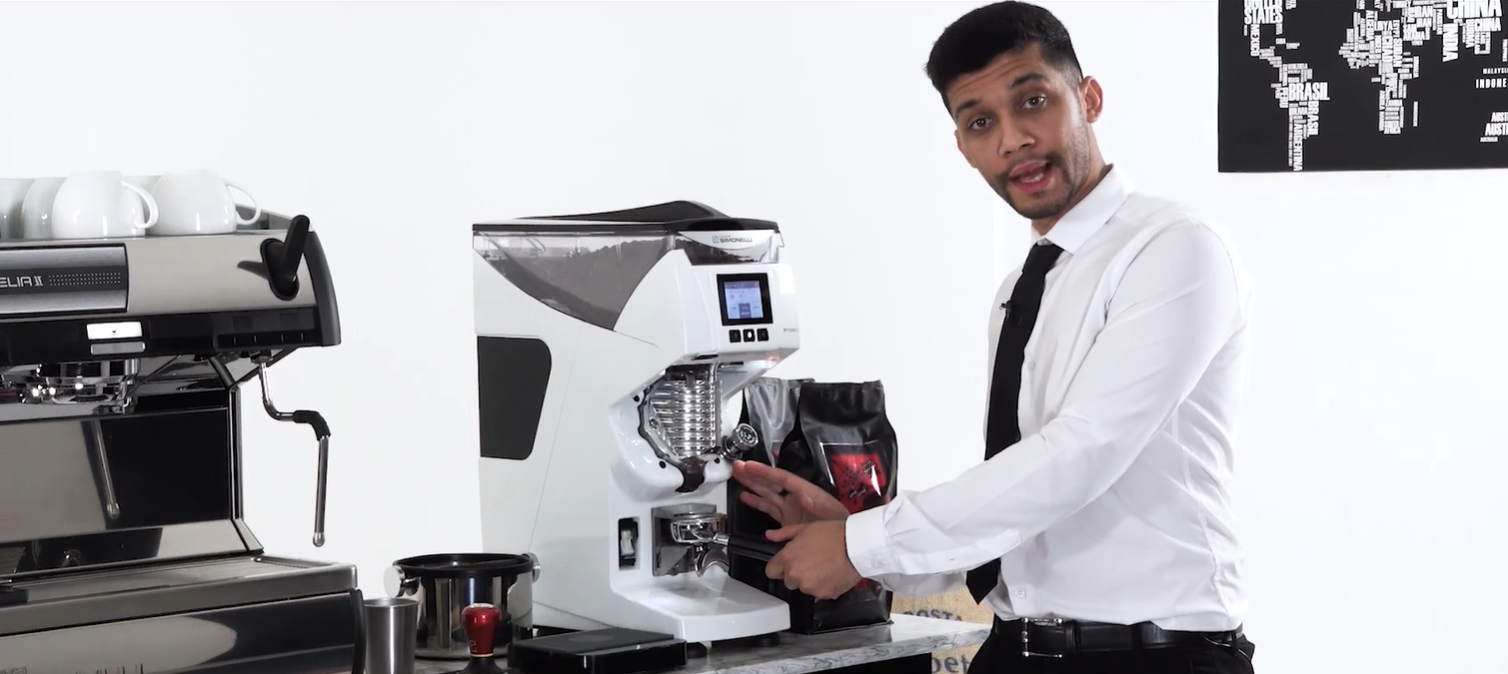 Besides his in-person courses, Winston has shifted to providing educational coffee resources online. He partnered with the digital learning company 101 Learn Online to create a series of barista videos aimed toward beginner baristas, home enthusiasts and new coffee shops and managers. The topics covered in these videos range from using coffee and espresso equipment, to espresso extraction and recipes, to roasting and tasting coffees.

Winston has also collaborated with other organizations in South Africa to bring coffee content to the masses. He gave an online talk with Gegrond Coffee Company and recorded a series of videos with Vodacom South Africa based around brewing better coffee at home. Additionally, Winston partnered with the African Fine Coffees Association to create SCA Introduction to Coffee courses online, and will be its official SCA trainer next year.

Throughout his experience during the coronavirus lockdown, Winston has seen a continued overall interest with consumers to drink quality coffee. People have flocked to takeaway coffee, proving that there is still high demand for coffee prepared by skilled barista. And he has observed an increased interest in brewing coffee at home, which he thinks will help coffee enthusiasts understand the nuances of coffee better than they ever have.

"To me, this is very promising," Winston said. "I think that if consumers are forced to make their own coffee at home, not only will they have a better appreciation for coffee made by skilled baristas, but they'll also develop a better understanding of the variables of making good coffee. And hopefully develop an interest to learn more about this."

For as long as this pandemic persists, this curiosity and engagement from coffee drinkers will be crucial. Specialty coffee baristas and shops have always relied and thrived on the connection they can create between the consumer and the coffee they serve. While cafés can't provide the same kind of connection and hospitality during these unprecedented times, coffee pros have proven that their innovation and perseverance can overcome the worst health crisis in a century. With new styles of service, at-home deliveries and online engagement, the specialty coffee community is using every tool in its kit in order to continue its commitment to their customers, and to coffee.