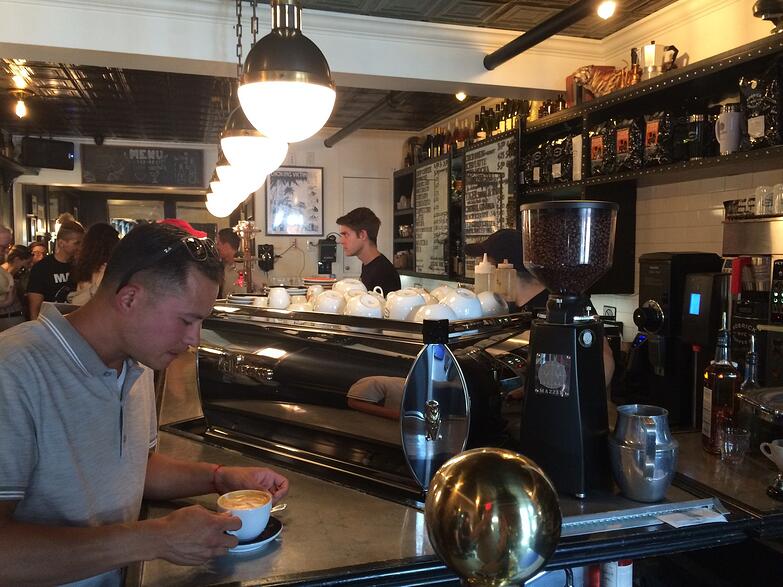 New York wouldn't be the city that never sleeps without at least a few shops serving up great cups of coffee. But it's one of America's truly great coffee cities because of the thirst New Yorkers have in taking part in unique coffee experiences.

The Urnex team had the chance to partake in two of these New York City coffee experiences last week: we explored New York's historic coffee past as part of the NYC Coffee History Walking Tour, and witnessed a bit of friendly coffee competition at the NYC AeroPress Coffee Championship.
NYC Coffee History Walking Tour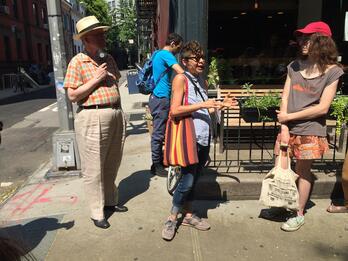 We took to the City streets with New York coffee guru Erin Meister to learn about the city's storied coffee past and to celebrate her first book, called "New York City Coffee: A Caffeinated History", which was published on The History Press on July 31.

A true coffee luminary, Meister is a content specialist for Café Imports, a coffee columnist for Series Eats, and works in customer support at Counter Culture. A coffee professional since 2000 and a dozen years a New Yorker, she was the perfect candidate to enlighten us on past, present and future of coffee in the Big Apple.

We traversed through the neighborhoods of Greenwich Village, the Meatpacking District and Chelsea, and stopped at the following spots for coffee talk and coffee drinking:
Porto Rico Importing Company: Founded in 1907 as an Italian food market, the company now sells more than 130 varieties of coffee from 28 countries, and is credited with popularizing flavored coffees
Caffé Reggio: Claims to have created the original cappuccino, and well as having the first espresso machine in New York City in 1927
Childhood home of Alice Foote MacDougall: She is Meister's ultimate coffee hero, and one of the first businesswomen in coffee who ran her own cafe in Grand Central that served only coffee and waffles
Joe Coffee Company: The original shop in the West Village that delighted customers with impressive latte art has now expanded to 14 locations in Manhattan, one in Brooklyn, and two in Philadelphia
Kobrick Coffee: After four generations of the Kobrick family roasting and selling coffee wholesale since 1920, the company opened its first retail location in the Meatpacking district in 2016, which doubles as a coffee and cocktail bar
Ninth Street Espresso: Considered the first specialty coffee bar in NYC, it operates its own roasting facility in Chelsea Market
Café Grumpy: Because of its proximity to a production studio, the original Grumpy location in Greenpoint, Brooklyn has been featured in television series such as "Girls", "Blue Bloods", and "Madam Secretary"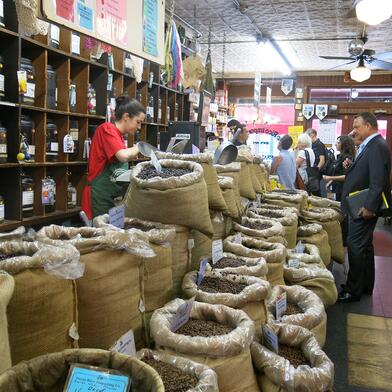 Urnex has a place in New York's coffee history as well – we've manufactured specialty cleaning products for coffee and espresso machines in New York since 1936. We're proud to have helped coffee lovers in New York and beyond enjoy better tasting coffee for the past 81 years, and we're excited to continue our passion for coffee well into the future.
NYC AeroPress Coffee Championship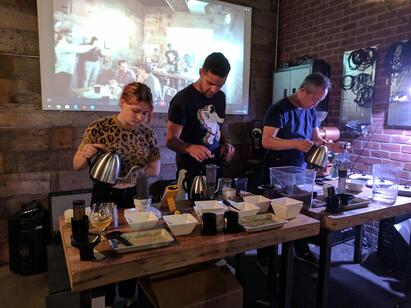 Professional and amateur coffee makers alike took flight at Space Craft Coffee in Brooklyn on August 3 to compete in the NYC AeroPress Coffee Championship.

Compared to a formal barista competition, the atmosphere was welcoming, casual and intimate. But the stakes were still high – the NYC competition is one of nine qualifying regional events in country that lead up to the national AeroPress contest.

Contestant Amy Liu took first place in the championship and earned the chance to compete in the 2017 U.S. AeroPress Championship, which will take place in Seattle in September.

27 participants entered the competition to brew the best AeroPress coffee, as determined in a blind taste-test by three expert coffee judges. Competitors had eight minutes to prepare, brew and present their coffee to the judges, who evaluated the coffee by simply choosing which cup they would prefer to drink.
In each round, three competitors brewed coffee simultaneously, and the winner progressed advanced to the next round.
All competitors were provided with a set of equipment that included AeroPress sets, Counter Culture Coffee beans, grinders, filtered water, kettles, cups and scales. But competitors could also bring their own equipment. Counter Culture contributed Idido beans from Ethiopia, which contained tasting notes of floral, melon and citrus, for all participants to use in the competition.

Born from the same brain that designed the world-record setting Aerobie flying disc, the AeroPress is a rapid, total immersion brewing process that brews espresso-style coffee that can be used in lattes and other espresso-based drinks.

There are AeroPress recipes for nearly every style of coffee. Successful AeroPress recipes can have a wide range in variables including brewing temperature, grind size, brewing time and even plunge time.