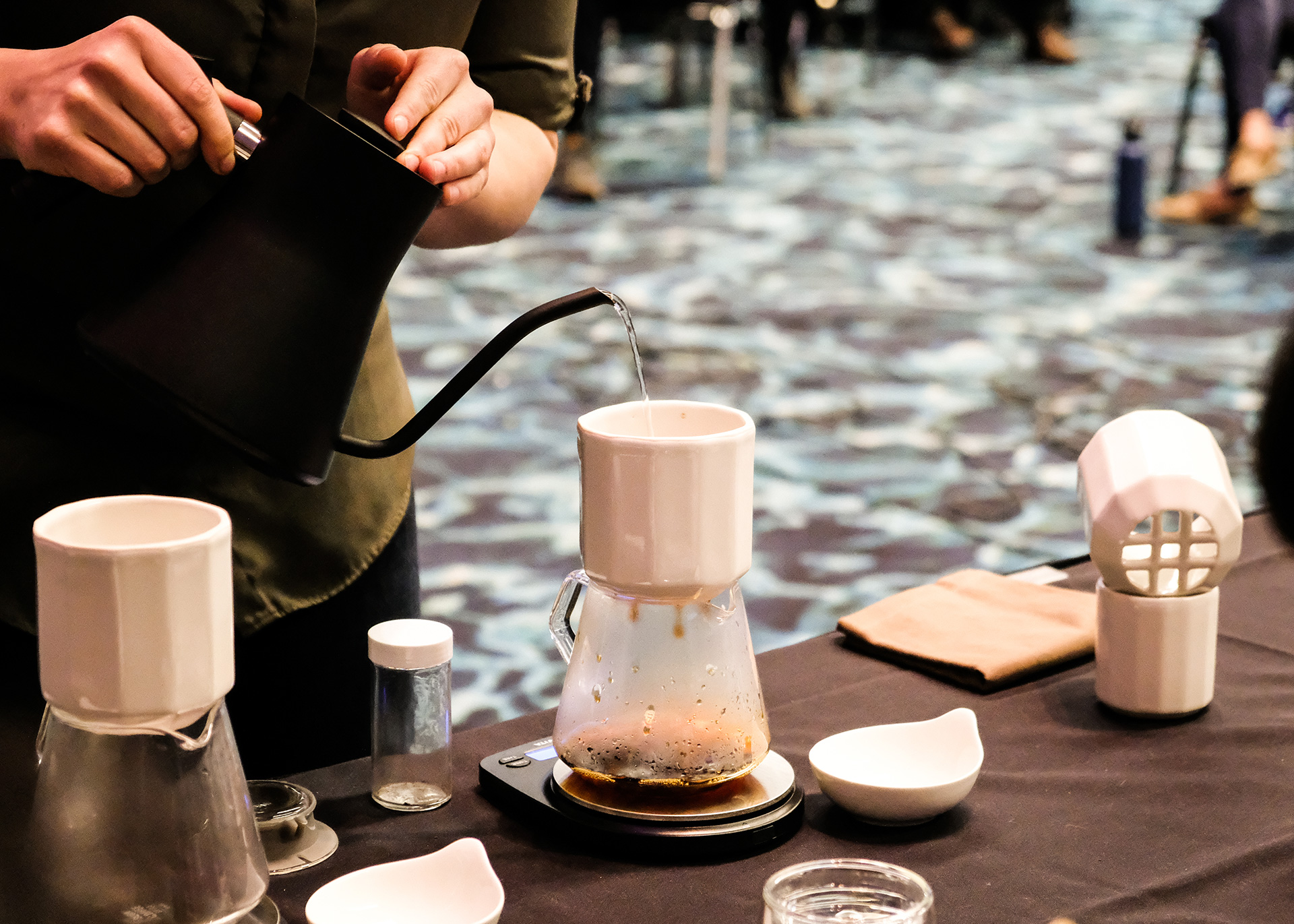 Of all the benefits of coffee competition, the most important might be the platform it provides for experimentation. Tinkering with new brew methods or coffees isn't something that baristas often experience in their day-to-day work at a café. But on the competition stage, coffee professionals can put their full imagination on display. They can present cutting-edge ideas on any element of coffee from new processing methods at origin, innovative techniques in roasting, or new ways of brewing the coffee itself.

But the 2019 competition season witnessed new heights in coffee innovations. Specifically, in Brewers Cup, the competition that highlights the best of manually brewed filter coffee. This year, four current and former competitors didn't just present new brewing ideas, but brewing new products - they each introduced their own original designs of pourover coffee devices. And three of them used them in their performances at the 2019 World Brewers Cup in Boston in April.

The brewers that these champions unveiled weren't simply for show or style points. Each of the innovations were intentionally designed to produce a better result in the cup, and to enhance the exceptional coffees they selected for the world stage.

When they didn't find an existing brewer that lived up to their competition hopes, they just created a new one. But luckily for the rest of us, they're sharing their brewers with the rest of the coffee community.

Here are the new brewing innovations from the Brewers Cup competitors, including two World Champions, a World Championship Runner-Up and a U.S. Brewers Cup Champion.

Urnex is proud to be the Qualified Cleaning Products Sponsor of the 2020 World Coffee Championships.
Gem Series Brewer by Stephanos Domatiotis, 2014 World Brewers Cup Champion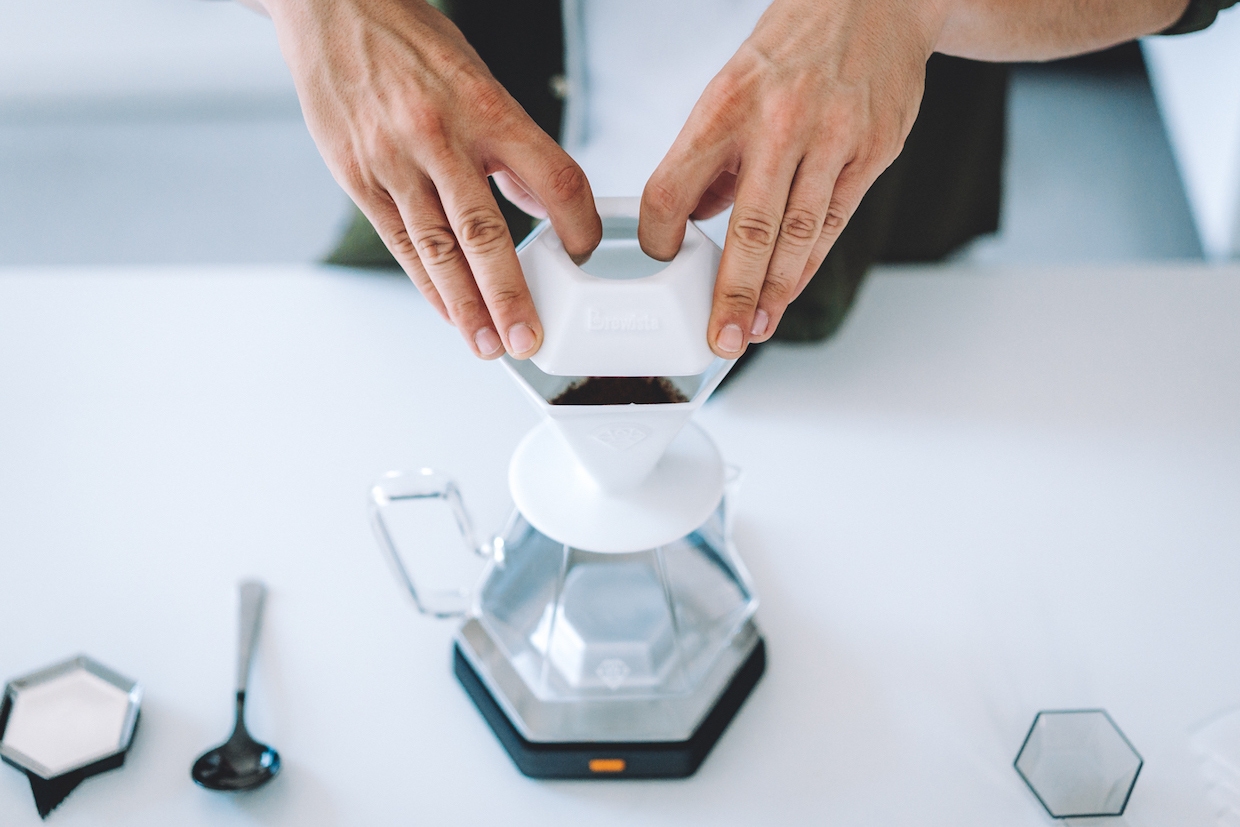 The Gem Series Brewer from the Greek coffee celebrity Stephanos Domatiotis looks exactly like its name suggests. The brewer is a white, sleek six-sided structure with an accompanying lid that gives the completed device a distinct diamond shape.

But while the Gem looks like a precious stone, its design serves a clear purpose for the coffee. Stephanos noticed that coffee lovers of all levels have been trying their hand at manual pourover coffee brewing in recent years. But many of the existing brewers in the market take significant skill to master, making it difficult to achieve consistently great-tasting coffee at home.

The Gem Series Brewer aims to address this issue with a design that creates repeatable, consistent and clean coffee. The lid that is placed on top of the brewer has a circular hole that naturally limits the area in which the brewer can pour hot water. This allows for a more even contact time through the brew and reduces the element of human error of imprecise pouring.

Stephanos also designed the Gem with a system of vertical and horizontal ribs on the inside of the brewer. These ribs prevent particles from clumping at the bottom of the brew bed while allowing water to flow consistently. Stephanos told Coffee Daily News that the ideal result with his brewer is a "sweeter brew with bright acidity."

The Gem Series Brewer is available in Asia through Brewista and in Greece through Taf Coffee.
KG90 by Kaley Gann, 2019 United States Brewers Cup Champion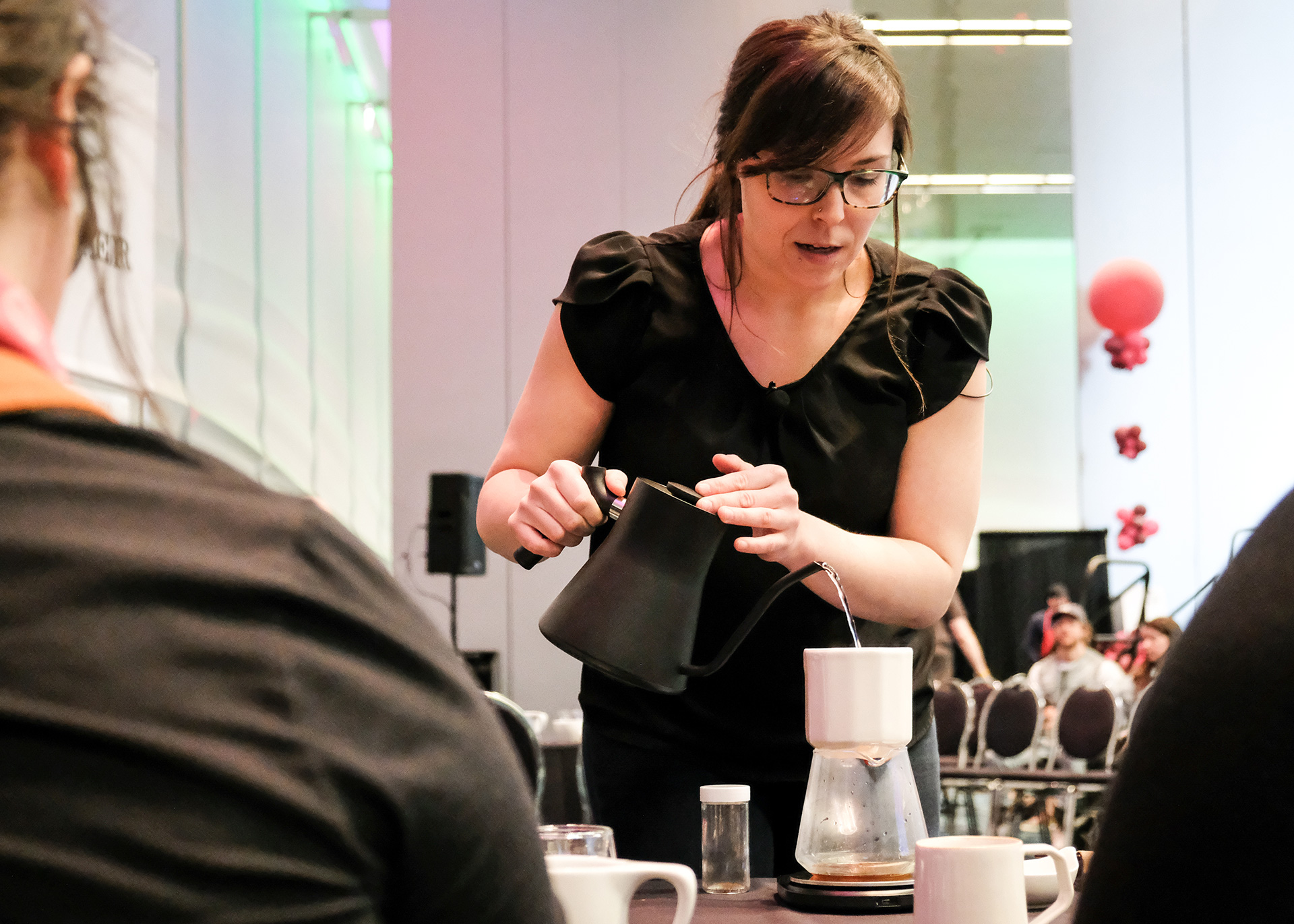 Kaley Gann is the current U.S. Brewers Cup Champion for several reasons: her exceptional Panama Geisha, the precise flavor calls, her unique brew recipe. But it was her custom brewer that set her apart in the competition.

Kaley was looking for a brewer that would have as little influence as possible on the coffee itself. And in her prior experiences competing in Brewers Cup, she thought that would be a brewer that was steep and open. Kaley took this concept to the extreme with the KG90, a brewer with a wide-open bottom and 90-degree angle.

This stark design, and open bottom, allowed Kaley to achieve more flavor complexity by using a fine grind size while achieving an incredibly fast extraction. Kaley told Sprudge earlier this year that the design of the KG90 results in coffee with "higher extraction yields, more flavor, easy and quick brew and super clean and clear."

After making a couple of prototypes herself, Kaley ultimately took the design to the Missouri-based ceramics manufacturer Convivial Production to put the device into production for retail sales and distribution.
April Brewer by Patrik Rolf, 2019 World Brewers Cup Runner-Up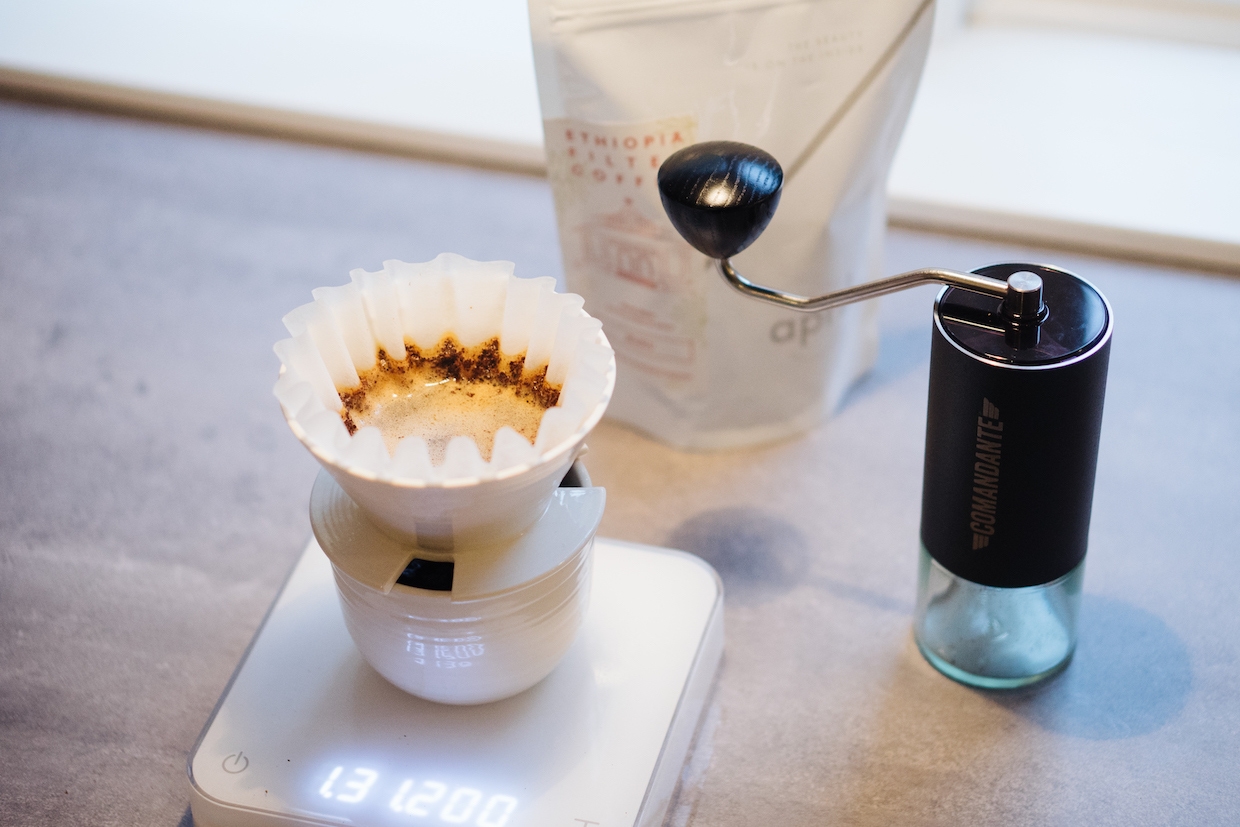 Patrik Rolf achieved the highest cup score in the "Open Service" category at this year's World Brewers Cup with an original brewer that he developed for the competition.

Named after his roastery in Copenhagen, the April Brewer is a ceramic flatbed brewer with a steep brewing angle, similar to Kaley Gann's KG90. But instead of a wide-open bottom, the April Brewer has a single large hole in the bottom of the brewer, which facilitates a fast, controlled flow rate, resulting in greater clarity of flavor and an ability for baristas to experiment with other brewing variables like dose and grind.

Another unique feature of the April Brewer is the "air pocket" gaps that are built into the base of the device. These gaps create space for heat to escape the brewing vessel during the brewing process, regulating the air pressure and allowing for optimal flow rate.

Patrik admits that cone-shaped brewers have historically scored very well in coffee competitions. But he said that over the course of a long period of testing, he and his team found that this flatbed brewer generates a slightly better balance in the cup and a better harmony across temperatures from hot to cold because of its thin ceramic material.

According to its Kickstart Campaign, the estimated delivery for the April Brewer is May of 2020.
Origami Dripper used by Jianing Du, 2019 World Brewers Cup Champion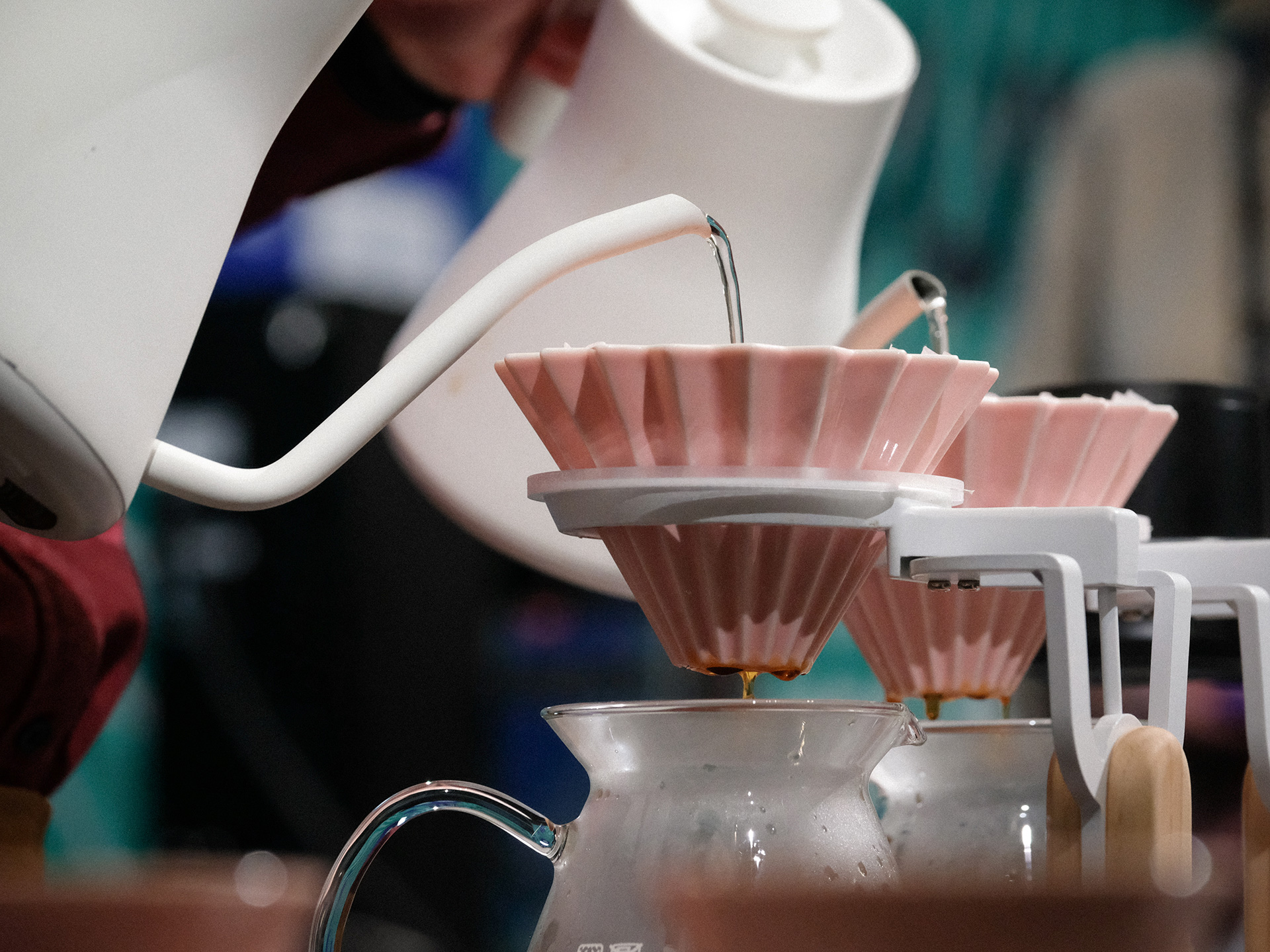 While Jianing Du didn't design her own brewing device, she receives an honorary mention here for adopting a new brewer for her championship-winning performance.

The Origami Dripper, a new device made in Japan, consists of a series of 20 creases that create space between the dripper and paper filter to ensure an even extraction at various temperatures. Similarly shaped to the flatbed Kalita Wave, the Dripper eliminates the air insulation normally created between the circular brewing device and the ridged filters.

Du explained in her performance that her thinner filter paper and large opening at the bottom of the brewer allow the "water to go through the coffee quickly and achieve clarity of flavor."

Du is a three-time Brewers Cup Champion of China who trained with coffee guru Holly Bastin, former Chinese Barista Champion and Urnex Ambassador Jeremy Zhang, and fellow competitor Kaley Gann.
Coffee Brewing Innovations of 2020
What coffee brewing innovations will we see in 2020? Will Brewers Cup competitors continue to tinker with different devices, or experiment with other brewing variables to push the envelope in pourover coffee?

With coffee brewers being the curious bunch that they are, we are sure that they are. We'll all just have to stay tuned to the upcoming 2020 coffee competition season to witness what new concepts and creations the brightest minds in the specialty coffee community will bring to the competition stage.