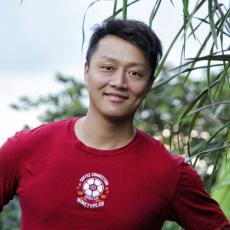 Try Jeremy's Favorite
Urnex Product
"It's a daily and essential cleaning powder for espresso machines."
What is your current occupation and employer?
I am the owner of Uni Uni coffee shop and M2M roasters.
When did you know you wanted to turn your passion for coffee into a career?
About 2011, I took competition as my starting point of my journey. I really enjoy the time when I develop my coffee for competition, find the best way to roast, also see how to introduce coffee to my customers in an easy way.
Who is your coffee role model?
I have quite a few role models in the coffee industry. World barista champion, Pete Licata. He gave me a big picture of the world of specialty coffee in his performance in 2013. Producer, Semeon Abay. His coffee not only amazed me but also changed my mindset. Also even the barista in my shop, Douzi. She serves coffee with a smile all the time.
What's the best piece of coffee-related advice you've received?
Nice with coffee, nice with people.
Where do you see yourself in 5 years?
For sure, I am still in coffee industry. More Chinese will have become coffee drinkers, so I will be serving more specialty coffee in our coffee shop.
How did you first decide to compete in a coffee competition?
In 2010, I took advice from my coach David Seng. He told me if I want to accelerate my learning curve, competition is a way to go!
How many coffees did you taste before choosing one for the national competition in China?
I lost count. Firstly, I decided what type of coffee is suitable for competition. Then I chose as many as possible as candidates. Finally I narrowed down different versions or batches for coffee I selected. In total the number could have been up to 100.
List all the national and world coffee competitions have you competed in.
China Barista Championship 2013China Barista Championship 2014World Barista Championship 2015China Barista Championship 2016World Barista Championship 2017
What is the reaction you receive when you tell someone outside the coffee community that you are a champion barista competitor?
"So there is a competition for coffee?!"
What is your favorite Urnex product?
Cafiza. It's a daily and essential powder for espresso machine.
What is unique about coffee culture in China?
Build up from ground! We don't have many coffee drinkers. It's a challenge and opportunity because we can introduce specialty coffee from the very beginning.