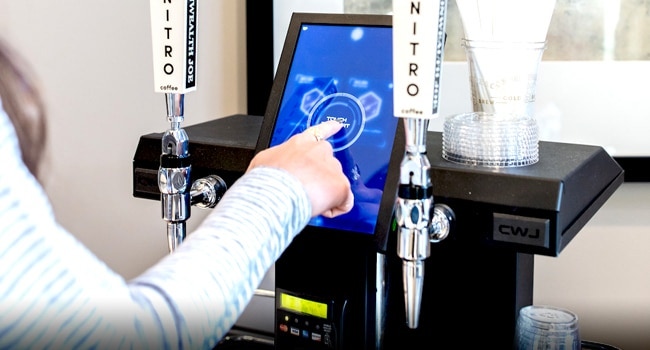 Cold brew has come a long way since it first made its mainstream splash a handful of years ago. In those days, early-adopting coffee shops might serve cold brew straight from a bucket with a spigot, either plopped on top of the counter or hidden in a back corner. And passionate baristas and home-coffee enthusiasts would experiment with cold brewing techniques in their kitchens, using any available container to fill with coarse coffee grounds and room temperature water.

While these grassroots methods of making cold brew still exist, and often thrive, the commercial cold brew market surrounding them has exploded. Cold brew is manufactured in industrial-sized tanks, a bevy of ready-to-drink cold brew brands have appeared on grocery store shelves, and coffee companies of all sizes are serving nitro cold brew on tap.

But in 2019, cold brew has taken a fascinating step in its evolution. This year has seen the emergence of automated cold brew equipment that can produce batches cold brewed coffee in under an hour. Companies like Hard Beans, BUNN and Wilbur Curtis have all introduced innovations that fundamentally change how cold brew can be made, served and enjoyed. These new pieces of equipment are so unique from traditional cold brew methods that they're challenging the definition of what cold brew is.

We spoke with coffee professionals from each of these companies to learn more about their groundbreaking new cold brew equipment and the changing cold brew landscape.
The Trouble with Cold Brew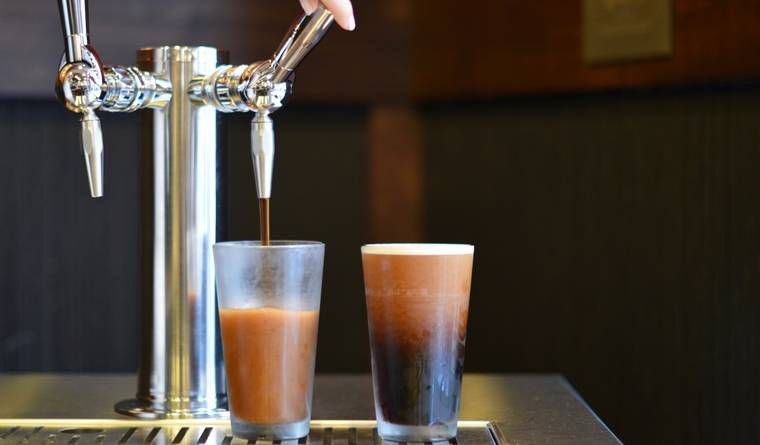 For almost any coffee business that wants to produce their own cold brew, the real challenge is producing it at scale. Most coffee shops could integrate a "bag-in-a-bucket" cold brew system, but it's a relatively arduous process compared to preparing a pot of hot coffee, and it takes up to a full day to brew a single batch.

We discussed this exact issue with Maciej Duszak, a coffee professional based in Poland, a national Brewers Cup champion and an Urnex Ambassador. Maciej was enlisted to create a new and improved cold brew system with Hard Beans, a coffee roastery in Opole, Poland.

During the early stages of product development, Maciej and the Hard Beans team outlined five major problems that beleaguer the traditional cold brewing process:
Time: old school cold brewing is simply too slow. It takes anywhere from 12 to 24 hours to brew.
Hygiene: there's a big risk of contamination with the bag-in-a-bucket system. It involves several messy steps and leaves coffee sediment on the sides of the bucket. Cold brew is a riskier form of brewing in the first place because of the absence of hot water to eliminate any bacteria.
Labor: it takes considerable time and effort from an employee to prepare a batch of cold brew. It includes grinding a few pounds of coarse ground coffee, placing it in the filter, removing the filter, and cleaning the container by hand after each batch.
Quality: during the long brewing process, there's a potential for air to seep into the cold brew container and oxidize the coffee. This will cause the coffee to lose some of its inherent flavor characteristics and will diminish in overall quality.
Shelf Life: because of the potential for oxidation during the traditional cold brewing process, it's shelf life could be cut short in addition to the risk of contamination.
Hard Tank from Hard Beans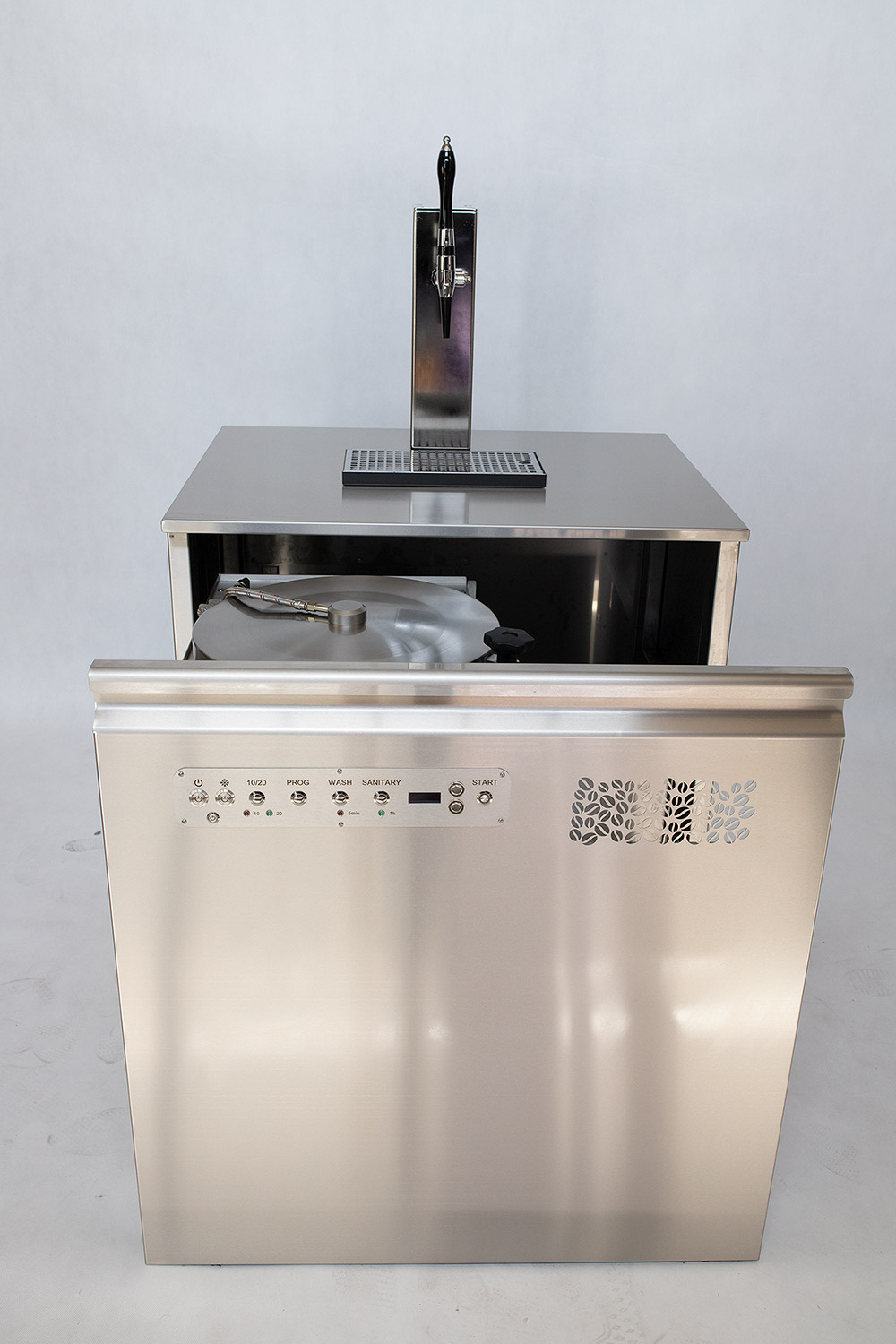 After working with a local technical college to test 30 prototype models of cold brewing and extraction methods, the final product that Maciej and the team at Hard Beans developed is the Hard Tank.

The Hard Tank is an automatic nitro cold brew machine that can brew a batch of cold brew in just 60 minutes. The machine can be directly hooked up to a water source, and all that's required of the operator is to place the ground coffee into the machine and press a button. The coffee is then brewed, filtered and poured into the barrel to be served through a tap to create a nitro cold brew.

Of all the prototypes that were tested, Maciej said the Hard Tank uses a relatively simple extraction method to brew. One and a half kilograms of tightly packed ground coffee are placed in a stainless-steel filter basket. Pressurized water is sprayed directly onto the coffee grounds and recirculated throughout the coffee bed to continuously and evenly extract the coffee. The stainless-steel basket also acts as a filter, which allows the circulating water to push out the small particles and sediment in the machine.

In addition to its capability of producing 15-20 cold brew batches per day, Maciej said that the Hard Tank can achieve up to an incredible extraction level of 24% because of its method of extracting by circulation.

"It tastes better because it's clean, not oxidized, it has a longer shelf-life, and it's fully extracted," Maciej said. "It uses simple technology in a clever way."
He said that the Hard Tank is great for single coffee shops but even better for small chains. A Hard Tank can easily fit under a counter or bar. And with just one Hard Tank, a company could produce cold brew in barrels, and distribute them to their multiple locations. Maciej also believes that specialty roasters could use the machine to make cold brew for local clients, and that the machine would be well suited for events like music festivals and sporting events.
BUNN Nitron
When the team at BUNN first explored the idea of developing a new cold brew system a few years ago, they noticed a lot of beer taps. Specialty coffee shops, hip restaurants and bars were all implementing standard beer tap systems to serve nitro cold brew. While the concept seemed to hook consumers, the BUNN team recognized the need for operators to have a more efficient, easy and compact nitro cold brew system that produced an even tastier cold brew.

The result of this realization is the series of BUNN Nitron Cold Draft machines. These machines employ patented technologies to yield multiple gallons of cold brew concentrate. And unlike a traditional bag-in-a-box cold brew system, each drink from the machine starts with water that is nitrogenated in-line and on-demand in a gas infuser before it mixes with the concentrate in a mixing chamber prior to dispense. This provides for a fresher-tasting beverage and allows operators to use as little gas as possible. Nitron machines also include a refrigerated product cabinet, which maintains flavor consistency and helps the gas stay in suspension in the drink, leading to that beautiful Guinness-like cascade, foam head and smooth silky surface.

The design of the Nitron machines also offer universal gas combability. They work with gas tanks, nitrogen generators and BUNN's new Nitron Gas Module, an easy-to-use option that provides the operator access to unlimited gas at a much lower cost than a traditional nitrogen generator.

Chairil McClain, the Director of Product Management at BUNN, said Nitron machines also serve more than just nitro cold brew: they can produce and serve still cold brew, iced coffee and tea as nitro or still, all in combination with potential flavor infusions.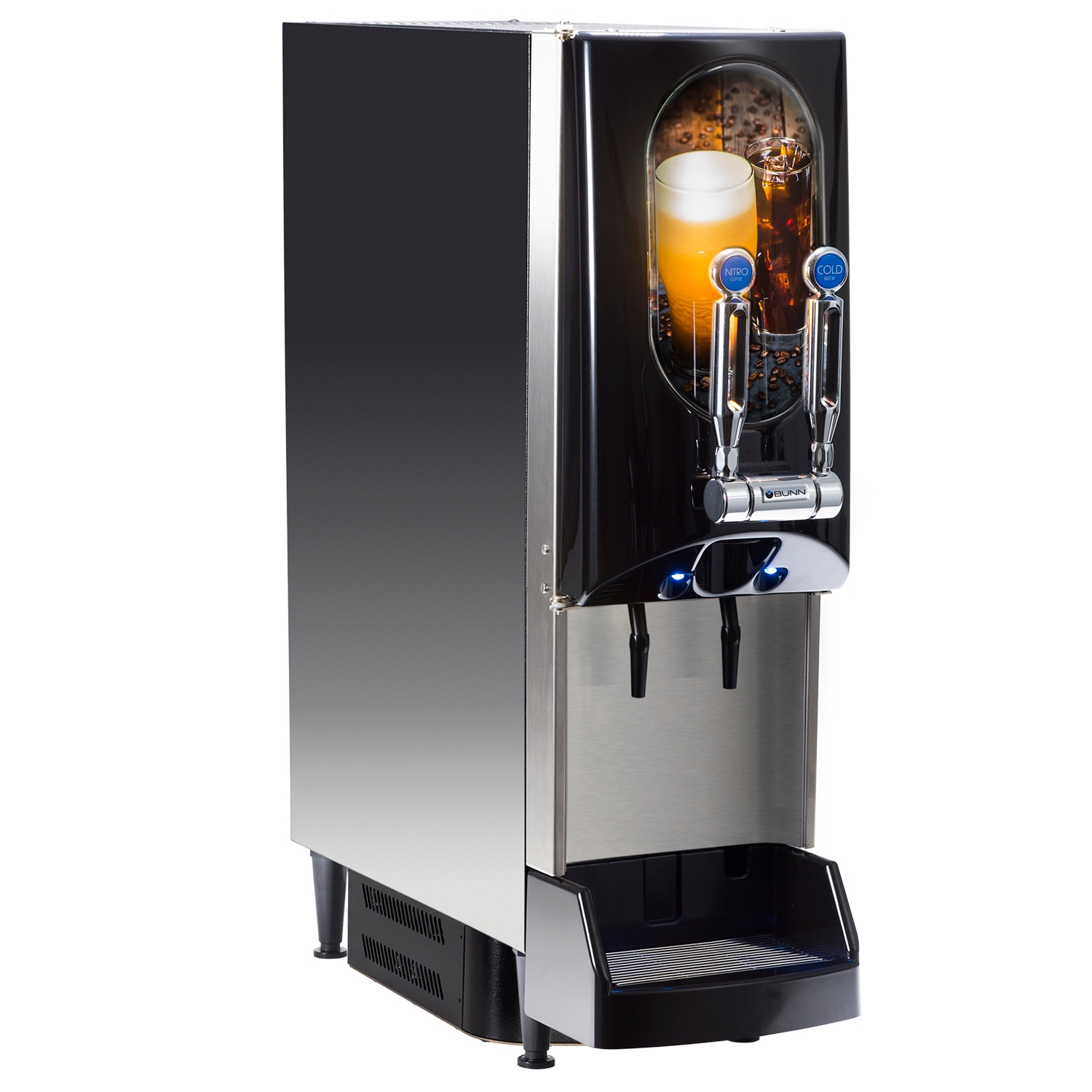 "The Nitron Cold Draft dispenser is ideal for cafés, colleges, convenience stores, offices and quick service restaurants," Chairil said. "This is a great solution for those who are using pre-packaged coffee and tea concentrates."
Curtis Concentrate Brewer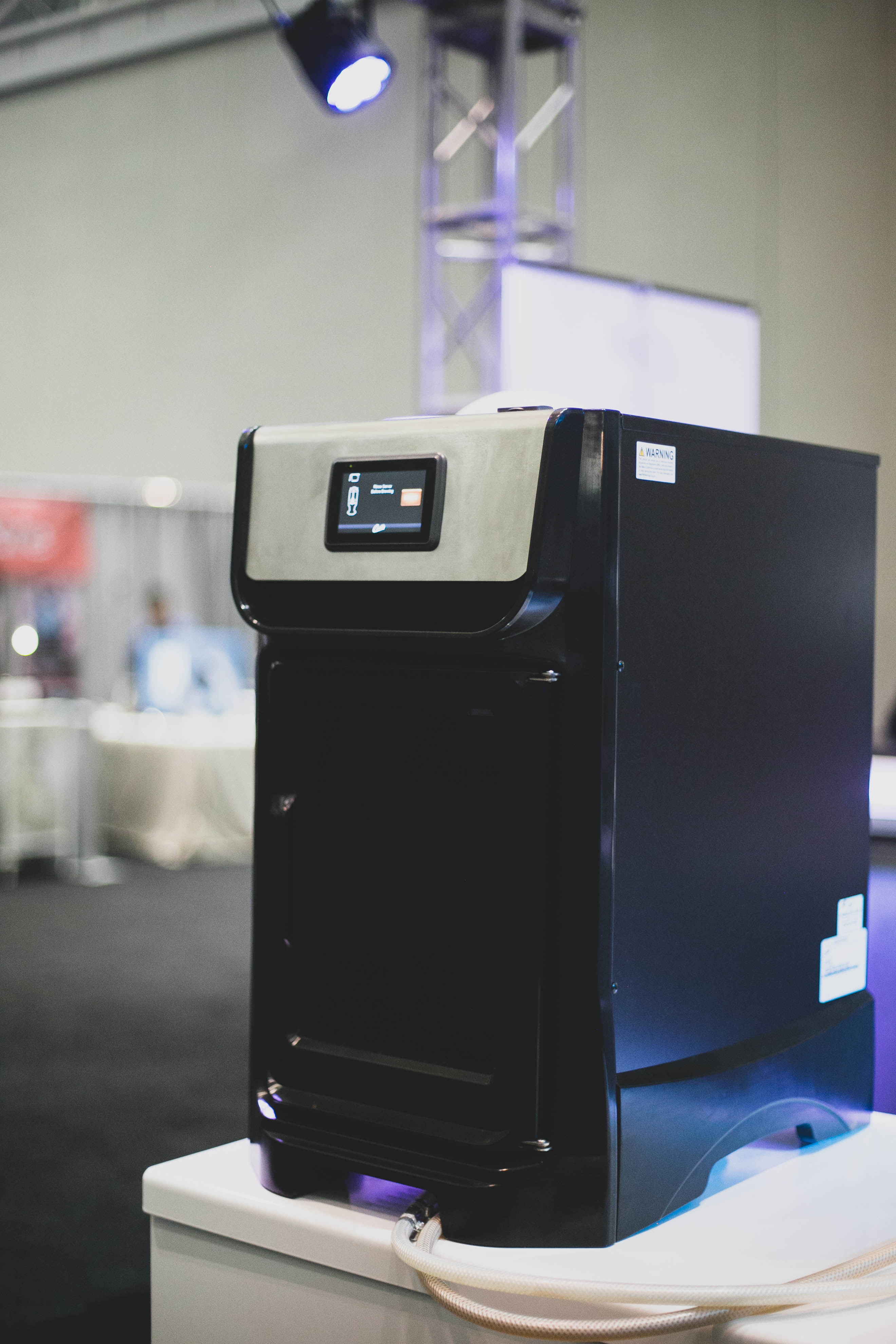 Unveiled at the 2019 Specialty Coffee Expo in Boston, the Curtis Concentrate Brewer is the latest innovation from equipment manufacturer Wilbur Curtis. An idea borne from a collaboration between the Curtis team and cold brew entrepreneur Trey Malone, the Curtis Concentrate Brewer is an automated brewer that can produce a 1.5 to 2.5-gallon batch of cold brew at a 20% extraction level in as little as 20 minutes.

The CCB introduces a hot water bloom at the start of the brew, something that Curtis calls the Strike Water. A layer of ambient temperature water is then added, and a vacuum pulls the liquid through the coffee bed, a fundamental difference to traditional cold brew technology that extracts coffee using pressure. The result is a cold brew concentrate that be diluted to the desired drinking strength or volume.

Andrew Gomez, Specialty Coffee Sales and Training Manager at Wilbur Curtis, explained the reason the CCB can achieve a high extraction rate at unprecedented speed is due to the combination of hot water and agitation. These two factors can push the amount of yield in one batch, creates an intense concentrate with a high strength (4-6% TDS, compared to about 1.5% for a typical brewed coffee), and renders a long steeping time unnecessary, all while using less ground coffee than traditional cold brew systems.

"Our machine extracts the majority of soluble material from the coffee extremely quickly," Andrew said. "It's been amazing to do taste tests and see how great brews from the CCB taste when compared to traditional cold brew methods."
Newco Ice Brewed Coffee Carlisle Kit
Compared to some of the other equipment we've discussed in this post, the Ice Brewed Coffee Carlisle Kit from Newco is quite unassuming - no nitrogen tap, no complex extraction technology - there's not even a brewer! But this simple device is just as effective in producing high quality cold coffee in minutes.

The Carlisle Kit is a complimentary piece of equipment to an existing coffee brewer to produce a batch of iced coffee. The Kit utilizes a stainless-steel insert with two unique compartments - a cooling chamber and a dilution chamber - that are both designed to contain ice. Hot coffee is brewed directly into the dilution chamber, where it will mix with the ice to the desired strength of the drink. And the ice in the cooling chamber will chill the coffee even further before it is dispensed.

Chris Richter, Chief Operating Officer of Newco, said that while it lacks the flair of other cold brew systems, the Carlisle Kit wins on ease of use, cost, and beverage quality.

"The quality of the drink is what sets it apart," said Chris. "There's a big difference between freshly brewed coffee and overnight steeping."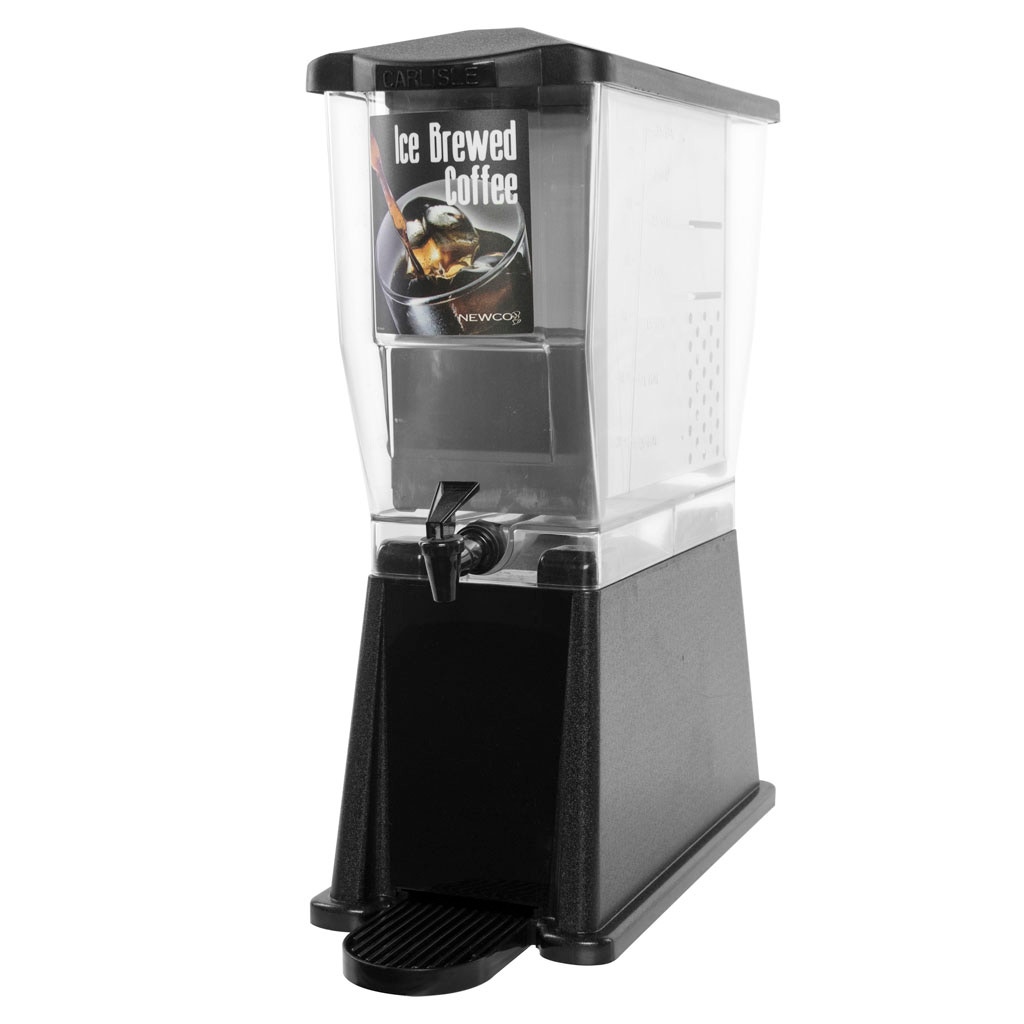 The State of Cold Brew
Cold brew has been on a rapid rise since its modest beginnings as a do-it-yourself warm weather refreshment. In a short time, we've grown as an industry from waiting full days for coarse coffee and lukewarm water to transform into an interesting, if inconsistent, beverage, to having the capability of pumping out batches of the stuff in a flash.
But does this new technology applied to cold brew systems ruin the fun of cold brew guesswork? Is it formalizing a should-be DIY, grassroots, gastronomic experience? Are the machines taking cold brew hostage??
Not exactly. The use of technological advancements has helped industries of all types make huge strides forward in building consistent products with scientific experimentation for the modern world. And it's no different for the coffee industry, which in recent memory has introduced amazingly valuable automations in pourover machines, coffee roasters and even traditional espresso machines.
Andrew Gomez of Wilbur Curtis believes that much of specialty coffee's foundations were built on the concept of DIY, and of the nature of creative individuals striving for the highest quality. But that recognizing the benefits of automation doesn't make your craft any less meaningful.
"Let's put it this way: if I had to pick between a hand mill coffee grinder and an electric dosing grinder for my morning coffee, I know which one I'll pick, and it doesn't make my morning ritual any less DIY."
To clean any of these cold brew machines, check out our new cold brew equipment cleaning powder, One-Pro.