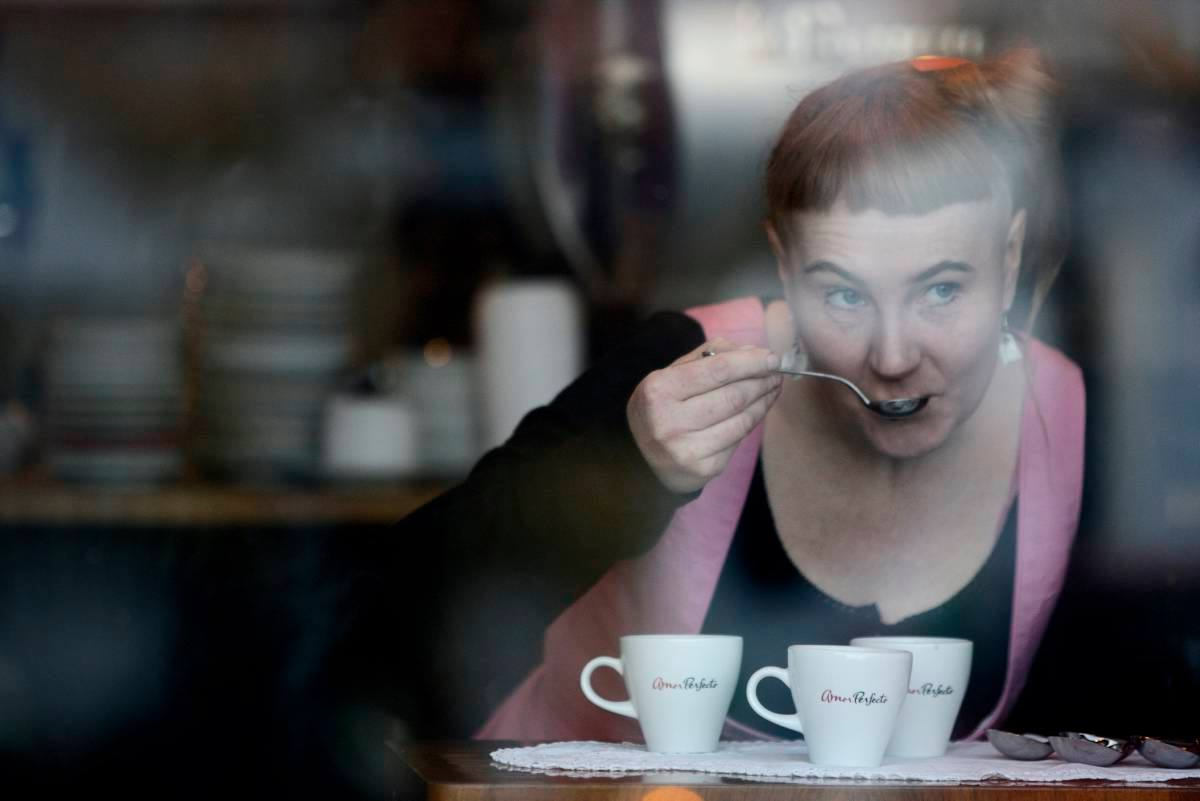 his is the first feature in a new series from Urnex called Industry Icons, in which we will spotlight individuals who have made a significant and positive contribution to the specialty coffee industry. We are proud to call these Industry Icons 'friends of Urnex', and we treasure the relationships we have with the passionate and innovative people in this community.
Horses from Iceland are unlike any other steed found on Earth. They're known for their calm and friendly demeanor, long shaggy hair, and squat stature (but don't dare call them ponies around an Icelander). They have an important place in Norse mythology (most notably a famous eight-legged horse named Sleipnir). These horses are so prized that the Icelandic law prevents horses from entering the country, or from exported horses from returning. As a result, Icelandic horses have been purebred for more than 1,000 years.
You could say that the Icelandic horse is something of a spirit animal to Sonja Björk Grant. Born in the Icelandic town of Akureyri on the northern part of the island nation, Sonja has been riding these beloved creatures since she was three years old. She grew up in a horse training family, and by the time she was 10, she was earning her own money training horses.
Before Sonja got her start in specialty coffee, she thought that training horses was the only thing she could do. But after 24 years in the coffee industry, she credits her childhood spent with these mythical animals to her success as a coffee professional and trainer.
"The Icelandic horse is very smart and clever," Sonja said. "Each horse has their own personality and needed to get special treatment and guidance. I started treating baristas like horses."
Sonja has had one of the most active, extensive and impactful careers of any individual in specialty coffee. She was part of the founding group of the World Barista Championship, opened the first third-wave café and microroastery in Iceland, is the current Vice Chair of the Coffee Roasters Guild, and has been involved with judging, organizing and training with World Coffee Events for the past 18 years.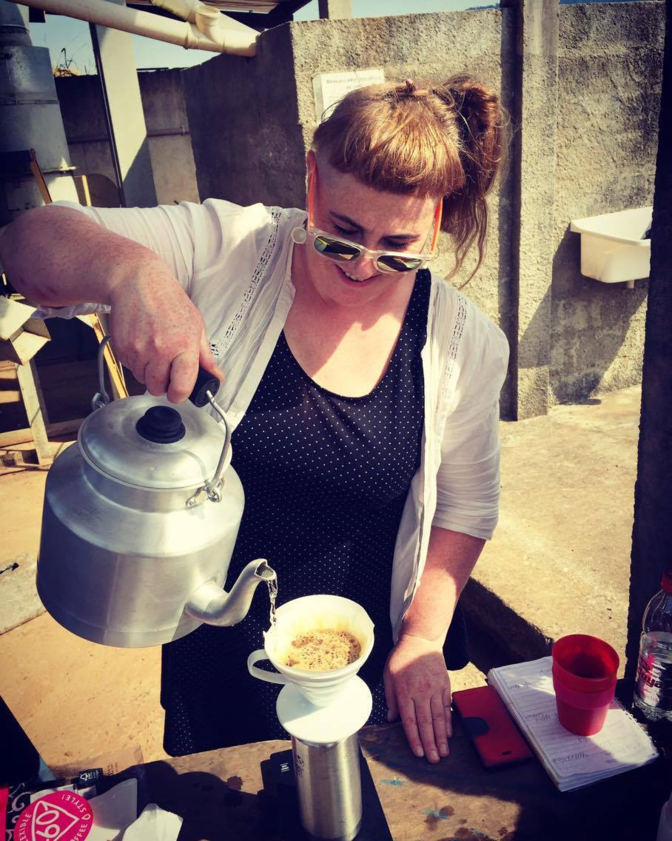 Her coffee journey began in 1995, when she applied for a job at the Icelandic coffee chain Kaffitár. With her previous work as a carpenter, she had no experience in food service whatsoever. But as a self-described "passionate chef" interested in working with flavors, she was hired at Kaffitár as a barista. As the company grew, so did her responsibilities – she eventually became the general manager, quality control manager, and barista trainer.

One of her proudest accomplishments at Kaffitár was developing the training materials for all the company employees. She trained the new baristas and managers, setting a general framework for her trainings but adjusting her teaching style according to each individual. The connections she created were as beneficial to the baristas as they were for the business – she completely reversed employee turnover, with the average tenure of a barista she trained at eight or nine months, compared to just a month or two at other cafés.

"My strength was understanding my students," Sonja said. "I learned how to read the character of each person and figured out what kind of learning method worked for them."

After 13 years at Kaffitár, and helping it blossom into a 14-store operation, Sonja missed a true small business setting with just one shop and a handful of dedicated baristas. So in 2008, she established her own small business and opened the country's first third-wave coffee shop, Kaffesmedja in Reykjavík.

It was here where Sonja faced her most difficult training challenge yet. Through a partnership with the Kópavogur Prevention Fund, she agreed to train a troubled 16-year old girl who had a hard time fitting in at school. At the girl's previous job with a gardening company, she was emotionally abused by her boss, dropped out of school and turned to drugs. But Sonja gave her a support system at the café, taught her the essential skills of a barista, and provided her with a purpose to help regain her self-confidence. Sonja even guided her through the process of applying to full-time positions and helped her land a job as a nanny in a kindergarten. She was also planning on returning to school that fall.

Sonja welcomed three or four teenagers by training them in her café. While she doesn't have a professional background in mentoring kids with difficult pasts, she knows she has an intuitive sense to how to guide them to a better path.

"This is not in a business plan, but I know it's going to happen because that's how I am, and it's always been around me," Sonja said. "I've always had this in me to teach."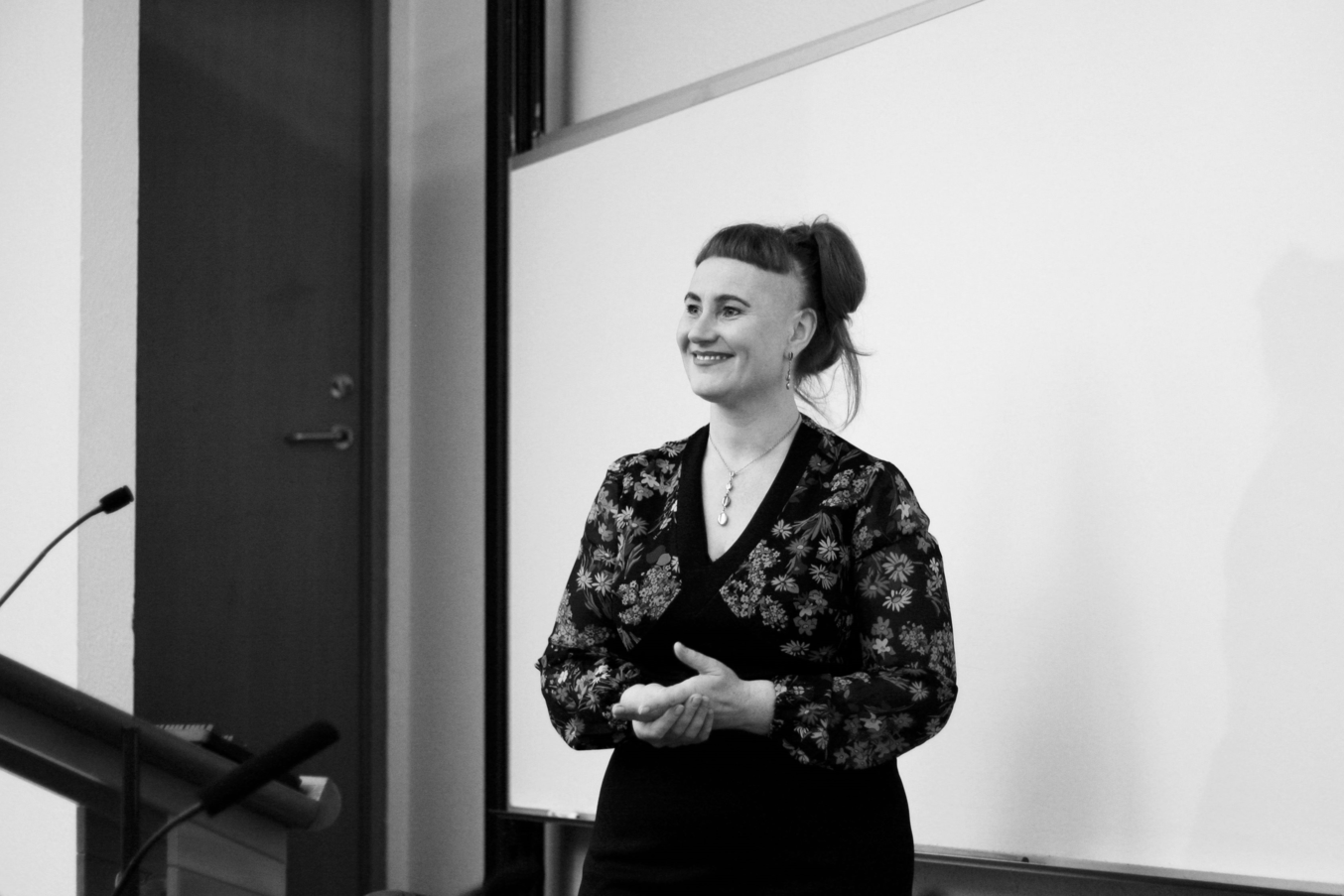 Sonja has had to handle other unexpected tests in running her businesses. The initial timing of Kaffesmedja was precarious at best, as the shop opened its doors just two months after Iceland's financial crisis in 2008, in which all three of the country's privately-owned commercial banks defaulted. But Sonja adapted by catering to the needs of her cost-conscious customers, while saving the company money. She was practical and sustainable with all aspects of the business, bringing in second-hand furniture, serving lattes in small jars, and giving discounts to customers who brought their own cups – all which added a sense of charm and comfort to the place.

Further contributing to the living room ambiance of the café was the shop suggestion that customers don't have their own table. Sonja took great pleasure in introducing strangers and sitting them together at a shared table, creating a community amongst coffee lovers who would have an otherwise solitary experience.

Sonja is bringing a similar philosophy of openness and interaction to her new business. Kaffibrugghúsið, or 'Coffee Brewhouse', is a multi-functional coffee company that will be fully functioning by Christmas (the wholesale operation is already up and running). Sonja's primary focus for the company is on service and accessibility. She is removing the countertop bar in the coffee shop, allowing the barista and the customer to engage as equals without any physical barriers between them. She said this will address a long-standing complaint from customers in specialty coffee shops.

"If you stand beside me when I'm brewing coffee, you are not rude to me and I will not be rude to you," Sonja said. "It's like you're in my kitchen."

Another important pillar of the new business is teaching and training. Sonja will host small cupping seminars for coffee enthusiasts, in which she said she is constantly learning from people with non-coffee perspectives. She will also teach a series of courses on how to train barista trainers and café managers.
Opening her new business is far from the only endeavor that Sonja is taking on. She is slated to become the Chairwoman of the Coffee Roasters Guild in February, where she is tasked with unifying the previously separate European and American divisions of the Guild. She still judges coffee competitions, of which she has "only" judged ten this year, but she is starting to train more judges to take her place. She will continue to leverage her status of Authorized SCA Trainer and give lectures and trainings to companies in all industries. And although she vows to cut down on her international travels (at least from her typical 3-4 trips per month), she will still be involved with projects she loves, like Barista & Farmer.

Sonja has reached a point in her accomplished career where she could choose to ease into cruise control. She could open a simple café in Iceland that adheres to the established norms of coffee culture. But Sonja has chosen to challenge herself and her customers. And she has chosen to continue passing on a lifetime of coffee knowledge through her teaching and training, and to keep learning from others too.

"I know I was lucky when I got into coffee because coffee is full of people," Sonja said. "I love people and how colorful people are. Some people are horrible, but most people are really nice and interesting. They are what give me energy."