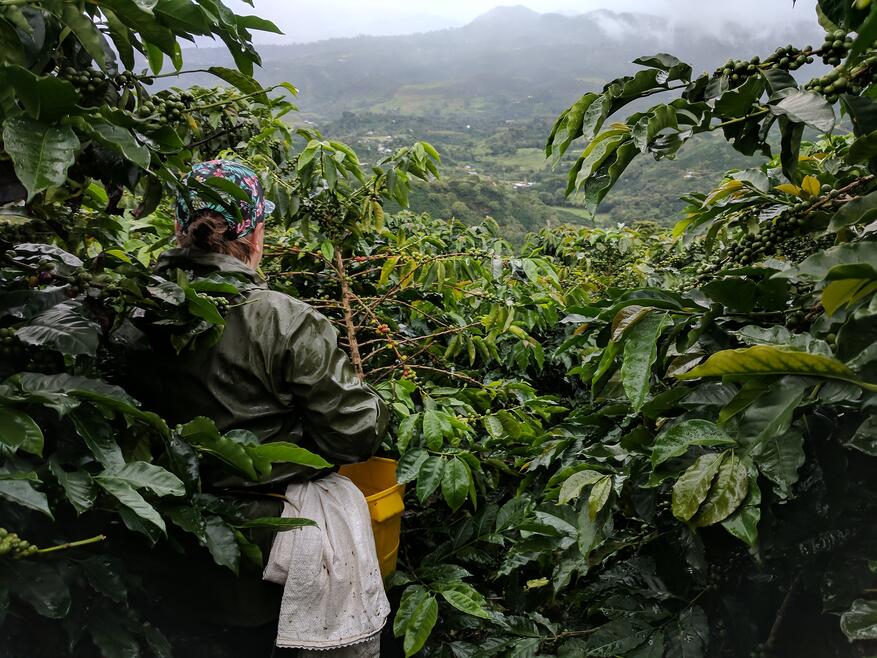 On our fifth day in the coffee-growing paradise of Huila, Colombia with Barista & Farmer, a light rain fell on Finca el Paraiso. A blanket of grey clouds had settled between the vast, rolling mountain ranges upon which the farm sat. The baristas struggled to hold their footing on the steep, muddy slopes as they steadily picked the ripest coffee cherries from the scores of trees in the farm.

After the morning picking session had come to close, the baristas were rounded up to be driven back to the farm's base facility, where the judges would evaluate the quantity and quality of the day's pick. As the baristas marched through the rain to their transports, donned in blue rain ponchos and carrying yellow buckets filled with bright red coffee cherries, they began to sing:

"Welcome to Colombia, where we sow the coffee trees, we'll pick all the sweet cherries, and turn them to coffee."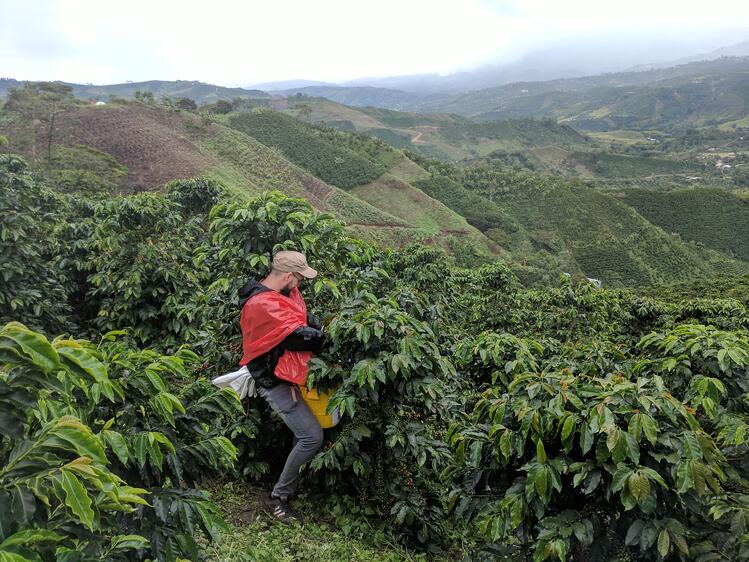 Barista & Farmer is not an ordinary coffee event. It is billed as a "coffee reality show," in which 10 world-class baristas experience the reality of life on a coffee farm. But the real magic of Barista & Farmer is in its ability to build lifelong bonds between each individual on the trip, and connect the baristas to the real people and real place where the coffee journey begins.

The ten baristas on this one-of-a-kind adventure travelled from ten different countries on four continents to visit Huila, one of the 37 departments in Colombia (35 of which grow coffee). Most of the baristas on the trip had never made the journey to coffee origin before. Which made the simple act of setting foot on a coffee farm a fairytale moment.

"When I saw the red cherries on the trees, I really went crazy," said David Lau, Barista & Farmer participant from China. "I wanted to pick more and more and more."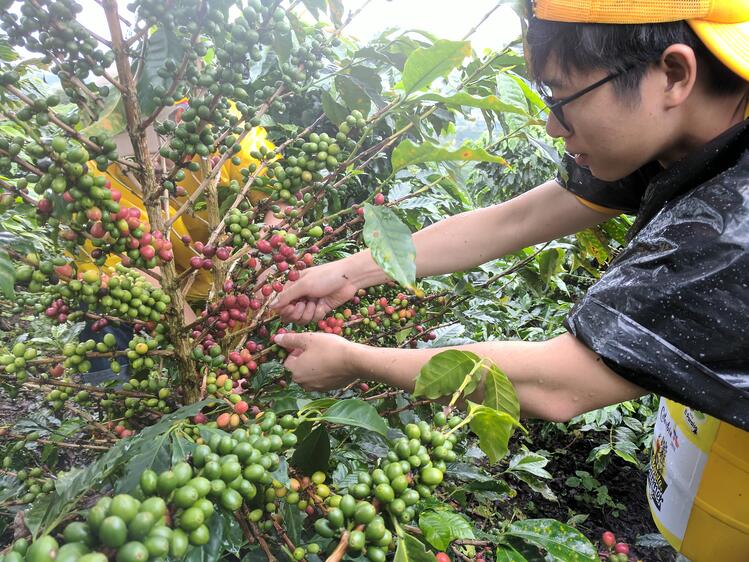 Each day from the SENA National School of Coffee Quality in Pitalito, the baristas would load into a van, or on special mornings, a Chiva - the traditional open-air and brightly-colored bus of rural Colombia - to drive through the mountains to reach the day's coffee farm. The baristas were welcomed by the farm's workers with a freshly-brewed coffee, a lunch of beef, yuca and plantains, and on one occasion, a Sanjuanero dance, with women adorned in satin-and-lace skirts and flowers in their hair and men in red scarves and woven sunhats accompanied by a four-piece band.

After the festivities, the baristas were paired with one of the farm's coffee pickers to collect as many ripe coffee cherries as they could in one hour. This was the reason the baristas traveled thousands of miles to a country of coffee origin – they learned how to pick only the ripest cherries, how to collect the coffee cherries without damaging the tree, and what a properly-organized farm looks like. And all of it spent side-by-side with veteran coffee pickers, who knew the subtleties of the farm inside and out.

"Being in the coffee plantations gave me the opportunity to become better acquainted with the processes that occur with coffee," said Victoria Rovenskaya, Barista & Farmer participant from Russia. "I learned so much from being here."
In addition to an immersive coffee origin experience, Barista & Farmer is a coffee competition. Baristas could earn points from just about any activity in the packed program itinerary, from collecting the most cherries in a picking session, serving the best brew in the boys vs. girls filter coffee competition, preparing the tastiest dish in the Top Chef-style team cook-off, or winning the Urnex Relay Race, in which two teams had to match the correct Urnex product to the corresponding piece of coffee equipment it cleans.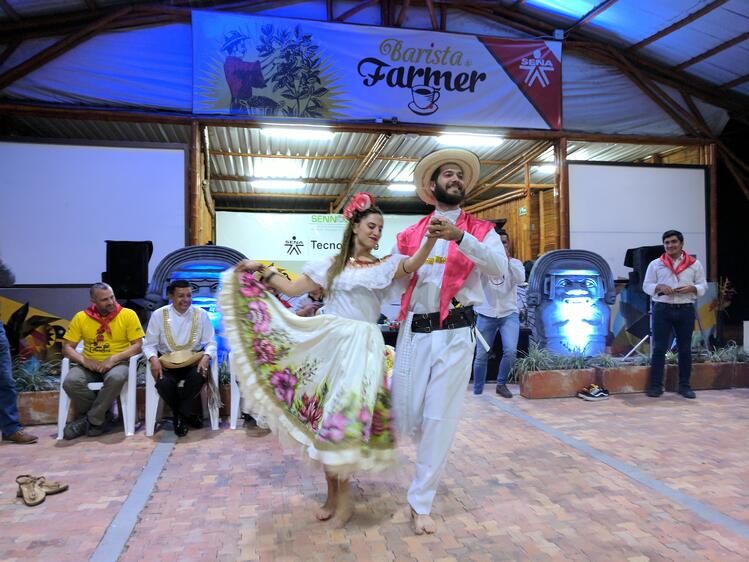 The baristas competed for points individually, but could also up their standing on their respective teams (Team Six Monkeys was led by 2011 World Barista Champion Alejandro Mendez, and Team Yuca Yuca was led by Stefanino "Nino Conti", owner of the coffee & cocktail café Donminzoni 54 in Rimini, Italy).

The show was judged by some of specialty coffee's most veteran coffee professionals, who were responsible not just for tallying points, but for helping the baristas navigate their experience in Colombia. Sonja Bjork Grant of Iceland and Scott Conery of the United States have a combined 33 years of experience as Head Judges for the World Coffee Championships. And Rebecca Atienza, the General Manager of Hacienda San Pedro in San Juan, Puerto Rico, has served as a National Sensory Judge in local and international competitions for 13 years.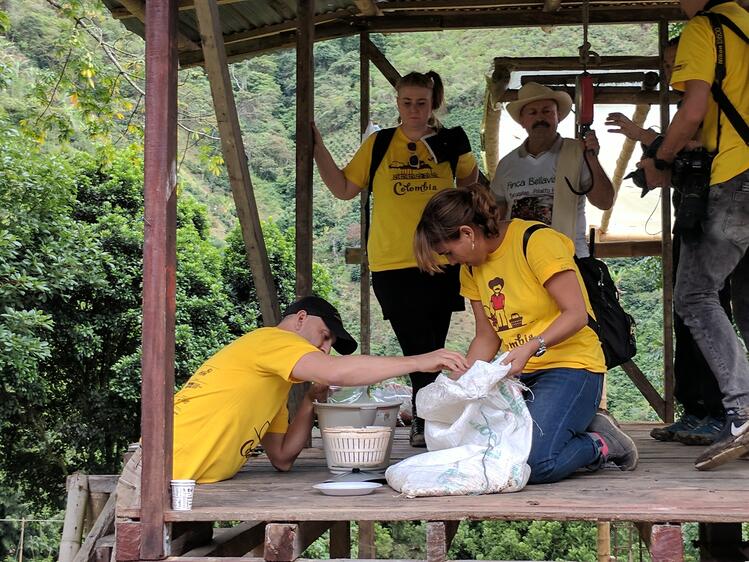 The idea of coffee competitions is deeply embedded in Barista & Farmer's visionary, Francesco Sanapo. He has earned the title of Barista Champion of Italy three times.

Francesco visited a coffee farm for the first time 2010 so he could see and taste the coffee he would use in his first World Barista Championship appearance in the place it was grown. It was such an emotional moment for him that the idea for Barista & Farmer struck him as he wandered the grounds of the farm.

"I was full of joy," Francesco said. "My eyes were shining. It was like a dream come true. I knew I needed to give this opportunity to other baristas."

The farm he visited, Hacienda San Pedro, is the farm owned for four generation by the family of Rebecca Atienza, who hosted the first edition of Barista & Farmer in 2013 on her farm.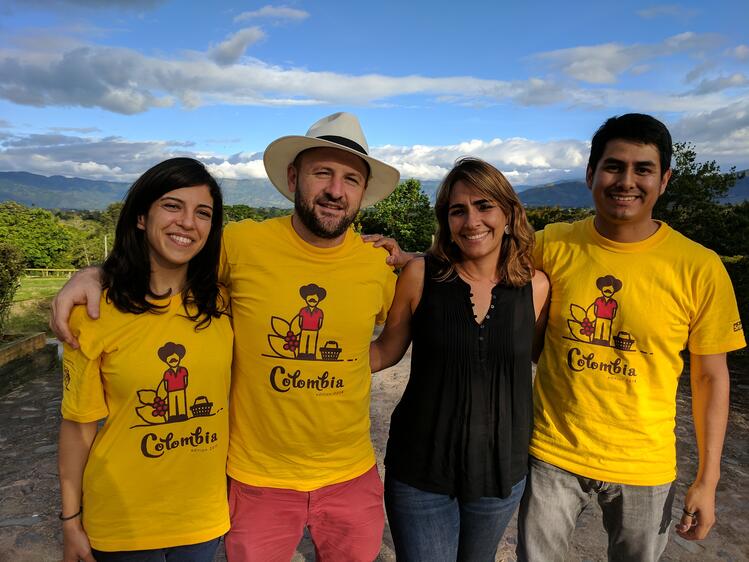 Growing up literally amongst the coffee trees, Rebecca intimately understands the value of work in the farms, so it's personal to her that the baristas in the program understand this lesson. As a barista working in a coffee shop thousands of miles away from a coffee-producing region, it's easy to waste a few grams of coffee here and there. But experiencing the hard work of a farmer first-hand changes how a coffee professional sees of a bag of coffee.

"They have this very conscious in their mind," Rebecca said. "That being a coffee farmer is a really hard job, so we have to be very careful with the product."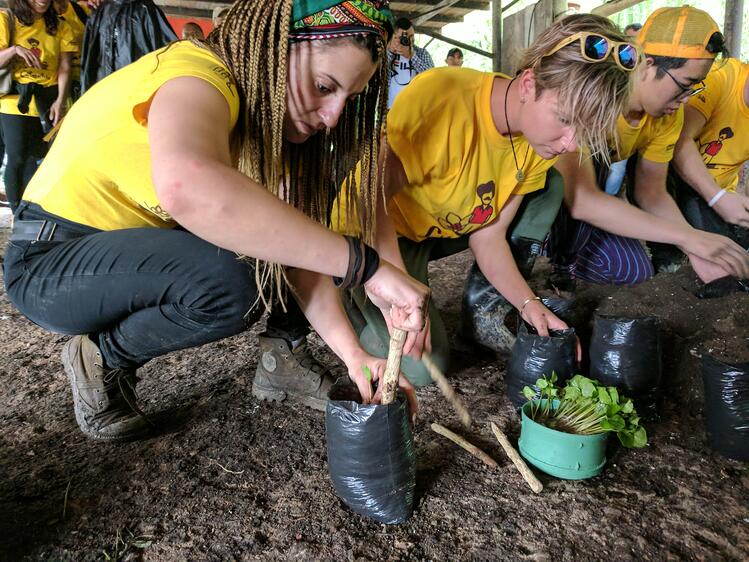 For Francesco, the entire objective of Barista & Farmer can be distilled down to one simple idea: that coffee is a fruit. He hopes that the show's audience, which might not come from the specialty coffee community, gains a greater appreciation for the effort and delicacy of producing coffee.

This idea rings clear and true for the baristas in the program. Diego Campos of Colombia, the winner of this edition of Barista & Farmer, has long tried to push his customers at his café to better understand the nuance and quality of coffee he prepares and serves. But after working in the coffee farms of Huila himself, he is now better equipped to communicate the story of coffee's beginnings and journey with his customers.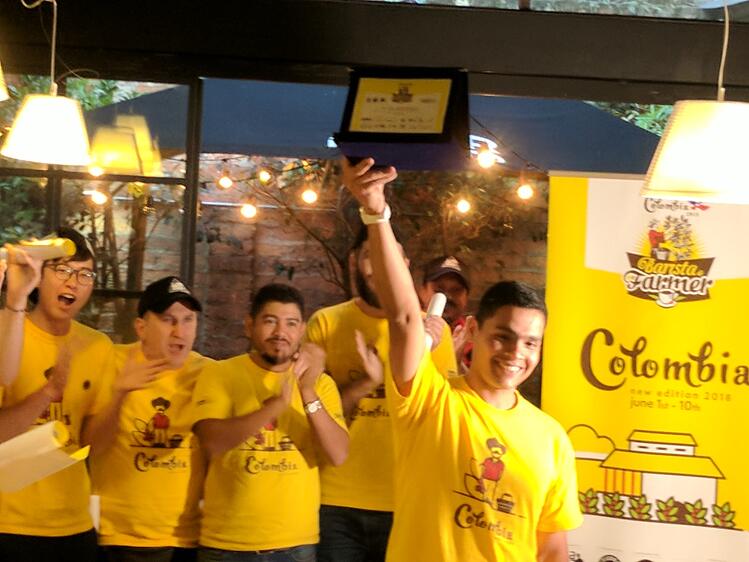 To Scott Conery, the baristas will come home from Colombia with a few tangible takeaways like these to help improve their local coffee community and coffee businesses. But as a judge for Barista & Farmer twice over the past three years, he said the real gift that Barista & Farmer gives is more emotional.

"This kind of trip stays with you for a lifetime," Scott said. "The baristas tell us that this was one of the biggest eye-opening experiences of their life, it showed them so much that they may never have seen before, it makes them want to do it again."

The other key takeaway of Barista & Farmer is a little harder to quantify. The baristas of Barista & Farmer had never met each other before arriving in Bogota on the first day of the program. They each came from different cultures and backgrounds and spoke different native languages. But they were tied in totality by their love and passion for those little red cherries clustered on the branches of the trees in the farm. And over the next 12 days, after early mornings in Colombia's coffee farms, Coffee Academy classes at the SENA, Sanjuanero dance lessons, Chiva painting sessions, cooking competitions, and songs in the rain, the baristas had made nothing short of life-long friends.

"I will miss you guys all the time," Diego said. "There were so many fun moments. Spending all the days together, we got so close. I think now we are very special friends."

Urnex was a proud sponsor of 2018 Barista & Farmer, and a continuing supporter of the individuals around the world who work every day to improve coffee.