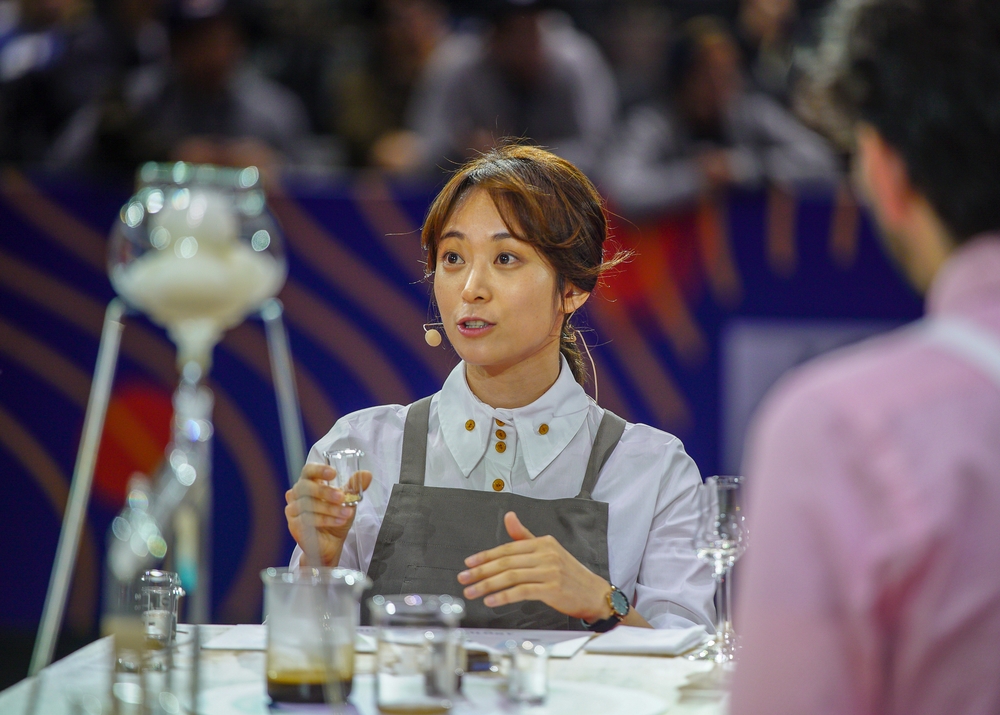 Persistence pays off. After 10 years of competing in coffee competitions, Jooyeon Jeon of South Korea won the World Barista Championship last year with a performance that dazzled the audience with new scientific innovations and her charming style of service.

Since winning WBC, Jooyeon has had a busy year. A member of the 2019 Urnex Ambassador team, she shared with us some of her most memorable moments since becoming the world champion, how her life and work have changed, and what she plans to do next in coffee.
Urnex
: What impact did you wish for your 2019 WBC performance to have on the coffee industry?
Jooyeon: Improving barista skills and researching coffee in various ways is essential as a barista. But in the modern world, where everything is being automated, I think the most important thing for me as a barista is customer service. Through my demonstration, I wanted to convey the new experience of specialty coffee to customers by utilizing the environment (customer service) that exists around the coffee beyond the expertise of barista. And the experience stimulated curiosity about specialty coffee and wanted to expand the entire industry.
Urnex
: How has your work (at Momos) and life changed since winning WBC?
Jooyeon: I've been very busy. I was invited to many places and received various suggestions. But right after the competition, I focused on interviewing and broadcasting various media outlets, rather than spending time with coffee people or baristas. The reason was to make the specialty coffee industry more popular and to increase the value of the job of baristas. It's the same reason why I started to challenge the WBC. So I did it! Since then, I have taken on a role as a green bean buyer in the company, traveling to various mountains, and meeting many producers. In addition, I have been invited to many countries and I meet many baristas.
Urnex
: What countries have you traveled to since winning WBC?
Jooyeon: I have visited so many countries. My first visit after the tournament was Melbourne, Australia. This place was to study English and I stayed for two months. Then I spent a week in Brazil with the 2019 Barista and Brewers Cup finalists at the invitation of Daterra Farm, Brazil. After that I started the mountain schedule for direct trade. I visited Bolivia, Colombia, Ecuador and Ethiopia. I also visited Indonesia, Copenhagen, China and Japan to meet baristas and share my WBC experiences. I have now started traveling to Central America. The tour will visit El Salvador, Guatemala, Costa Rica, Panama, and Colombia.
Urnex
: What was your most memorable trip since you became the WBC champion?
Jooyeon: Every place is precious to me for different reasons. However, my first trip to Australia after the competition was my most precious time. It was about six weeks, it was a good time to relax and I met many new friends. And I visited a lot of good cafés and got a lot of inspiration.
Urnex
: Has your experience as WBC champion shaped your perspective on the coffee industry?
Jooyeon: I was once again thinking about the nature of specialty coffee. That's why I am traveling to many coffee origins.
Urnex
: After winning WBC in Boston, what was some of the advice you received from previous WBC champions?
Jooyeon: The day after I became a champion, I received a message from Aga Rojewska, which was very touching. I really thanked her. She told me nice words and I still save the message. She told me that from the moment I won, life would be a bit crazy. But that she and the other champions would be there to support me with whatever I need, and to write her if I need advice, help, or to talk. She also said to enjoy my year! That it will be amazing, and that I should use it for me. That there is nothing more I would have to do.
Urnex
: What advice do you have for this year's WBC champion?
Jooyeon: I want to tell new champ what Aga said. And I want to say, "Don't worry, just enjoy! Now is the beginning of your dream! Imagine the specialty coffee market you've dreamed of."
Urnex
: Do you plan on staying involved in future coffee competitions either as a competitor or a coach?
Jooyeon: My goal, which I set up ten years ago, was just to be on the WBC stage. So I have only participated in the National Barista Championship for WBC for 10 years. I will not participate in other competitions. Coaching… I can't be sure. But for now, I just would like to help if I have friends who are preparing for the competition and not coach, because I cannot be the perfect coach now.