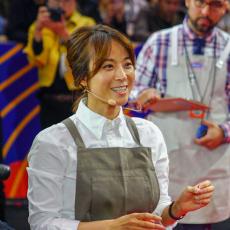 Try Jooyeon's Favorite
Urnex Product
"Grindz. Cleaning the grinder is easy and efficient without disassembly."
What is your current occupation and employer?
I have worked at MOMOS COFFEE in Busan for 14 years. I am in charge of coffee education.
List all the national and world coffee competitions you have competed in.
2019 World Barista Championship 1st place
2019 Korean Barista championship 1st place
2018 World Barista Championship Semi-finalist (14th place)
2018 Korean Barista Championship 1st place
2015 Korean Barista Championship 3rd
2014 Korean Barista Championship 2nd
2013 Korean Barista Championship 2nd
2011 Korean Barista Championship Semi-finalist
2010 Korean Barista Championship Semi-finalist
When and how did you decide to pursue a career in coffee?
There is not a special moment that I became barista. I just started working in coffee as a part-time job in MOMOS COFFEE in 2007, when I was university student as a major in social welfare. At that time, I was getting interested in this job as I working at the bar. So it is very natural course for me to become barista.
How did you first decide to compete in a coffee competition?
In 2009, I first found out about the WBC. WBC 2009 was very special moment for me. When I saw the presentations, I was very impressed. At that time, their emotions and attitudes seemed to be wonderful for me. So I wanted to be there as them. After this dream, my passion for specialty coffee has been higher.
What impact did you wish for your 2019 WBC performance to have on the coffee industry?
Improving barista skills and researching coffee in various ways is essential as a barista. But in the modern world, where everything is being automated, I think the most important thing for me as a barista is customer service. Through my demonstration, I wanted to convey the new experience of specialty coffee to customers by utilizing the environment (customer service) that exists around the coffee beyond the expertise of barista. And the experience stimulated curiosity about specialty coffee and wanted to expand the entire industry.
How has your work and life changed since winning WBC?
I've been very busy. I was invited to many places and received various suggestions. But right after the competition, I focused on interviewing and broadcasting various media outlets, rather than spending time with coffee people or baristas. The reason was to make the specialty coffee industry more popular and to increase the value of the job of baristas. It's the same reason why I started to challenge the WBC. So I did it! Since then, I have taken on a role as a green bean buyer in the company, traveling to various mountains, and meeting many producers. In addition, I have been invited to many countries and I meet many baristas.
What is different about your performance, preparation or mindset for this year's WBC in Boston?
My first WBC in Amsterdam was with 'the endless tension'. At that time, I wanted to show everything I had, because it would be the chance of a lifetime. That made me feel so much burden. I didn't enjoy preparing for WBC at all.
Last year was different. I changed my mindset and didn't care about other's attention and focused on what I can do now. This mindset made me more comfortable and enjoying preparation everyday. I felt even more comfortable when arriving in Boston, because I already had the same experience last year and could foresee what will be happen in competition. So the 'trial and error' at big competition is important.
How far in advance did you start training for WBC? How many hours a week do you train?
I spent six months training for WBC in Boston. After the presentation was completed, I practiced for six hours every day.
What's the best piece of coffee-related advice you've received?
"Keep going! Try and try again until you succeed." It's my boss's advice. This is not coffee-related advice. However, this simple idea has influenced me the most.
What is the funniest or most memorable moment you have experienced behind the bar?
It's a story of a colleague who works with me. It was a very busy time. Because of the confusion, she poured water into the grinder instead of coffee. It was a serious situation, but we burst into laughter.
What is your favorite brew method at home?
Filter coffee with Kalita wave dripper.
Describe the importance of cleaning or clean equipment in making the best coffee beverages.
I think it's the most basic barista's job in serving the specialty coffee to a customer. If it the equipment is not clean, the meaning of serving special coffee is meaningless.
What is your favorite Urnex product and why?
Grindz. Cleaning the grinder is easy and efficient without disassembly.
What is unique about coffee culture in your country?
In Korea, most people enjoy drinking specialties coffee as well as ice coffee. I think it's a way to enjoy many kinds of flavors.
Do you plan on staying involved in future coffee competitions either as a competitor or a coach?
My goal, which I set up ten years ago, was just to be on the WBC stage. So I have only participated in the National Barista Championship for WBC for 10 years. I will not participate in other competitions. Coaching… I can't be sure. But for now, I just would like to help if I have friends who are preparing for the competition and not coach, because I cannot be the perfect coach now.