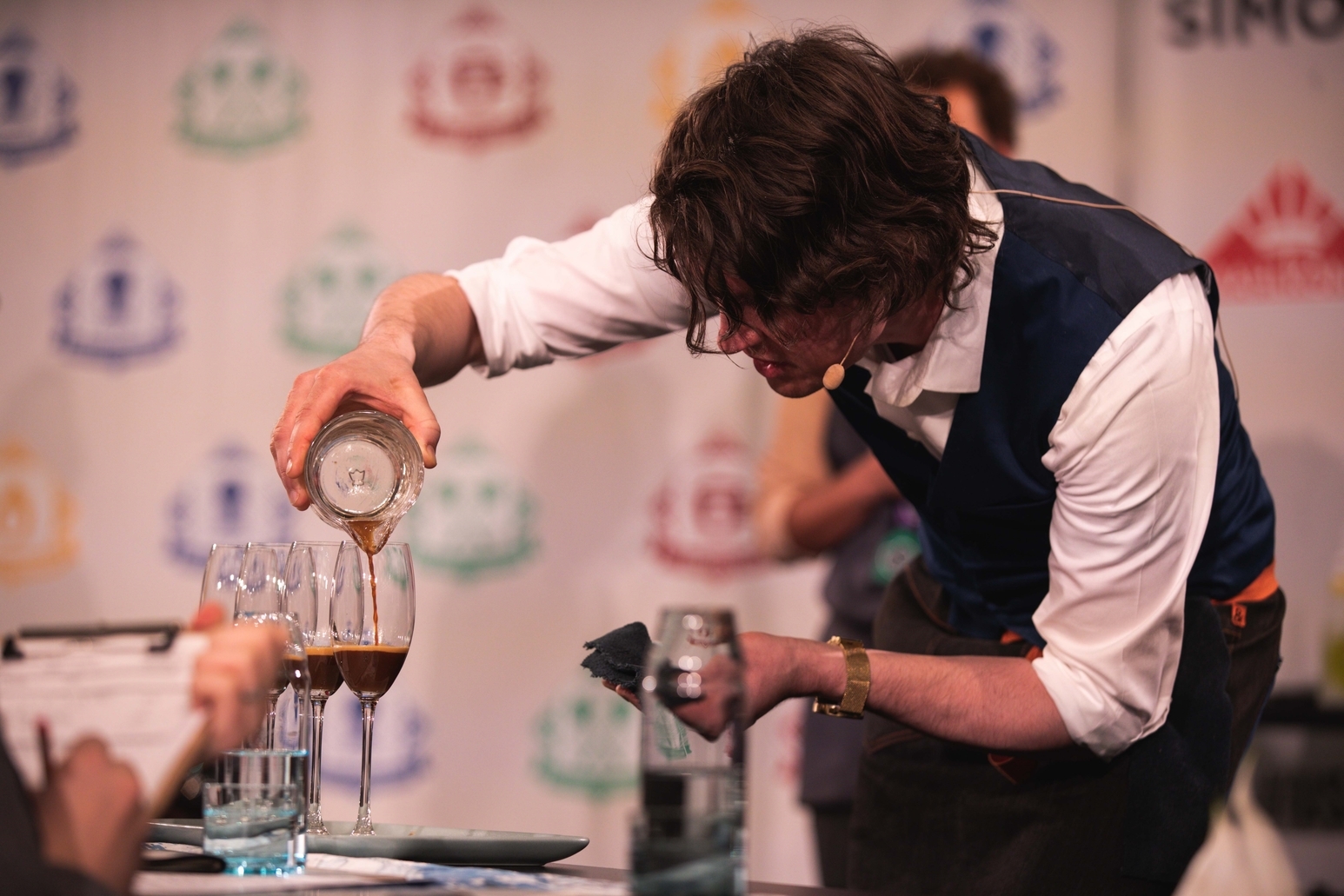 If you want to win the United States Barista Championship, you'll have to give up 80 percent of your life.

That's according to the winner of last year's championship, Cole McBride. In preparing for his championship season of 2018, he began an intense training period that began months before he stepped on a competition stage. He committed to 4-6 physical performance run-throughs per week, four hours per session, at a minimum of 60 days before competition. Then he put in an immeasurable amount of time spent on developing and scripting his presentation – building out his performance theme, creating and tweaking a delicious and unique signature beverage, mapping out his table setup and workflow, and pouring over every word that he'll say to the judges.

All this competition prep is on top of an already arduous 40-hour work week working bar shifts at various cafes across his hometown of Seattle. Which doesn't leave much time to hang out with friends, go out to eat or travel. Only eating, sleeping, training, and just enough jogging and yoga to keep him sane.

"I don't think anyone wins barista competitions based solely on talent," Cole said. "It's a lot of hard work and dedication."

This is the kind of rigorous training that barista competitors all over the country are engaged in right now as they prepare for the 2019 United States Barista Championship season, the dynamo coffee competition in which competitors create rounds of espressos, milk beverages and signature beverages in 15 minutes for a set of discerning judges on stage.

It's not an easy journey to barista promised land. Hundreds of baristas competed in ten Preliminary round competitions in different host cities across the country from July through October. A handful of competitors from each of those preliminaries advance to one of two Qualifying events – the first qualifier in Denver took place in early December, and the second will be hosted in Nashville on January 12-13. The top 18 competitors from each Qualifying event will march on to the road to the United States Barista Championship, coming this year to Kansas City in March.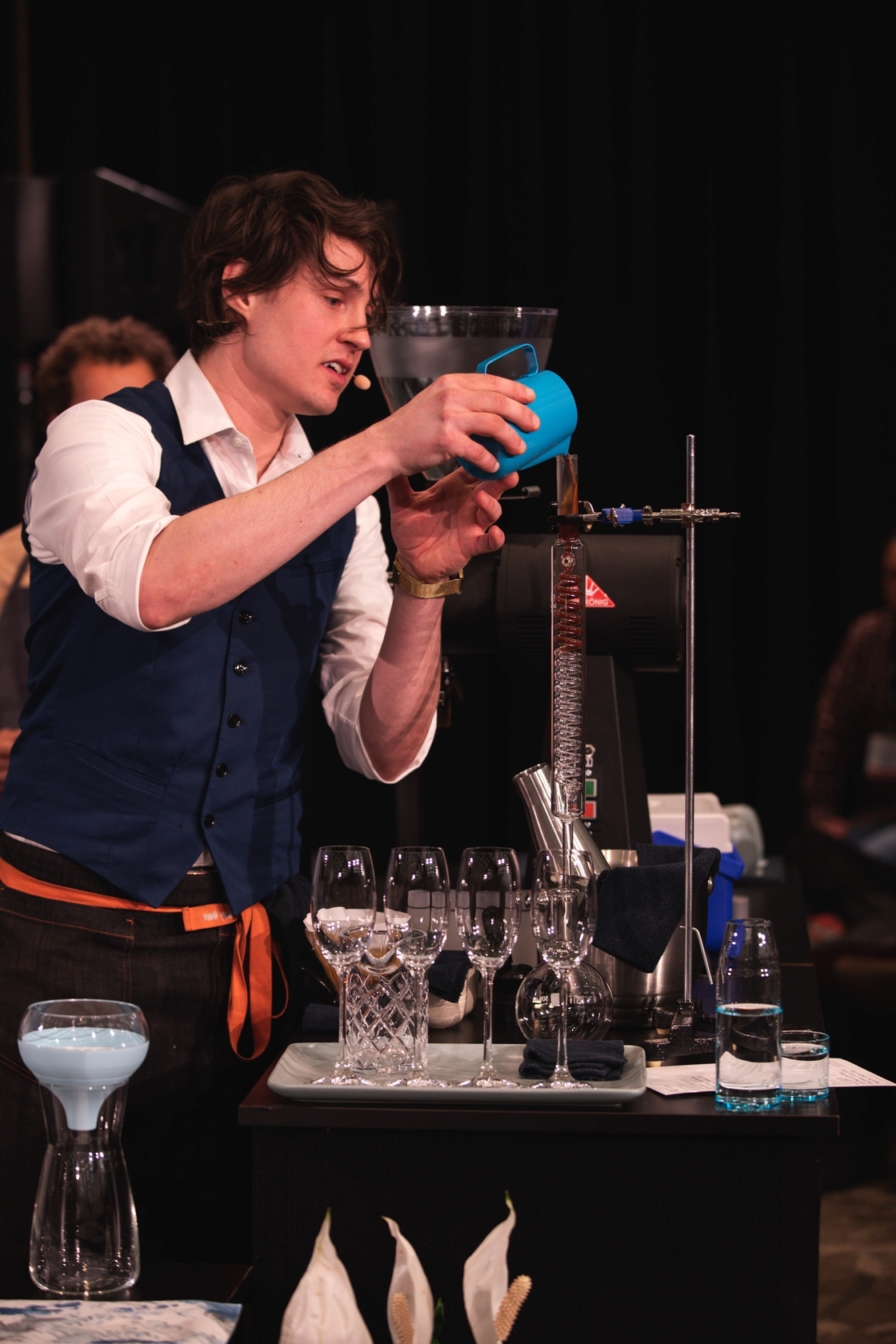 This year will be a much different competition season for Cole. The seven-time barista competitor is one of the few reigning champions who has attempted to win a second championship win (there are three repeat U.S. Barista Champions: Heather Perry, Michael Phillips and Pete Licata), and he would be the second person ever to win consecutive titles, with Phillips achieving that feat in 2009 and 2010. Cole, a native of Nashville, was also able to bypass the Preliminary and Qualifying rounds with a bye, automatically qualifying for the Championships in Kansas City (this is the last year the SCA will grant the previous year's winner a bye).

But Cole, one of this year's Urnex Ambassadors, isn't taking success for granted as the incumbent. He started brainstorming this year's presentation the day after he was eliminated from the 2018 World Barista Championship in June, where he advanced to the semi-finals and finished in 12th place. He plans on presenting a routine centered around the idea of "inspiring people to dream big." But Cole said that whether you're a reigning barista champion or a first-time competitor, people should build presentations that are true to themselves.

"Competitors should find what they can do that no one else can," Cole said. "You don't have to do a chemistry class, farm-to-table presentation or an origin story on stage. You can do anything you want. Find a way to make what you do yours."

One guarantee of Cole's presentation from the outset is that he will source his competition coffee from his friend and collaborator, Juan Peña of Hacienda La Papaya in Ecuador, who Cole has worked with since 2015. Cole and Juan are using six different coffees from La Papaya of various varieties, processing methods and drying techniques to try to determine where the flavors in the coffees are coming from, and to correlate those flavors to a specific trait of the coffee or its processing. This research will be an element of Cole's presentation, but it will also become a longer-term project that Cole and Juan continue to explore.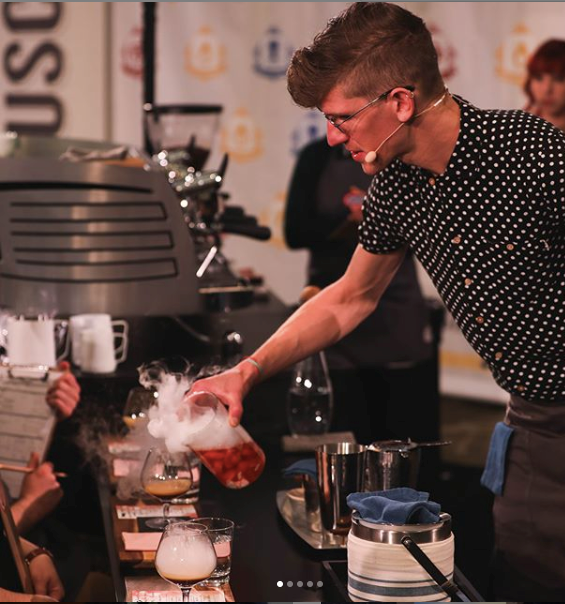 Cole isn't the only finalist from last year's USBC that will have a direct influence over the coffee they will serve in next year's competition. T. Ben Fischer finished in second place in last year's USBC, and this year took first place in his Preliminary round in Montgomery and is advancing to the Qualifying round in Nashville in January. His performance this year will focus on coffee blending, representing various coffee producers from the same wet mill. His goal is to showcase the power of community in a part of the coffee value chain not typically celebrated for collaboration, and to highlight the diversity of voices across the seed-to-cup journey.

Arguably more significant than T. Ben's individual participation in the 2019 USBC is his founding of a new kind of barista training program. T. Ben has noticed a lack of diversity, flair and representation in the coffee competition scene. In his pursuit to change the average face of a coffee competitor, he created Glitter Cat Barista Bootcamp, which provides access and training to coffee professionals who have historically remained on the fringes of specialty coffee circles, including LGBTQ+, women, gender non-conforming, racial and ethnic minorities, and people with disabilities.

"The world is more than straight white men, and we have heard plenty from them," T. Ben said. "The world is full of diversity and culture and it is terrible that we are not seeing that on and off the competition stage."

T. Ben said that the benefits of Glitter Cat to the trainees aretwo-pronged. The competition training and classroom education, which provides instruction on how to select and prepare espresso, create an original balanced signature beverage and build your presentation theme, has a direct influence on the Glitter Cats' on-stage routines. But Glitter Cat also creates a tight knit network of new coffee friends for the ten trainees where they could share information and support each other through the competition season.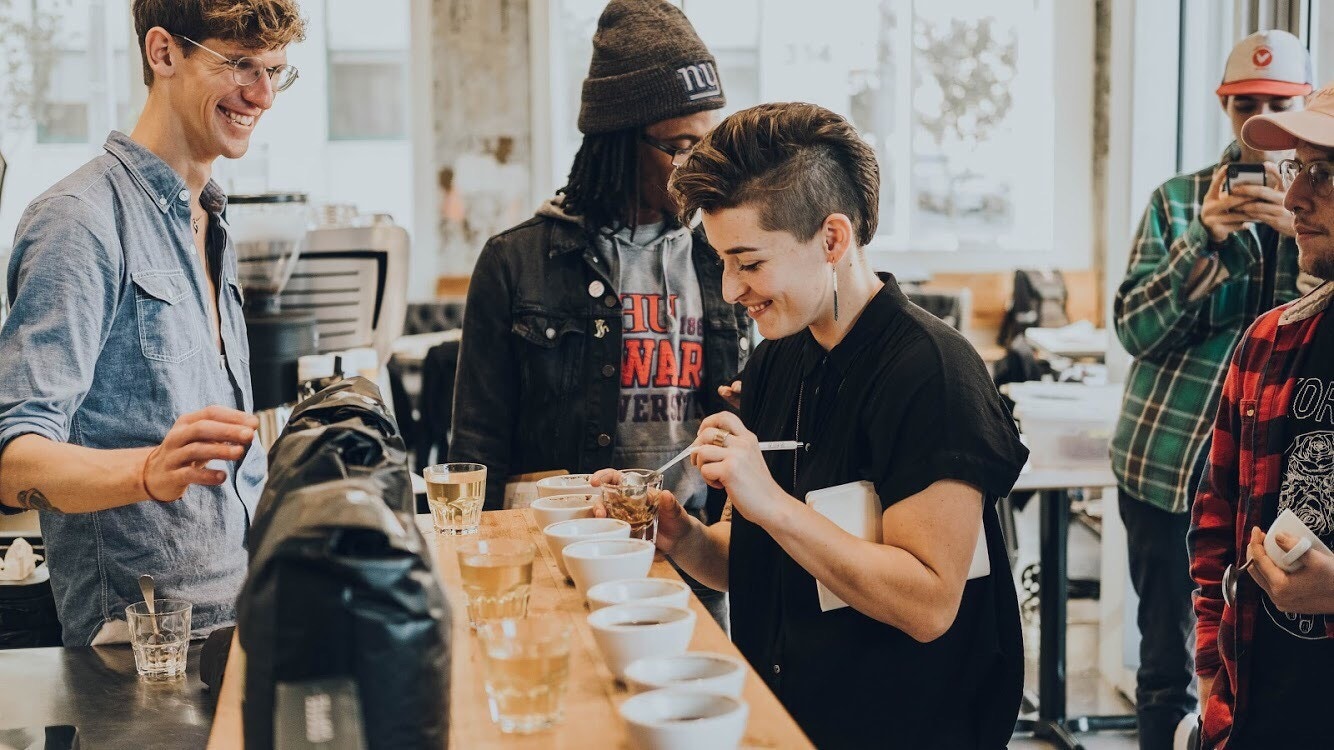 Emily Orendorff was one of the inaugural Glitter Cat trainees and finished in third place at the Denver Qualifying event. She said it was incredibly rewarding to forge special friendships with the other Glitter Cat trainees as well as the all-star cast of instructors, including USBC Champions Laila Ghambari, Lem Butler and Pete Licata.

Emily said that being a queer woman in the specialty coffee industry is a cornerstone of her identity, but it doesn't always play a positive part in her day-to-day life as a barista. She is forced to deal with microaggressions from customers while working shifts at Boxcar Coffee Roasters in Boulder, CO. Men sometimes won't order from Emily because they assume she isn't in charge or doesn't know what she's talking about.

The type of discriminatory behavior that Emily has endured on the job, and the domination of coffee competition by straight white men, inspired her to build a competition theme that doesn't fit a traditional mold, similarly to how she views her relationship with the coffee community. Emily is feeling a bit burnt out by her day-to-day life in coffee and thinks that many of her peers in the industry are feeling the same way. So in her routine, Emily embraced her honest attitude on the industry, acknowledged the difficulties that come with a life in coffee, but encouraged baristas to pursue a specific inspiration within coffee that drives them.

"I conveyed that we don't feel great all the time in our day-to-day," Emily said. "But that for whatever reason, whether it's the coffee or community or something else, people have a motivation to keep coming back and powering through. And that motivator can be a powerful one."

After returning to Colorado from the three-day Glitter Cat Bootcamp held in Philadelphia in October, Emily felt rejuvenated about the competition season. With only one month until Qualifiers in Denver, Emily's team at Boxcar arranged a makeshift practice space in the roastery for Emily to conduct physical run-throughs of her presentation before or after her barista shifts. For each practice, she would set a new goal for herself, like executing consistent and efficient dosing or developing her signature beverage, to ensure she used her practice time effectively.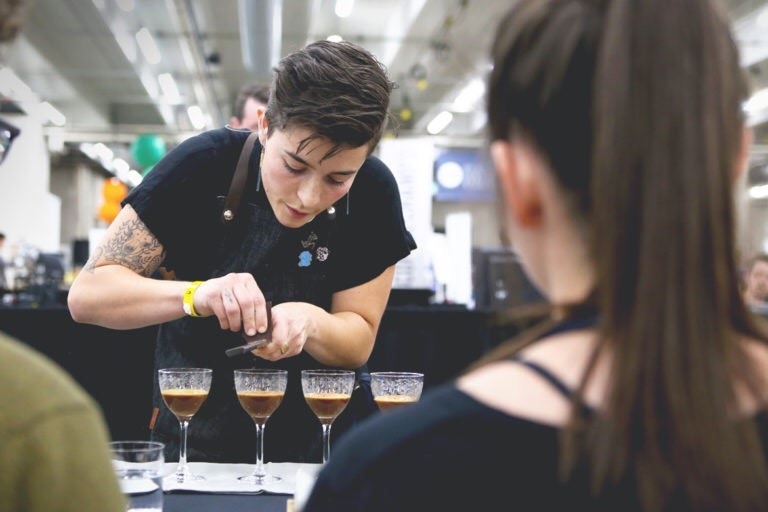 The amount of effort and dedication to practice time has been one of the biggest surprises for first-time barista competitor Joe Monett. It's been a challenge for him to balance his rehearsal routine and his day job at Café Grumpy in Brooklyn, where he works as the Director of Training and Development. But he said his experience at Grumpy, from working a rush at Grand Central to training brand-new baristas, has helped prepare him for his new experience on-stage.

Joe competed in his very first coffee competition this year at the USBC Preliminary round in Montgomery, where he placed third and stood on the same podium as T. Ben Fischer. His second competition experience will be at the Qualifying round in Nashville. He didn't know what to expect in Montgomery, especially since this was only the second year of the U.S. preliminary round, but he felt like a natural on stage. It was also a fantastic opportunity for him to meet fellow competitors and experience the palpable passion and energy present in the competition scene.

Competing is something that Joe has thought about doing for almost his whole specialty coffee career, but he never thought it was the right time. But in addition to improving his coffee skills and broadening his perspective on the industry, it was just something he felt like he needed to do.

"I'm not a competitive person, but I recognize all the great things that competition does for our industry," Joe said. "I realized I just had to dive in and go for it."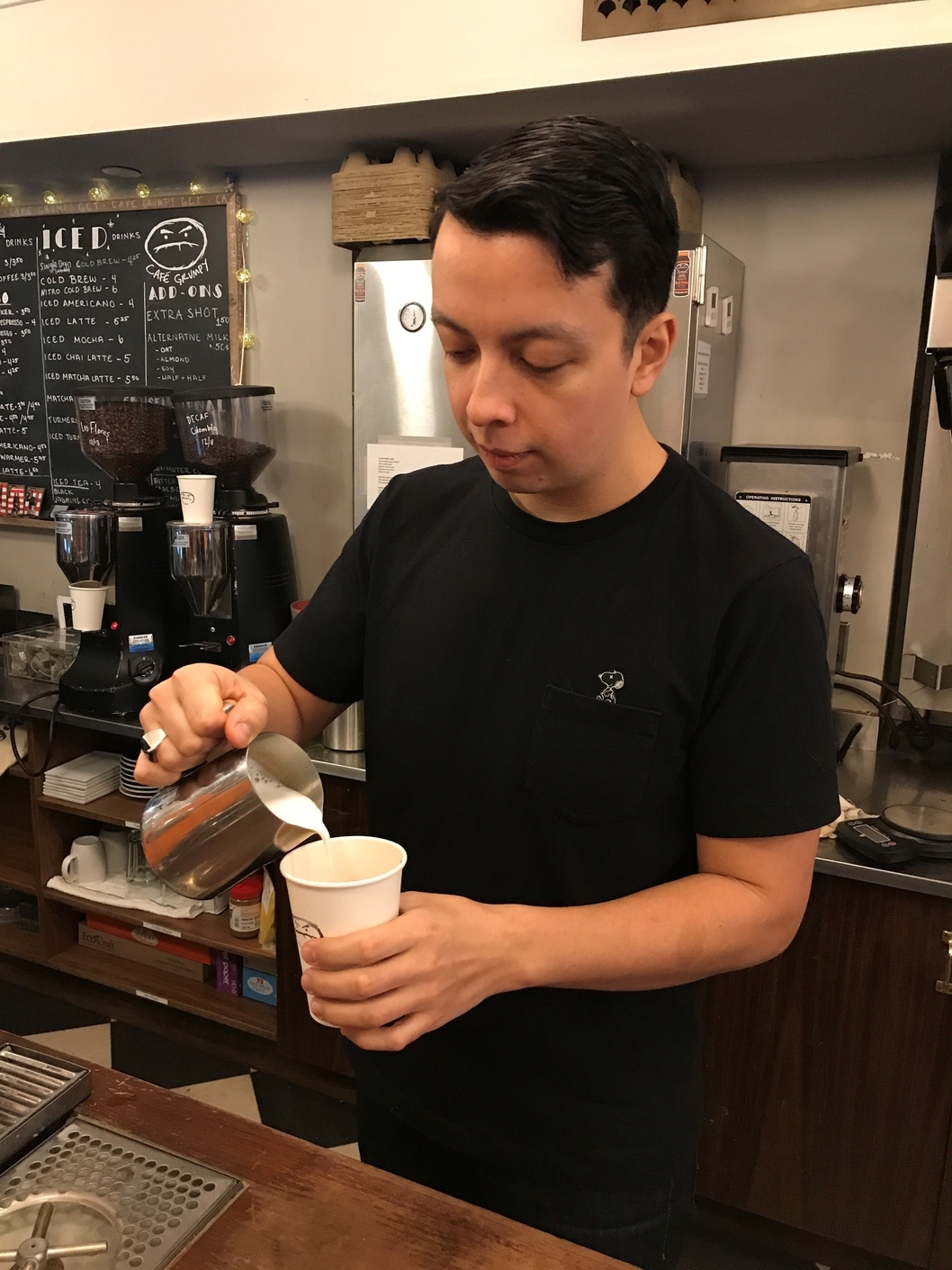 There are an unlimited number of reasons to compete in a barista competition. It could be to create connections other baristas in the specialty coffee community, improve your skills as a barista or trainer, earn recognition in the industry, introduce an inventive brewing process or processing method, gain more confidence as a presenter, or simply to learn more about coffee.

The reigning United States Barista Champion respects all reasons to get into the competition game, and he has his own motivations to keep competing. They don't include fame, glory or another USBC trophy. Cole doesn't even need to win again to feel fulfilled, although he would love to return the 2019 World Barista Championship, taking place in Boston in April.

But Cole does want to continue building relationships that he wouldn't be able to develop without competition, like with his producer Juan Peña. And he wants to continue wrestling with and learning from the competition that allows him to explore the infinite avenues that exist in coffee.

"I'm not done yet," Cole said. "I'm still learning all the time when I compete, and there are still more levels of mastery to reach. I have the energy and the passion, and I want to push myself to the highest level I can achieve."