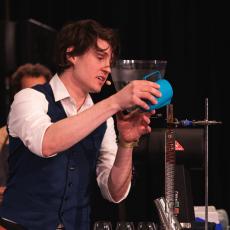 Try Cole's Favorite
Urnex Product
"Cafiza! It dissolves quickly which makes it so easy to clean your espresso machine!"
What is your current occupation and employer?
I'm an independent Coffee Professional.
List all the national and world coffee competitions you have competed in.
United States Barista Championship: 2011-2018
World Barista Championship: 2018
How did you get into the coffee industry? When did you know you wanted to turn your passion for coffee into a career?
After leaving Nashville shortly after turning 18, I arrived in Seattle and started working in my first job in coffee at a Tully's in Pike Place Market. It was at about one year that I knew coffee would be my career. That was 16 years ago.
What's the best piece of coffee-related advice you've received?
Work hard, be the best you can be and stay humble.
Who in the coffee industry has served as an inspiration to you?
So many people I can list. Holly Bastin and Pete Licata, my coaches for this year's WBC, Trish Rothgeb, and so many others.
What is the reaction you receive when you tell someone outside the coffee community that you are a champion barista competitor?
They are usually really excited and want to know a little bit about the competitions. Most folks are shocked the competitions are even a thing, but once they learn about them, they're usually impressed with the level of dedication and excellence involved in winning.
What is your favorite Urnex product and why?
Cafiza! It dissolves quickly which makes it so easy to clean your espresso machine!
What makes coffee culture unique in your country?
So much of the coffee culture in the United States is a to-go culture. Most of the coffee we serve here is in to-go cups.
Outside of coffee, what do you do for fun?
Yoga, running, Barista Competitions, hiking, traveling and road trips.
What is your favorite brew method at home and why?
I don't really make coffee at home anymore. I prefer meeting up with people at cafes.
What's one thing you'd like an average person to know about specialty coffee?
Coffee is not a bean – it's a seed.
Where would you like to be and what would you like to be doing 5 years from now?
I'd like to be running my own coffee bar.