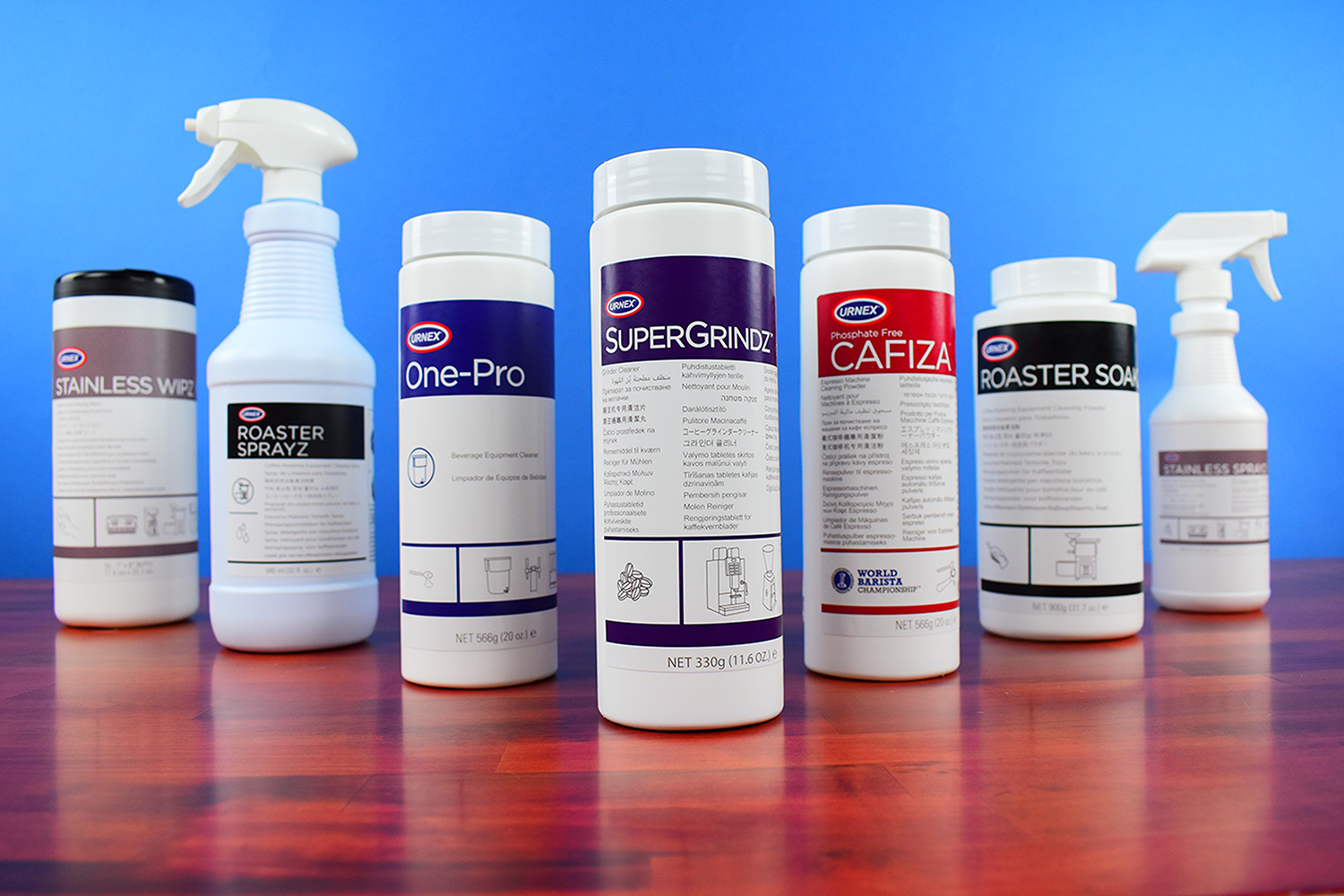 Today, Urnex announced the introduction of seven products to its robust global portfolio of cleaning solutions. These products will be presented for the first time at the 2019 Specialty Coffee Expo in Boston from April 12-14.

"The items we are launching at SCA Expo this year exemplify the breadth and depth of Urnex's expertise in cleaning chemistry and manufacturing," said Rusty Snow, President. "We are thrilled to offer these new and improved cleaning and maintenance solutions to a wide variety of end users, from roasters to baristas and convenience store operators."

The following new items will be featured at the Urnex booth (#937) at SCA Expo, and will be available for sale from April 29th:

Roaster Sprayz is a high foaming cleaning spray that dislodges and removes buildup on coffee roaster parts, including chaff collectors, cooling trays and impellers.

Roaster Soakz is a powdered cleaner that, when mixed with water, creates a potent soaking solution able to penetrate and dissolve heavy buildup on removable roaster parts.

Stainless Sprayz is a liquid spray that cleans and protects stainless steel surfaces, eliminating smudges and fingerprints, while leaving behind a streak-free shine.

Stainless Wipz are disposable cleaning wipes that remove residue, grease and fingerprints from stainless steel surfaces.

SuperGrindz are the world's first cleaning tablets that are able to safely and effectively clean grinders within superautomatic espresso machines.

One-Pro is a powdered formula designed to clean and ensure the safe preparation of cold beverages in equipment including granita machines, bubblers, iced tea and cold brew dispensers.

Phosphate-Free Cafiza takes the industry's most iconic cleaning product and delivers to its high standards of efficacy, without the inclusion of phosphates in its ingredients.

To pre-order any of the items mentioned above, please contact us by telephone at +1.914.963.2042 or via email at info@urnex.com.