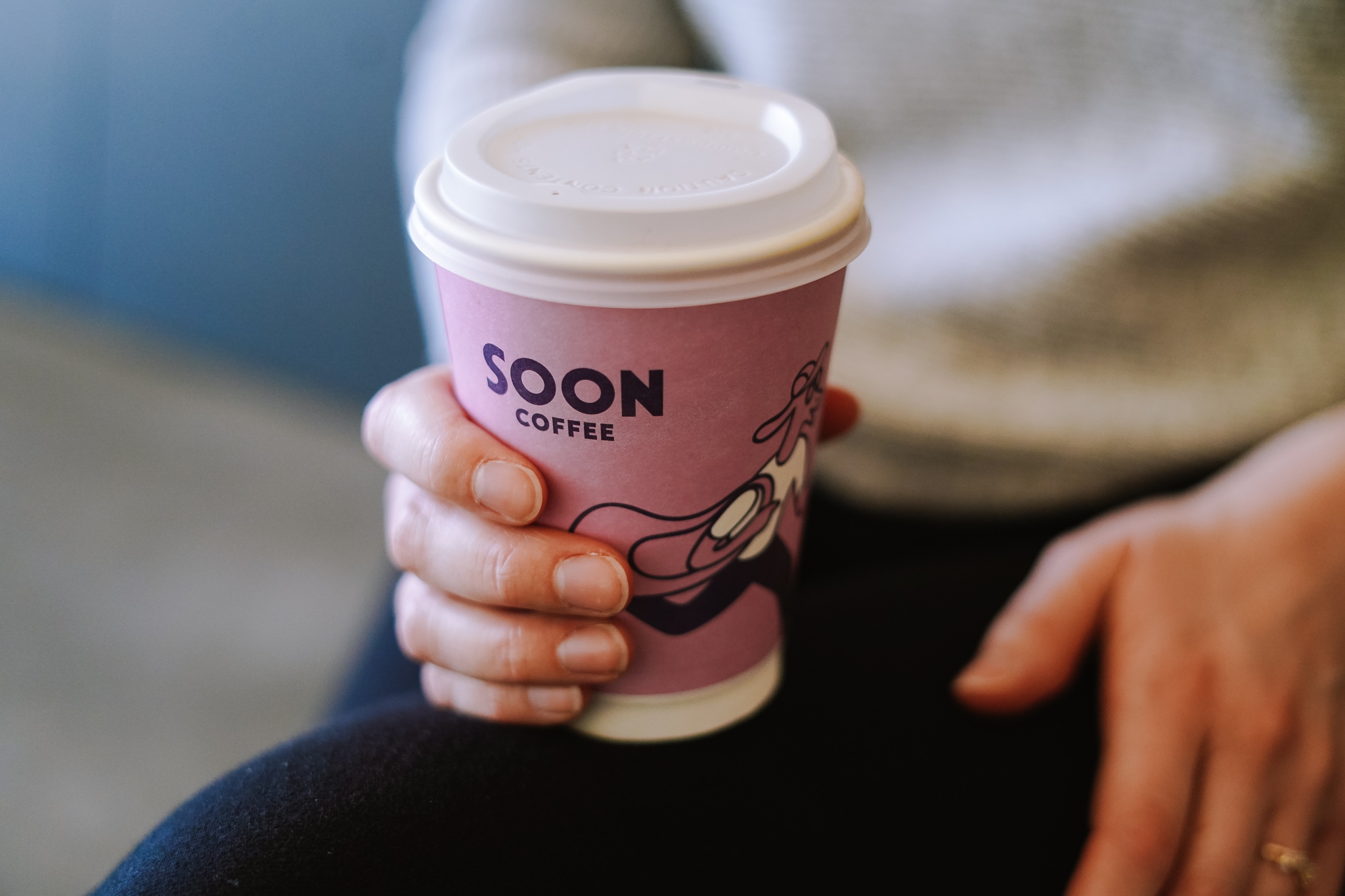 Last year, when Monogram Coffee in Canada announced it was opening a new cafe concept built around the principles of accessibility and sustainability, our ears perked. These topics are near and dear to us at Urnex, and we've covered them from various angles and highlighted numerous related initiatives over the past two years in our Biocaf Sustainability Series.
So we asked Jill Hoff - Monogram's trainer, educator, and quality control leader for its cafe coffee program (and 2020 Barista Champion of Canada and Urnex Ambassador) - to share with us (and you) the vision and execution behind Soon Coffee. The following article was written by Jill.
Bridging the gap
There is a stigma that specialty coffee is only for a certain "type of person". This is, unfortunately, how a large percentage of the coffee drinking population views specialty coffee. How can we as an industry change this? It will be a slow moving train to get there, but very possible.
Soon Coffee exists to create a bridge that people can start walking over. Soon is about making coffee for everyone. So how exactly is this done? Justin Eyford, Founder of Monogram and Soon Coffee says: "The Soon concept is designed to take down the barriers and stereotypes around specialty coffee and create a community that appreciates a delicious drink in an inclusive and community-building way. In order to accomplish this, we have gotten rid of the frills and taken things back to basics…(with only one) filter, espresso and decaf…selected because they are approachable, seasonal and delicious. We still hold ourselves to the standard of specialty coffee but we make it quick and uncomplicated so that the average consumer can easily understand and appreciate it."
The Soon experience is intended to appeal to the average coffee drinker: someone who is looking for a quick, tasty coffee, with friendly service.
Sydney Honsberger-Grant, Soon Manager, is a huge advocate for this concept. She has many years of experience working in the specialty coffee industry and understands the importance of cafes like Soon. "Everyone (should feel) welcome, where one's coffee literacy or budget won't be treated as limitations to their inclusion. I think this is why Soon's concept feels so important to me. It aims to get people in the door to specialty coffee, where they can enjoy better coffee at a reasonable price…regardless of their experience level. Coffee should be accessible, approachable and affordable."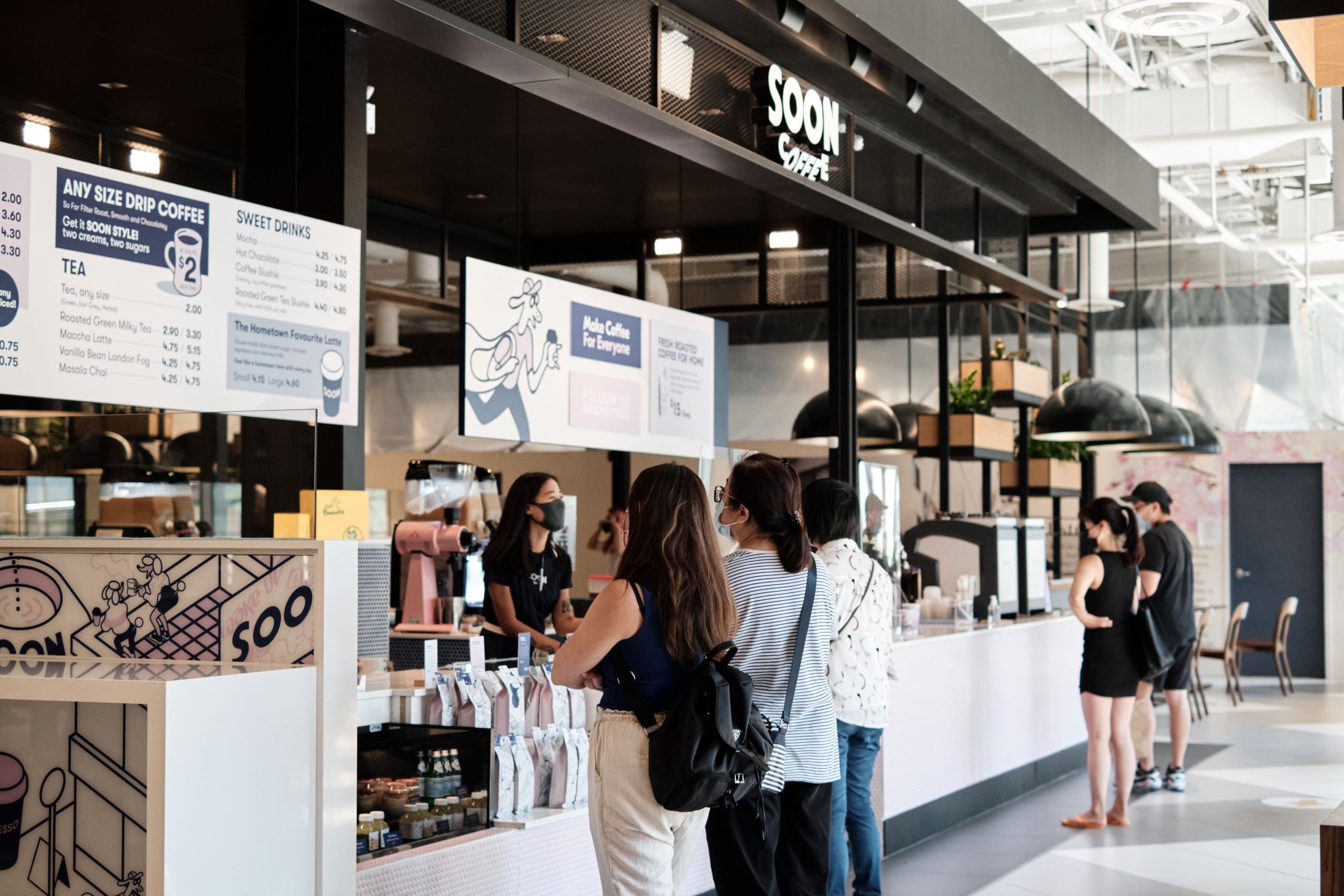 Uncomplicated and approachable
When you visit Soon there are a couple things that stand out, the first being the menu. It's intentionally small and uncomplicated, making it easy for customers to navigate. The menu embraces people's love of sweet coffee concoctions, without any judgements, by offering things drinks like the "Soon Style" coffee, which is a version of a "double double" (two cream, two sugar), their house made caramel Hometown favourite latte and coffee slushies. Whether you order a simple batch brew or a sweet latte, every single one of Soon's drinks is made with a rotating seasonal coffee that always has a similar chocolatey, sweet, smooth and easy drinking flavour profile. These coffees are sourced from producers who are both quality and sustainability focused; a short and sweet menu with the consumer and producer in mind. What's not to love?
The second thing that sets Soon apart is its espresso machines. At Soon, you will not find the traditional espresso machines you would expect at other specialty coffee shops; instead, Soon uses super automatic espresso machines from the manufacturer, Everysys. These machines deliver upon Soon's positioning and deliver great quality beverages quickly and consistently with little waste and a high level of customer engagement. Eyford says "the Eversys Cameo…allows us to achieve a level of quality that we, as coffee professionals are happy with, while allowing our staff to focus on (customer) experience".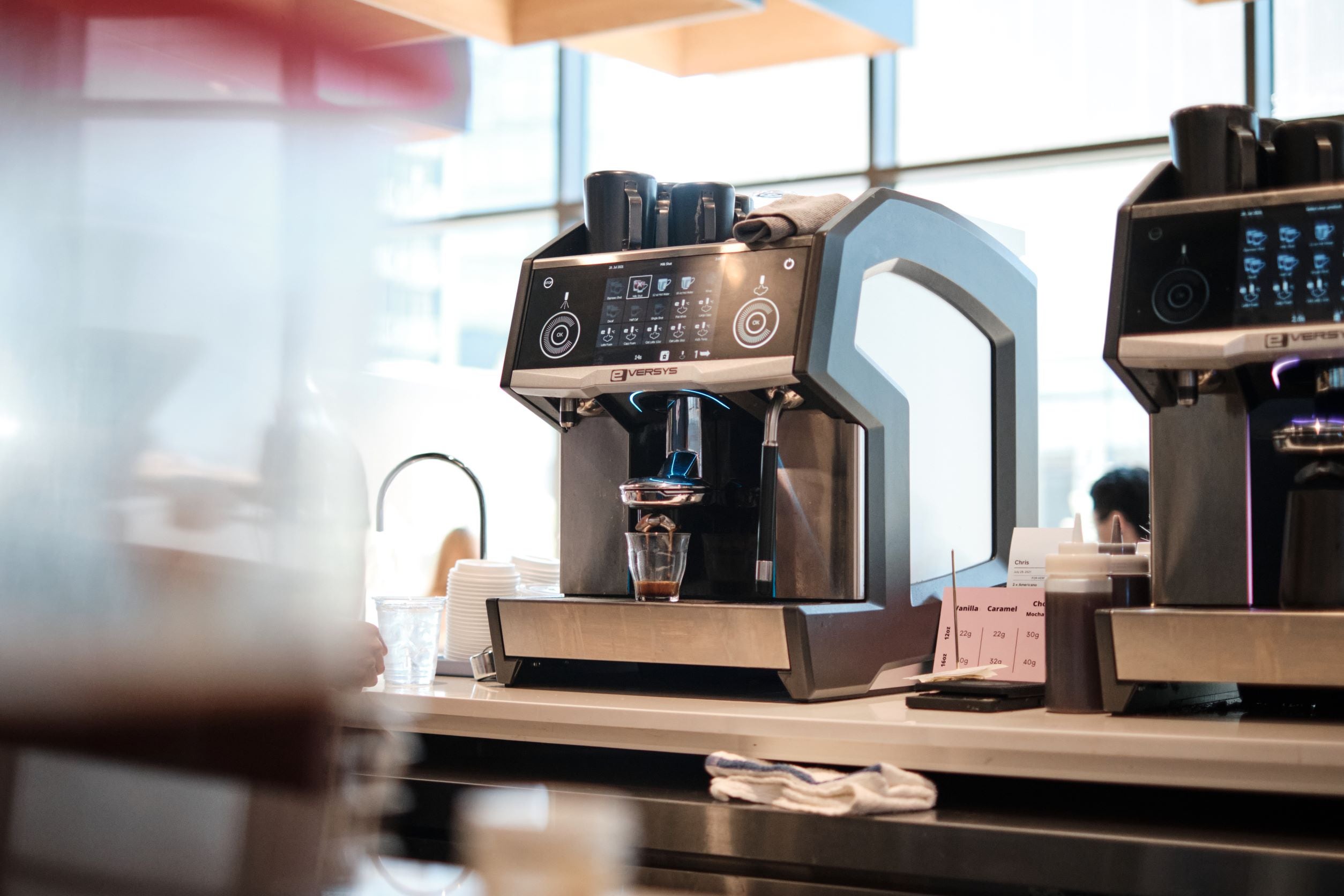 Let's talk about the superauto!
Beyond its ability to make coffee quickly, these superautos offer other benefits to every one of Soon's stakeholders.
In a business that is driven by the product that they produce, training baristas to pull shots and steam milk properly is of utmost importance. This process is often very labor intensive and leads to much product waste. With superautos you can reduce the amount of training significantly, decreasing labour and waste costs exponentially. Sydney attests that "the coolest thing about the Eversys is how it accelerates the barista training process. On traditional machines, between tamping and steaming, there are a lot of technical, physical skills to learn, and that takes a lot of time and trial and error. On the Eversys, though, baristas with no experience can learn to pull great shots and pour their first hearts in a matter of hours."
This expedited training moves people quickly from new hire to confident barista. The superautos are easily programmed to produce and re-produce the same recipe consistently from drink to drink, allowing a consistency of drink quality that you don't always get from traditional espresso machines. They eliminate any human error and guesswork on the baristas behalf, allowing baristas to work quickly and efficiently without spending unnecessary time tweaking coffee dials throughout the day. Making coffee using these machines "is such an efficient use of any barista's time" says Sydney. "Once they have dialled in, they can basically press 'go' and start making wonderful coffee".
Finally and most importantly, having a superautomatic machine frees up the baristas to engage with their customers more intentionally, which is an integral part of Soon's concept. Breaking barriers and changing consumer perceptions about specialty coffee requires having those meaningful interactions with your customers...and this is exactly what is happening, in large part due to the adoption of superautos. Where baristas would normally focus on activities such as dosing, tamping, and steaming, they now can afford to give their time and attention to customers, all while producing coffees quickly and consistently.
About the Author
Jill Hoff is the 2020 Barista Champion of Canada and trainer, educator, and quality control leader for the cafe coffee program at Monogram Coffee in Calgary, Canada.