If you've heard of the hills of Nandi county, Kenya, it may be thanks to Eliud Kipchoge, a native of this region, who recently became the first person in the world to run a marathon in under two hours.

But this part of western Kenya boasts another gem you may not have heard about: its coffee.

Among the recent Kenyan entrepreneurs in Nandi county is Dr. Rosebella Langat, who, alongside her husband, started a coffee estate business named Chepsangor Coffee in 2018. With her coffee brand called Tulon Coffee, she highlights the hills that make her coffee possible since "tulon" is the word in the Nandi language for "hills."

It's the perfect name. Thanks to this land's high altitude and fertile soil, this is among Kenya's top regions for tea—for decades, tea has been Kenya's top agricultural export—but coffee hasn't been a lucrative crop since the 1950s, before Kenya won its fight for independence from British colonialism in 1963.

Rosebella was born after this, in another part of Nandi, but she didn't grow up farming coffee. Still, despite her retirement, she's using her business expertise to make coffee sustainable for her community. As she often tells me, "Mine is a business with a mission"—and that mission centers on long-term sustainability that is social, economic, and environmental.

One application of this vision was finding a way to offer an ecologically friendly way to process coffee near her home that would also assist local farmers in her community. In 2015, when Rosebella and her husband bought their Nandi house and land, there was no local coffee factory or pulping station available to farmers who were not members of the local coffee cooperatives.

That's part of the reason why, as an estate, Chepsangor Coffee has the flexibility to provide services to other small-holder farmers, many who are new to coffee farming.

Among the missing elements was a way for these farmers to process coffee quickly. It is vital that freshly picked coffee cherries are processed swiftly. If they are not, they will ferment and negatively impact the quality and taste—and ultimately then be unable to sell to the specialty coffee market.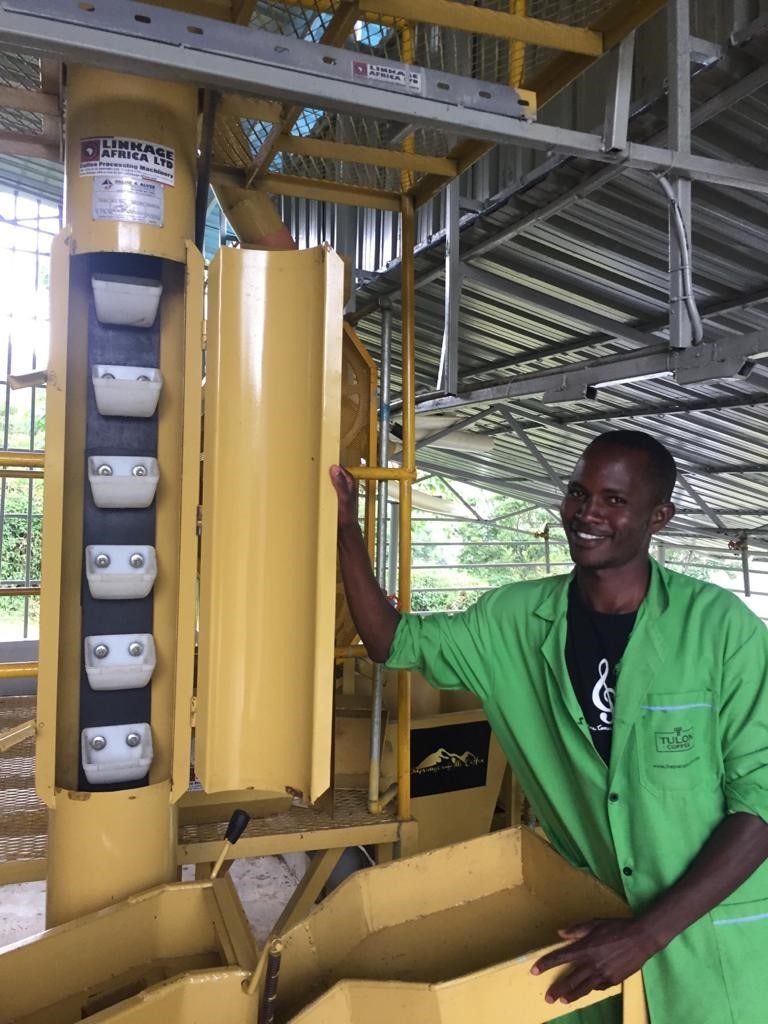 To help her do this, she and her husband invested in a high quality ecopulper that uses very little water compared to other pulpers. Chepsangor Coffee's factory now boasts a

Palini & Alves

machine that was a significant investment for she and her husband to purchase from Brazil (Máquinas Agrícoles).

Pulping is the process that removes the red ripe cherry skin from the "coffee bean," which is actually the seeds of the fruit we call coffee. Under the external red skin is a thin layer of sticky, slimy mucilage that also must be removed before coffee can be dried and sold. Ripe coffee cherries are put in a pulping machine, and, in washed coffee, the cherries move through the machine's cycles like a water slide. Ultimately its red cherry skin and the mucilage are removed and transformed into parchment coffee that will be dried. In washed coffee processing, a great deal of water is needed for this transformation to take place.

This ecopulper has been an essential way for Rosebella and the women she works with to pulp the cherries. Their ecopulper saves up to 30% on processing costs and helps to minimize damage to the beans. Since coffee's price remains volatile and inconsistent, their ecopulper has become one tool toward long-term sustainability.

In addition to its benefits for processing speed, the ecopulper allows Chepsangor Coffee more flexibility to experiment with its processing methods, such as various washed methods, as well as honey and natural processed coffee. As a result, it expands their opportunities to work with different roasters who can choose preferred cup profiles.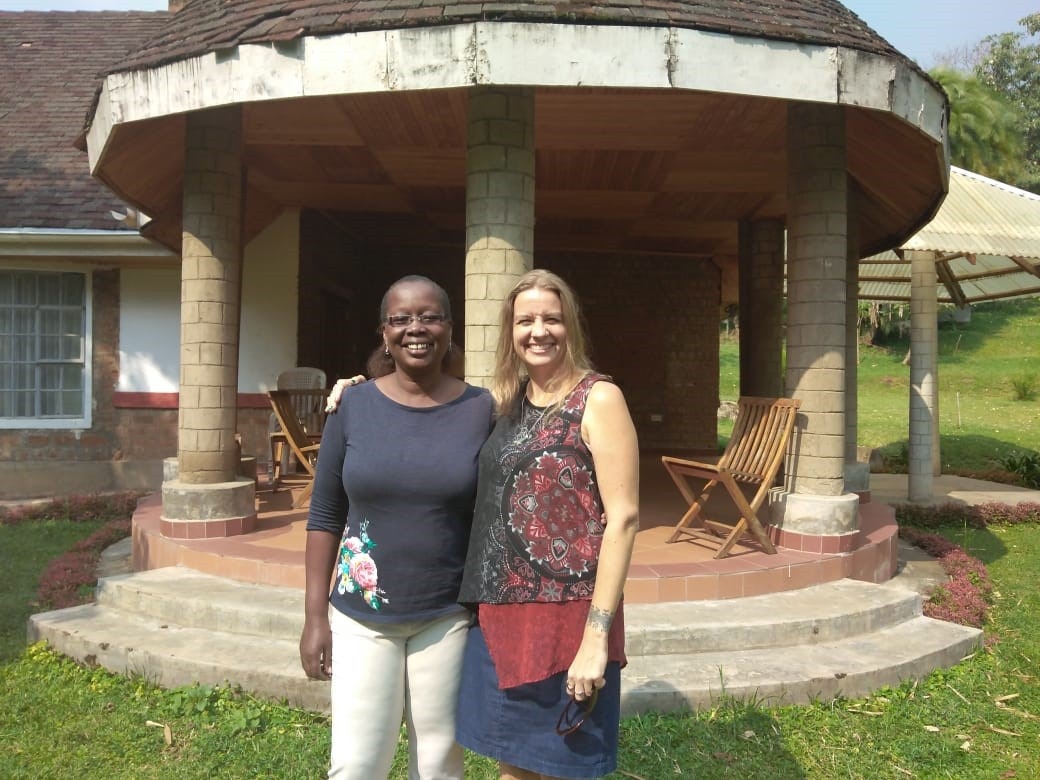 Rosebella seeks to build the capacity of the farmers in her community—an area where most of coffee planting and coffee picking is done by women. When I visited Chepsangor Coffee last year, I met dozens of these inspiring women who are determined to use their energy toward coffee. Some have fewer than a dozen coffee trees, but they are dedicated to saving money to buy more seedlings.

For these women, long-term sustainability means that they'll be able to use their coffee money to send their children to school. As Rosebella tells me, "coffee brings them independence." She describes her coffee dream: to drive around Nandi and see coffee on its hills. In less than five years, Chepsangor Coffee has planted hundreds of coffee trees, created a nursery with certified coffee seedlings, and built a thriving processing factory.

I have no doubt that they'll accomplish their next goal: to have a SCA-certified coffee lab.

Without question, Eliud Kipchoge and his athletic team has brought well-deserved attention to Nandi county, inspiring many Kenyans that "no human is limited." But I predict soon this will be true even for the small-holder coffee farmers and Chepsangor Coffee will be part of that ongoing story.
Born and raised in Los Angeles, Erika Koss now lives in Nairobi, Kenya, where she is a Research Associate at the University of Nairobi. In 2018, she launched "A World in Your Cup" out of Halifax, Nova Scotia, where she is also a PhD candidate in International Development Studies at Saint Mary's University. Erika's research centers on gender equity, sustainability, and resilience in the global coffee trade, particularly in East Africa. A former barista and Re:Co fellow, Erika is also a SCA-certified AST for Introduction to Coffee and the Sustainability Coffee Skills programs. Other career highlights include working at the National Endowment for the Arts in Washington, DC; the National Steinbeck Center in Salinas, California; and as an assistant dean at Northeastern University. She has taught literature, writing, and politics at several universities. She holds a B.S. from The Master's College; an M.A. in English literature from San Diego State University; and an M.A. in Political Science from Northeastern University. She is a regular contributor to several coffee magazines and is working on her first book. Read more on her website AWorldinYourCup.com, or follow her on Instagram @aworldinyourcup.