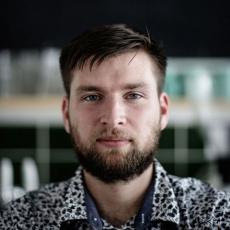 What is your current occupation and employer?
Owner and barista at Proper Order Coffee Co.
When did you know you wanted to turn your passion for coffee into a career?
For my first degree, I studied zoology at a university here in Dublin, and for my master's degree, I studied science education with a strong focus on biology and chemistry. That led me to entertaining the idea of being a schoolteacher, and I did that for a little while. About halfway through the schoolyear, I knew it wasn't for me. But luckily enough, I had a really good coffee shop right down the road from the school at the time. The baristas there found out I was a chemistry teacher, so they asked me about water chemistry and extraction, and I thought 'I'm drinking a lot of coffee as a schoolteacher to get me through the day, and maybe I could use what I know and apply it to everyday work.' And that's when I started looking for a job as a barista.
Who is your coffee role model?
Probably my wife, Ali. We both work in coffee, and I am absolutely convinced she works so much harder than me in a much tougher environment. And she still goes into it every day with the most passion than I've ever seen of any barista. She works so hard in such a busy café, and she's the only barista there. To have that determination and drive to do it, especially all by herself, is something I really look up to.
What's the best piece of coffee-related advice you've received?
Working with Patrick from April Coffee Roasters, the best piece of advice he ever gave me is "don't be afraid to do something different as long as the results taste good." As long as the end goal tastes delicious, don't stick to the conventional norms.
Where do you see yourself in 5 years?
I really want to stay on the bar in five years' time. A lot of people start coffee shops have the idea of working for a couple of years and then taking a step back, and sitting at home and doing the accounts. But as soon as I have enough money to pay someone to do that, I'll be on the bar all day.
How did you first decide to compete in a coffee competition?
I was just competitive. I was a big swimmer, and always wanting to compare myself to those at a national level at first. I couldn't take not knowing where I stood in the coffee community. I know there's a lot of debate whether the barista championships are a definitive answer as to who's the best barista in the country, but at least it's some representative of your skill set. And knowing I was going to get industry professionals and my peers was going to be invaluable in helping me progress in terms of knowing where I am and knowing where I need to go.
How many coffees did you taste before choosing one for the national competition in Ireland?
I must have gone through nine or ten different coffees. The coffee that I did choose, there were half a dozen different roasts. I got to use a really beautiful coffee. It was a Rwandan, which is typically not what baristas decide to use in competition. It was definitely a challenge. The reason why I wanted to use it was because it was produced by a female-focused cooperative in Rwanda. This cooperative took women who were majorly affected by the genocide in 1994 who lost their husbands or children, and empowered them to hold onto their farmland, and eventually to educate them.
What is the reaction you receive when you tell someone outside the coffee community that you are a champion barista competitor?
I think barista is a relatively new career thing in Dublin. A lot of people ask what it is. You're starting for square one. But once I tell people about the whole process from the barista competition, to sourcing and roasting, and then the presentation with eight people staring at you with half dozen cameras looking at you too. They think it's crazy and they'll ask 'why are you putting yourself through that?' But most people respond really positively to it. They think it's something that's typically seen as a job and not a career in Dublin, but has so much professional pride. They think that's amazing.
What is unique about coffee culture in Ireland?
There's an interesting change that's happened over the past one or two years. When specialty coffee started out here, it was all about the barista educating the customer how to drink it. But when you're drinking coffee, the last thing a customer wants is someone giving them a lecture about milk protein or how the espresso is pulled. There's an interesting culture in Dublin now about baristas doing the job really well, working quietly in a very Irish manner, and when the customer engaged, that's when we start to talk about what we do a little bit more. So it's less of a one-way talk and more of a conversation. In general it's been initiated by the customer rather than the barista.