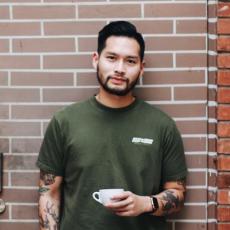 Try Mikael's Favorite
Urnex Product
"My favourite is definitely GRINDZ. We try a lot of different types of coffee at Common Grounds and So So Good, from commercial robustas to competition-level coffees, so cleaning our grinder often is paramount. It gives us confidence that what we're tasting in either cupping or brewed coffee is the actual taste of the coffee."
What is your current occupation and employer?
I'm currently running my new baby So So Good Coffee Company. It is a partnership between me and my former bosses/mentors at Common Grounds Coffee Roaster & ST. ALi family. We aim to help improve the Indonesian coffee industry: both from the cafe side and the origin.
List all the national and world coffee competitions you have competed in.
2015, Australian Coffee in Good Spirits (2nd)
2016, Australian Coffee in Good Spirits (2nd)
2016, Australian Barista Championship (first round, 36secs OT lol)
2018, Indonesian Barista Championship (2nd)
2019, Indonesian Barista Championship (1st)
2019, World Barista Championship (4th)
2020, Indonesian Barista Championship (1st)
How did you get into the coffee industry? When did you know you wanted to turn your passion for coffee into a career?
Like many others, I started because I needed a job during my university days. I was working in retail but being in Melbourne, obviously the cafe scene is very interesting. So I decided to make the jump and never looked back.
I knew for sure that I wanted to be in coffee in 2016. It was one fine Australian summer afternoon, I just submitted my very last paper for my post-grad degree and was waiting for a friend in a local wine bar. Two glasses in with no food, I started to ask myself a question on what I want to do in life. I played different scenarios in my head, looked at benefits and sacrifices that was required and I couldn't see any other way: coffee was and still is the answer.
How did you first decide to compete in a coffee competition?
I remember seeing Matt Perger on livestream in WBC Melbourne 2013 and that was the beginning of my coffee competition dream and rabbit hole. I wanted to be like so many of my coffee heroes that I saw on livestream. Back then my English wasn't that good and my confidence was low. So I decided to compete in Coffee in Good Spirits first to build up confidence, presentation skills and a sense of how the judges score coffees. Eventually, I made the move to barista comps as it was the goal all along.
You used an Indonesian coffee in your national competition performance this year. Can you tell us a little about the coffee and why you decided to use a coffee from Indonesia?
Being from a producing country, obviously we wanted to represent our own coffee on stage and let the world taste it. We began that quest last year in WBC and we used it for the signature beverage course. This year in the nationals, we used a different Indonesian coffee for two courses. The goal is to eventually use Indonesian coffee in all three courses. This might seem trivial, but actually there's a lot of hard work that goes behind it. Using the coffee in more courses mean that the coffee is getting better: from the crop, post-harvest processing, roasting, extraction & the presentation of it. It's work that takes an entire nation and chain to complete, but one that we're happy to do.
The Indonesian coffee that we used this year was a Kartika variety from Flores, East Indonesia. It was processed by our partner, Tuang Coffee who works with their local farmers. Kartika itself is a cross between Robusta & Typica and is one of the most common varietals in Indonesia due to its resistance to disease.
You were a finalist in last year's WBC in your first time on the world stage. How does that change your expectations for this year's championship?
I always just try to do my best in the preparation so that I have no regret when it's all said and done. Obviously there's still a lot to improve from last year, so my goal this year is to beat my personal best. How that stacks up against the rest of the competitors we shall see in November.
Apart from being a finalist, what was the most memorable part 2019 WBC in Boston?
The most memorable part was actually to be able to meet and shake hands with so many coffee superstars. I used to only see them on Livestream, but now I got to talk to them and even made coffees for them! I was definitely fan-boying big time!
Who is your coffee role model?
Too many to name! A lot of them are WBC competitors as I went through a lot of their videos to learn about their workflow, presentation style and pizzazz. Some are my local baristas who constantly remind me why I love coffee in the first place: its ability to connect people.
Describe the importance of cleaning or clean equipment in making the best coffee beverages.
It's super important! Clean equipment means that you're getting the true flavour of your coffee. Especially in barista competitions when it's the game of inches, you want to make sure that you're getting the best of your coffee.
You recently launched the So So Good Coffee Company – what was your inspiration to start the company, and what impact do you want to make with it?
Me and my partners created So So Good Coffee Company (SSG) to help improve the standards of Indonesian coffee industry. Quite a while ago, I realised that my dream in coffee was not to own cafes but to work with people and the coffee itself. So, after WBC Boston I tried to see what my role is in this industry and where I can have a positive impact. The answer was to help improve the standards in both the cafe end and the origin. So now at SSG we have a training facility that enables us to train baristas and consult for folks who want to have cafes. On top of that, we also partnered up with Indonesian farmers to help process their coffees post-harvest and hopefully improve their cupping scores for better pricing.
What is the funniest/most memorable experience you have had at a café?
Not sure about funniest, but my most memorable one was circa 2012 at the cafe I worked at in Melbourne. It was one of the first times I tried specialty coffee and I had a natural Ethiopian Guji that tasted like strawberry. It was a game changer and it really opens my eyes about the flavour potential that coffee has.
What is your go-to beverage order at a café?
Most of the time it's a filter / batch-brewed coffee. Ideally a natural process.
What is your favorite origin country, region or farm?
I wouldn't say I have a favourite since I drink different coffees depending on what I feel like that day. But we've worked a lot with Jamison Savage, and his washed CM Geisha is such a treat, so I go back and drink that from time to time when I want something special.
What is unique about coffee culture in your home country of Indonesia and in your former adopted home city of Melbourne?
Melbourne was great in terms of volume. Super fast-paced and everyone drinks specialty coffee. Indonesia is much slower, but because of that we have more opportunity to engage with our customers. Also, being a producing country, we are the first to try a big range of Indonesian coffee. Some experimental lots that are both successful and not so successful. There's also a big Sweet Ice Coffee trend happening at the moment.
What is one specialty coffee concept you would like to see gain popularity this year?
We have a big Sweet Ice Coffee trend in Indonesia happening right now. Essentially, it's coffee, milk, cream, palm sugar & ice cubes. It's so popular because it's accessible, more economical and it's cold coffee in tropical weather, duh! Unfortunately though, a lot of the chain stores used somewhat inferior coffee to maximise their margin. I'd like to see their massive consumer base be more aware of what they are drinking and eventually demand better coffee or make the move to their local specialty coffee shops as they learn more about coffee.
Where do you see yourself in 5 years?
Obviously still in coffee! Hopefully by then we've managed to produce great baristas, and even a new Indonesian Barista Champion as I believe that one of my roles is to regenerate. I am also hoping to have helped produce better Indonesian coffees and can't wait to share them with the world.