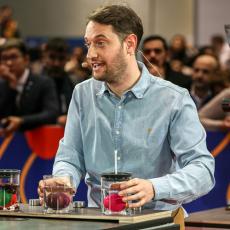 Try Mathieu's Favorite
Urnex Product
"I love the Scrubz as it's so difficult to clean a portafilter and SCRUBZ helps to make my portafilters clean."
What is your current occupation and employer?
I'm the co-owner of MAME specialty coffee shop in Zurich.
List all the national and world coffee competitions you have competed in.
Swiss Latte Art Championship 2015 – 3rd place
Swiss Barista Championship 2016 – 1st place
World Barista Championship 2016 – 50th place
Swiss Barista Championship 2017 – 2nd place
Swiss Barista Championship 2018 – 1st place
World Barista Championship 2018 – 3rd place
The World Barista Championship in Boston will be your third time on the WBC stage. What have you learned in your first two WBC experiences that will help you in Boston?
I'm definitely more organized and more focused. I know what I have to do during the competitions more precisely and can enjoy more the off time.
How has your life been different since becoming a World Barista Championship finalist and since Emi became the World Brewers Cup Champion?
Not so much to be honest! We continue to work in our coffee shops behind the bar. But we definitely have more opportunities to grow. Especially as this year will start to roast our first MAME coffees. We are very excited.
MAME has gained a great reputation as one of the leading specialty café in the world. Do you feel a greater responsibility to your customers, staff or yourself with that reputation?
Yes, I think this has a changed a lot! We now have customers literally coming and asking for the best coffee in the world. We feel the pressure. As we are not always behind the bar, we really take a lot of time with our staff to make the experience is as perfect as possible.
How did you get into the coffee industry? When did you know you wanted to turn your passion for coffee into a career?
I used to work as an engineer managing energy consumption for building and offices—so not really into coffee. But I was always interested in good food, drinks, enjoying life. For me, eating or drinking was never to get my daily calories, but was very often a moment to enjoy, especially if the food or drink is delicious.
Five years ago, I entered a specialty coffee shop in Zurich where I lived, and the barista served me an espresso I will never forget. He explained to me that each sip has a different flavor; the first sip was chocolaty, second sip vanilla, and last sip nutty. At the beginning I thought the barista was high on something or must be joking!
I drank the espresso and got exactly what he said. At that moment, I fell in love with specialty coffee. I thought, how can coffee taste this delicious and complex? Then two years ago, I decided together with Emi Fukahori, my partner in life and business, to resign from my engineer job and open a coffee shop called MAME in Zurich. The idea is we do not want to compromise on quality for espresso or filter, but still offer a large menu to cover maximum flavors from chocolaty to fruity and floral so that everybody can choose a coffee that he or she likes.
What's the best piece of coffee-related advice you've received?
Always confirm information about a coffee by trying it yourself.
Who in the coffee industry has served as an inspiration to you?
I have several role models: Gwilym Davies inspires me for his behavior, always humble and respectful and eager to learn. Sasa Sestic for his impact at the farm levels. Ben Put for his motivation, competitiveness and kindness.
What's one piece of advice you could give that would help make an average barista become a great barista?
Passion and love for coffee! It motivates to learn more after work and pursue excellence. It's so much sacrifice that to me it works only if you are totally in love with coffee.
Describe the importance of cleaning or clean equipment in making the best coffee beverages.
I don't think anybody will think to drink water from a dirty glass! Same for coffees. As we brew through water, the equipment has to be as clean as possible.
What is your favorite Urnex product and why?
I love Scrubz as it's so difficult to clean a portafilter, and with Scrubz it is easy to make my portafilters clean.
What makes coffee culture unique in your country?
The scene in Switzerland is booming right now—in Zurich there are at least 10 specialty coffee shops, but also in other cities like Basel, Saint Gallen, Lausanne, and Geneva. There is a younger generation of baristas who want to change Swiss coffee habits and replace them with more flavorful espressos and introduce pourover, which is still very new for us. It's part of a larger movement that also encompasses craft beer, innovative restaurants, and good designer shops. The Swiss now aim for better quality and products made locally.
What is your favorite brew method at home and why?
I love brewing on V60. It gives very good results often it is and easy to do at home.
What is your go-to beverage to order at a café?
I like filter coffee a lot, I can enjoy it for a long time and like a lot the change of flavors through temperature.
What is your favorite origin country, region or farm?
I love Ethiopian both Washed and Natural process, but I have to say that I'm getting really hooked by new Brazilian coffees.
What is the funniest/most memorable experience you have had at a cafe?
Working in a café is mostly funny as there is always funny moments but it's hard to pick one. However I remember a very memorable coffee in Seattle in 2015. We went to a café called "hummmm", which is already very funny, and the barista served me an espresso that tasted so delicious that had a flavor of cantaloup.
Where would you like to be and what would you like to be doing 5 years from now?
If I look back 5 years ago, I would have never predicted where I would be today. However, I have some wishes for the next years: I would like to start roasting and I would like to learn more about farms.
What is it like being business partners with your wife?
On one hand, it's easy to meet together to talk about the shops. On the other hand, it's hard to have moments outside of coffee.
What would you like your customers to remember about a visit to MAME?
Our slogan is, "The best coffee is the coffee that you like." We bring our expertise from barista competitions but never force customers on what they should drink. We listen and choose together.