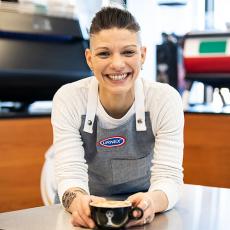 Try Manuela's Favorite
Urnex Product
Easy … the steam milk cleaning products. I use it so often….and it really does its job: clean and no residue. Easy to use
What is your current occupation and employer?
I am currently running the world latte art & coffee center which is the first coffee training center specialized in latte art in Italy.
When and how did you decide to pursue a career in coffee?
In 2014 I started to work in a "bar" (coffee shop) owned by my girlfriend. I felt twice totally in love: one with Carmen one with coffee.
Why did you decide to open the Barlady Academy and what types of students typically attend courses there?
After we did our own coffee trainings we realized it was really crucial to have the right education about coffee. In 2015 we started teaching the first trainings at our coffee shop. I really enjoy and love to teach and at the same time learn from the students who attend our courses. Then, after my competition, I was more focused and it was clear on my mind that was the time to make new steps.
How did you first decide to compete in a coffee competition?
To be honest …I did not decide it! In 2018, my trainer Luigi Lupi and my girlfriend Carmen Clemente subscribed me without having told me that before. So…I found out that I was a competitor at the Italian Nationals!
What latte art design of yours are you most impressed with?
Without any doubt: The angel! It represents my soul, my heart, my family.
After winning WLAC, do you plan to compete in any other coffee competitions?
Not at the moment. I'm seriously focused on the training school.
What are your 3 favorite coffee-related social media accounts?
I follow many latte art artists and the Korean World battle account.
What is your favorite Urnex product and why?
Easy…the steam milk cleaning products. I use it so often…and it really does its job: clean and no residue. Easy to use.
What is your go-to beverage to order at a café?
When I go to some coffee shops I love to get an espresso or a cappuccino.
What is your favorite brew method at home?
V60 is my beloved one.
What is unique about coffee culture in Italy?
I really enjoy go to a coffee shop, enjoy chatting with the baristas and have a nice, good quality cup at the counter. I think in a way from North to South the coffee ritual is different but we love to go and have that human feeling at the bar.
What is one country or region you have not traveled to, but would like to?
Colombia, for sure.
Outside of coffee, what do you do for fun?
When I have time??!! I spend time with my son and visit Italy. I also like to go to gym. With Carmen we have created a special latte art working session named GYM LATTE ART. It is a special workout program dedicated to empower arms and wrist muscles used during latte art discipline.