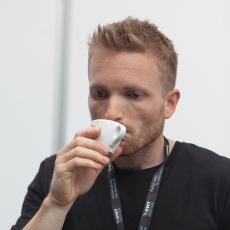 Try Lex's Favorite
Urnex Product
"Cafiza! The classic, still doesn't let me down after all those years."
What is your current occupation and employer?
I run a micro-roastery called Friedhats Coffee, together with my friend and business partner Dylan Sedgwick, where I work as both a roaster and a barista. Our roastery is based in the west part of Amsterdam, and we're also opening a new cafe close to the roastery.
List all the national and world coffee competitions you have competed in.
2011 Dutch Latte Art Championship - 2nd place
2011 Dutch Barista Championship - 7th place
2012 Dutch Cup Tasters Championship - 1st place
2012 World Cup Tasters Championship - unknown
2015 Dutch Barista Championship - 1st place
2015 World Barista Championship - 15th place
2016 Dutch Barista Championship - 1st place
2016 World Barista Championship - 6th place
2018 Dutch Barista Championship - 1st place
How did you get into the coffee industry? When did you know you wanted to turn your passion for coffee into a career?
I've always wanted to start my own business. But I never really knew in which area. In 2008, I started making coffee at home as a hobby. Half a year later, I was sold. I liked the taste of it, I liked the machines used to make coffee, I liked the social aspect of being a barista. There's lots of things you can do in the coffee industry. In recent years, I have roasted a lot of coffee. And now I would like to go to origin more, and I would also like to get back behind the bar again.
What's the best piece of coffee-related advice you've received?
From the moment coffee is picked, we can only make it worse, not better. So that's where it all starts.
What is the reaction you receive when you tell someone outside the coffee community that you are a champion barista competitor?
Most people act surprised to hear that there is a competition in making coffee. But when I explain what the competition is all about they usually think what we're doing is very interesting. Lot's of people even end up watching the WBC on the livestream. It's a good way to introduce people to the fact that there's more to coffee then you might think.
What is your favorite Urnex product and why?
Cafiza! The classic, still doesn't let me down after all those years.
What makes coffee culture unique in your country?
In the Netherlands we drink a lot of coffee. We have a very strong espresso-culture. Filter coffee has a bad reputation here because most people in the Netherlands think of filter coffee as low quality and think espresso is high quality.
A large number of people in the Netherlands still just drink coffee to wake up and think it needs to taste strong and bitter. Luckily, we see a change towards specialty coffee in the bigger cities, but we still have a long way to go.
Outside of coffee, what do you do for fun?
I do a lot of rock-climbing in my free time. I like to ride my race bike, spend time with my girlfriend, drink beers with my friends and I try visit some music-festivals in the summer
What is your favorite brew method at home and why?
At the moment I have a very nice Slayer V3 espressomachine at home, so currently I drink a lot of espressos at home. My favourite brew method changes from time to time. The Aeropress used to be my all-time favourite, but lately I've been using the V60 a lot as well because I like the fact that it produces a consistent and clean cup.
What's one thing you'd like an average person to know about specialty coffee?
That making nice coffee is not complicated magic and doesn't require a very expensive espresso machine. You just need nice beans and a grinder (:
Where would you like to be and what would you like to be doing 5 years from now?
In five years I would like to sit in the sun outside of my cafe, drinking a nice cup of coffee that was roasted in our roastery and enjoying my surroundings.
That would be nice (: