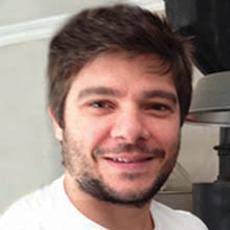 Try Leonardo Moço's Favorite
Urnex Product
"It's Cafiza because it's crucial to maintain coffee quality since in Brazil 80% of our sales are espressos."
How did you get into the coffee industry and become a barista?
I lost a son when he was born and decided to change my life, to live for something that has meaning, and purpose. I decided to open a cybercoffee shop and started my journey in the coffee industry. I had to study about coffee to open this business and I fell in love with it instantly. I did some barista classes, lived in a coffee farm for three months to understand how we produce specialty coffee and started competing as a barista. Today I have two coffee shops (Barista Coffee Bar), a roastery (Café do Moço) and just began to work as a producer with the Red Foot project.
What is the most unusual ingredient you've used in a coffee drink? Why did you choose it?
The ingredient is one that I've chosen for this championship: the liquid from the coffee fermentation. It represents the flavors where coffee beans was processed so it can highlight those characteristics in the cup.
What are you thinking about right before you go on stage at a competition?
I can't think about anything!
What is your best coffee experience?
If you're asking the best experience concerning beverages, it was to drink a coffee produced on sea level and discovering that processing is much more important than altitude in coffee quality. If it's about life experiences with coffee, I would say that for now, I'm working at producing, harvesting and processing coffees that I will take to the World Barista Championship.
What is your favorite brew method at home and why?
I prefer the Hario V60 because in the mornings it is the easiest and fastest one to prepare!
What is one piece of knowledge you would share with a non-barista coffee drinker?
I would share the work behind a good cup of coffee. All the steps from the coffee farm to the coffee shop (including the barista experience to prepare it) so that they can get more understanding of what they are drinking.
Outside of coffee, what do you do for fun?
I love to play with my kids (Bento and Alice).