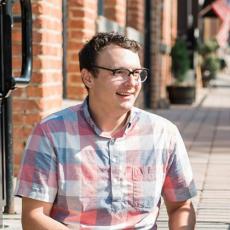 Try Kyle's Favorite
Urnex Product
"I use Cafiza for pretty much everything. It can clean almost anything, especially those stubborn pots and pans."
What is your current occupation and employer?
I am one of the owners of Black & White Coffee Roasters, and I do the roasting and most of the green sourcing for our small roasting company in North Carolina.
When did you know you wanted to turn your passion for coffee into a career?
It was fairly early on in my coffee career, back when I was in the café, that I was talking with some other professionals and how they had made a career out of coffee. At that time I was pretty new with coffee, but nothing had held my attention in the way that coffee had. I am pretty hyperactive, or at least I was as a child, and coffee just worked for me. It is hard to explain how the amount of madness and intense focus works for me, but it does.
Who is your coffee role model?
I know it sounds cliché, but I don't really have a 'coffee role model.' I do have some amazingly inspiring friends though. I work with Lem Butler, and I have the honor to be pretty close with so many coffee pros who challenge me constantly to be better. Maybe it is the conglomeration of those people and their integrity and care for this industry that is my 'role model.'
What's the best piece of coffee-related advice you've received?
Tim Hill from Counter Culture Coffee instilled this idea of testing and repetition that has served me really well. Tim, Chris Hendon, Christian Klatt and Ansgar from Mahlkonig have really challenged me over the year to be a better barista and coffee professional through applying rudimentary scientific principles and method to coffee evaluation, tasting, and competition.
Where do you see yourself in 5 years?
5 Years, WOW, I would love to have 3-4 cafes, a larger production roasting space, and maybe another roaster, a person and a machine. That would be really rad. Working with farmers and my community to make great coffee and to make an even more rich expression of our own culture as it evolves.
How did you first decide to compete in a coffee competition?
Well Lem had always competed, and a few of the other guys at my shop were going to compete, so I went for it. It didn't go well, but I had the bug. I have competed at some level ever since Andrew Cash, the owner of Jubala Coffee Raleigh NC, paid for me to compete in Brewers Cup what seems like forever ago.
How many coffees did you taste before choosing one for the national competition in US?
Not many really. I tested 20-30 lots from Jose to pick the final Competition Coffee along with the amazing team at Counter Culture.
List all the national and world coffee competitions have you competed in.
I competed in USBC 2015 and won USBC in 2017.
What is your favorite Urnex product?
I use Cafiza for pretty much everything. It can clean almost anything, especially those stubborn pots and pans.
What is unique about coffee culture in the US?
We are a really big country and what most people would call the birthplace of specialty coffee. That leads to an incredibly rich expression of coffee quality and since our country is so massive distinct cultures evolve around those different expressions.