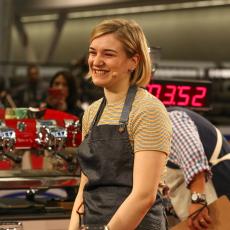 Try Goda's Favorite
Urnex Product
"My favorite product is Cafiza! It ensures the machine is clean, which for me means a consistent cup of coffee."
What is your current occupation and employer?
I am proud to say that I'm working as a Barista at the specialty coffee-shop "Italala Caffè", located in Vilnius Oldtown (Lithuania). It is a very young company, but run by very strong, supportive and coffee-passionate people.
List all the national and world coffee competitions you have competed in.
It won't be very difficult to recall because so far, it's been just one - the 2019 Lithuanian Barista Championship. I am very excited that I earned an opportunity to represent Lithuania in Boston!
When and how did you decide to pursue a career in coffee?
It all started when my mom and her colleague gathered all their courage and decided to pursue their dream – to open a coffee-shop with an Italian twist and to represent modern Italian specialty coffee. The idea of family business, their enormous effort and contagious passion for what they do, led me to discovering the coffee world as well as the work behind the bar. And I'm so glad it all happened!
How did you first decide to compete in a coffee competition?
I am a person who always pushes myself to pursue and learn more. The competition seemed like a great opportunity to have a broader picture of this exceptional industry. Not to mention that I'm also a very competitive person. Competition drives me forward and pushes me to use my best effort.
What's the best piece of coffee-related advice you've received?
"Coffee should be more than just a good balanced cup, it should be an experience that we, as baristas, create for our customers."
How far in advance did you start training for WBC? How many hours a week do you train?
I went to the Lithuanian Championship determined to win, so you could say that I started training for WBC as soon as I started the training for the Nationals. I'm trying to train 25 hours per day.
What is your relationship with 'team Italy' (Francesco Sanapo, Francesco Masciullo, Michele Anedotti) and Ditta Artigianale?
Our coffee-shop "Italala Caffè" is representative of "Ditta Artigianale", the Italian specialty coffee-shop, in Lithuania. As a young business, we are very grateful for their support and sharing of coffee knowledge from the very beginning. They're constantly encouraging our professional development, sponsored me with trainings for the National Barista Championship and continue to stay beside me till and at Boston. Actually, there is no "Team-Italy" or "Team-Lithuania" here. We are acting as a joint team - ITALithuania!!! I am very happy to call them not only my business partners or colleagues, but my true friends.
What is your go-to beverage to order at a café?
Whatever the barista's suggestion, I am always eager to try something new and count on their opinion. I believe they know their coffee the best.
What is the funniest or most memorable moment you have experienced behind the bar?
I have to say that the most memorable moment will always be the day of our coffee-shop opening. We all were shocked (in a good way) at how many people came! The non-stopping flow of costumers – this was the challenge at that moment! That day was perfect team-building.
What is your favorite brew method at home?
Our family loves to try new coffee beans. To get clear flavor, we usually use Chemex.
What is your favorite origin country, region or farm?
Costa Rica because it makes significant input towards developing new processing methods and challenges the status quo of the coffee world. I am amazed at the people's creativity, eagerness to explore and how using that they create an excellent and consistent cup.
What is unique about coffee culture in your country?
The people in Lithuania are very open to change and trying out new things. We, as a country, don't have a long-term tradition in coffee drinking. That's why we easily adapt to new trends, and the community of the specialty coffee lovers is growing rapidly here.
Outside of coffee, what do you do for fun?
Leading up to WBC, I didn't really "leave" coffee at allJ. But usually my free-time turns around music. I love singing and have a pleasant thrilled when I am on stage.