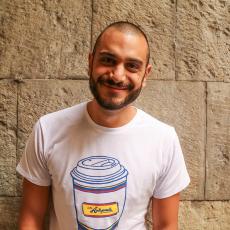 Try Francesco's Favorite
Urnex Product
"It is fundamental for cleaning the grinder."
What is your current occupation and employer?
My current occupation is a BARISTA, and I have been working for 6 years now. I started in Italy in a normal coffee bar and then moved to London where I began my specialty coffee career. Working first as a waiter and trying to understand what is behind the specialty coffee world. Then passing behind the espresso machine, I started to measure everything and understand all the mechanisms involved when you extract one coffee. I am still working on it; I never stop learning.
I am working at Ditta Artigianale, a micro-roastery situated in Italy. I am the head barista and store manager. It is sometimes very hard to follow both things.
Who is your coffee role model?
Honestly, I don't have a coffee role model. My role as a barista is to link and correlate the job of the producer and the job of a roaster. And as part of this, I am constantly learning in the coffee industry. I strive to understand the benefits of coffee, to spread the quality of coffee with other people, like producers, roasters and many others.
Where do you see yourself in 5 years?
In 5 years of course I see myself working and helping the coffee community to spread the quality of coffee. As a barista, doing trainings, or maybe roasting – always to promote specialty coffee. Even travelling to share some information with the producer.
How did you first decide to compete in a coffee competition?
I decided to compete for the first time honestly for fun; I wanted to feel the emotions. After the first time, I placed third and thought that I wasn't that bad as a barista in competition. So I did ita gain, and I was third again. This year - finally - I won!
List all the national and world coffee competitions have you competed in.
National Competition 2015 - 3rd position
National competiton 2016 - 3rd position
National competition 2017 - 1st position
World barista competition 2017
What is the reaction you receive when you tell someone outside the coffee community that you are a champion barista competitor?
People are always interested and everyone wants you to answer a question about coffee or suggest the best coffee. The answer or suggestion is always accepted because they know you as a Barista Champion in your country. Also, they want you to serve them even a simple cup of coffee! The interaction makes you feel something positive about yourself - that is for sure.
What is your favorite Urnex product?
My favorite Urnex product is for sure Grindz. But even the Cafiza for the espresso machine…both are fundamental.
What is unique about coffee culture in Italy?
In Italy, we have a true love for coffee. Now it is just our mission to talk again about the quality.
This is a huge combination: love and quality. In Italy, we love the product and the culture, and we desire the coffee to improve in the best way.