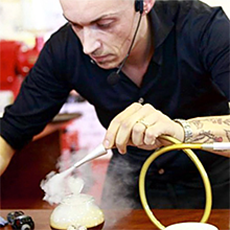 Favorite brew method
My favorite brew method is Aeropress.
Favorite Urnex product
Cafiza, I love you.
One thing people don't realize about coffee
Most people don't even remotely imagine what's behind the coffee's research, charm and noble dignity.
Inspiring quote
"Judge your success by what you had to give up in order to get it." – Dalai Lama
Favorite App
Spotify
If I wasn't a barista, I'd be
A professional handball player or a graphic designer
Influential person in my career
My muse is definitely my wife Cinzia Linardi, Italian Cup Taster Champion (2012/2013) and Cup of Excellence judge. She ever stops believing in me, motivating me and supporting me in everything I do, even when I'm wrong.
What I like most about my job
The practice and experience accumulated in years of tasting has increased my wealth of skills. I appreciate the feelings sometimes transmitted to others so that everyone can enjoy themselves and be able to distinguish the difference between "Coffee" and "coffee"… The world of coffee I my eyes is a universe…"