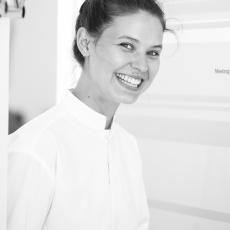 Try Chloe's Favorite
Urnex Product
"I'm a huge believer that for our industry in a strong direction, we need more environmentally-friendly solutions. And the Biocaf range is a great way to do that."
What is your current occupation and employer?
Currently I'm self-employed. It was important for me to be able to train at my own pace and to be involved with projects and cafes in Berlin that really inspire me. Established places like The Barn, 5 Elephants, and Bonanza, and newer projects like Isla.
When did you know you wanted to turn your passion for coffee into a career?
As soon as I knew it was possible! Which was when I went to the 2010 World of Coffee. I was so inspired at that event, and my coffee career all really stems from there.
Who is your coffee role model?
I don't really have one. I think I've learnt a lot from various sources like blogs and seminars. But I suppose my heroes have always been the baristas I've worked with. They're always the ones that inspire me to be better.
What's the best piece of coffee-related advice you've received?
Change one variable at a time.
Where do you see yourself in 5 years?
I don't know exactly, which I think is nice. This industry is always changing and evolving. I'd like to be a part of that. But one day maybe 5 years from now, I'd like to have my own space to present my love for everything seasonal. The star obviously being coffee.
How many coffees did you taste before choosing one for the national competition in Germany?
I got through one cupping table (about 15 coffees) and I knew in the first 15 minutes which coffee I wanted. I didn't need to taste anymore. It stole my heart.
List all the national and world coffee competitions have you competed in.
2016- German Barista Championships- 5th
2016- German AeroPress Championships- 1st
2016- World AeroPress Championships
2017- German Barista Championships- 1st
What is the reaction you receive when you tell someone outside the coffee community that you are a champion barista competitor?
I guess it's mixed. Some people think it's really interesting and respect the hard work put in. Others think it's not a career and they make better coffee at home. These people are my favorite, it's a chance to get my persuasion on. I dare you to walk away from that conversation feeling the same. I think that's part of the job.
What is your favorite Urnex product?
Hands down the Full Circle range. I'm a huge believer, that for our industry to grow in a strong direction, we need more environmentally friendly solutions. Full Circle is a great way to do that.
What is unique about coffee culture in Germany?
Since 1989 when the wall fell, Berlin and Germany has been rebuilding itself. The speed at which specialty coffee was brought in was slow to say the least. But since the 2000s we've seen a surge in cafes and roasters, and although it might be still small in comparison to its neighbors, we definitely have the quality to back it up.