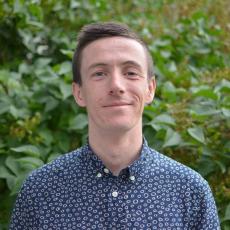 Try Ben's Favorite
Urnex Product
"Since using Grindz we rarely have to take the grinder apart, which saves a lot of time."
What is your current occupation and employer?
I am a co-owner of Monogram Coffee. I wear a bunch of hats with the company. I train new staff, run quality control, work as a barista, and roast coffee.
Who is your coffee role model?
James Hoffman. I believe that James has struck a perfect balance between the philosophical side of coffee and the scientific side of coffee.
Where do you see yourself in 5 years?
My hope is that Monogram will have a few cafes across the country and busy a roasterie in Calgary. I would love to continue what I do now in coffee and spending time with my family.
How did you first decide to compete in a coffee competition?
I first learned about the competitions when my boss at the time, Phil Robertson, competed. I helped him prep and going through that with him convinced me that I wanted to try.
List all the national and world coffee competitions have you competed in.
7 Canadian National competitions (Runner-up 2011-12 and Winner 2013-17), 2014 WBC (11th), 2015 WBC (3rd), 2016 WBC (3rd), 2017 WBC (4th)
What is the reaction you receive when you tell someone outside the coffee community that you are a champion barista competitor?
It is usually followed by many, many questions! I think that the dialogue with customers around competitions is one of the best parts of barista competitions. It opens doors to talk about coffee on a broader scale.
What is your favorite Urnex product?
I use Cafiza constantly in the café, but recently I have been using Grindz more and more. We usually disassemble grinders in order to give them a full clean out, but since using Grindz we rarely have to take the grinder apart, which saves a lot of time.
What is unique about coffee culture in Canada?
Canadian coffee is still dominated by chains like Starbucks and Tim Hortons. This means that there is a smaller amount of market share for specialty shops, but it also means that there is still a lot of excitement around good coffee because it is still fairly new to many parts of Canada.
What is your favorite brew method at home and why?
I really enjoy making Kalita pour-overs at home. I don't do much manual brewing in the cafes so it's really fun to be able to practice it at home and to actively make coffee versus using automated brewers or French Press.
What's one thing you'd like an average person to know about specialty coffee?
I would love if everyone knew the breadth of flavors that exist in speciality coffee because I believe that a flavor profile exists for almost every taste preference. Too often specialty coffee gets generalized as acidic, tea-like, or fruity. While I love those types of coffees, I realize that they are not for everyone. There are amazing specialty coffees that are low acidity and not fruity. I think more people would drink higher end coffee if they knew all the options available to them