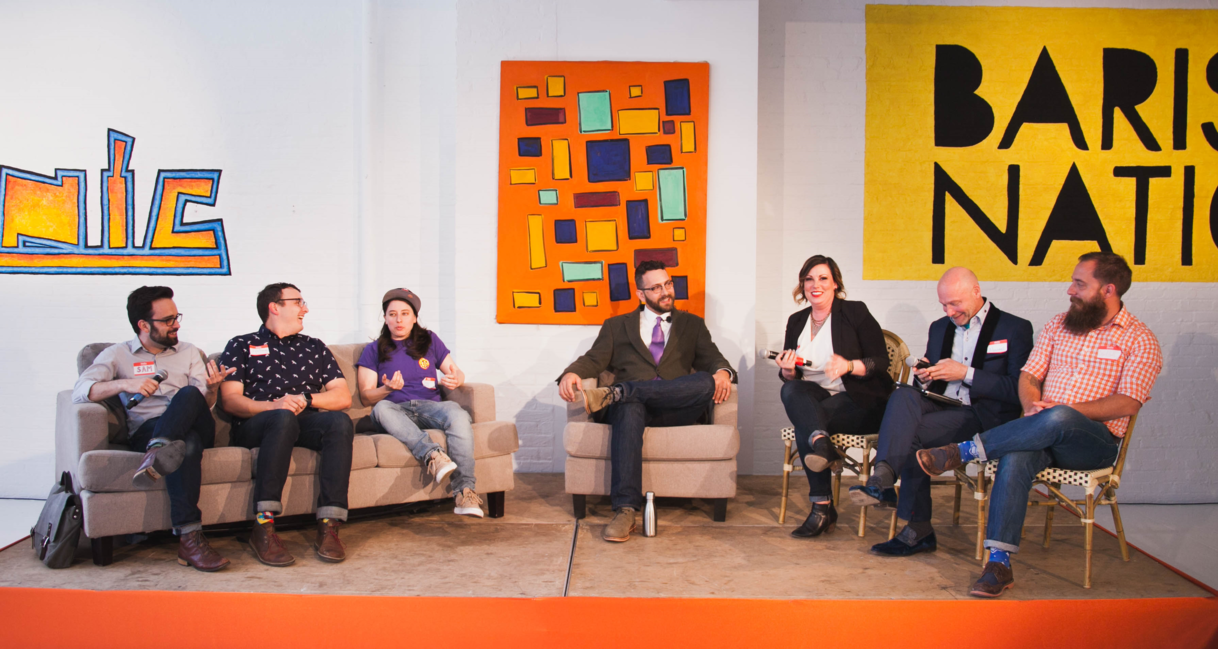 The Barista Nation panel discussed barista competition rule changes, the merits of Panama Geisha, and why there hasn't been a female World Barista Champion
Coffee can be controversial. Especially when you pit some of America's fiercest baristas and judges against each other in a friendly war of words.
Last month at Shop Studios in New York City, Urnex and UNIC Espresso were proud sponsors of Barista Nation New York, a seminar series and skill-building event that hosted a diverse lineup of thought leaders in specialty coffee. At this latest installment of Barista Nation, the coffee experts discussed topics ranging from the seed-to-cup journey, innovation and intersectionality in coffee, and the history and future of espresso.
In one captivating conversation entitled Tales from Opposite Sides of the Clipboard, a panel of top barista competitors and judges discussed and debated their unique experiences in coffee competitions.
The Barista Nation Panel:
Hosts:
Lorenzo Perkins, Fleet Coffee – 2017 U.S. Barista Championship semi-finalist
Lem Butler, Counter Culture – 2016 U.S. Barista Champion, 2016 Urnex Barista Ambassador
Baristas:
Kyle Ramage, Mahlkonig USA – 2017 U.S. Barista Champion
Sam Lewontin, Everyman Espresso – 2017 U.S. Barista Championship finalist
Jenna Gotthelf, Everyman Espresso – two-time U.S. Barista competitor and Brewers Cup finalist
Judges:
Michael McCauley, Café Richard – WBC Head Judge
Anna Gutierrez, Barista Twenty Two – Barista Competition and Brewers Cup Judge
Brent Hall, Caravel Coffee – USBC Head Judge
Here's what they had to say.
Urnex is proud to have supported the 2017 U.S. Barista Championship.
What made you decide to compete in barista competitions?
Jenna: "Someone literally told me that I couldn't."
Kyle: "Lem Butler, the Southeast barista champion of all time, came to our shop all the time. Having someone that I knew personally who competed just encouraged me to go for it. And having a boss who was willing to help."
Sam: "I watched a lot of barista competition routines, and they looked like a lot of fun. And they were frankly inspiring. They made me want to be a better barista, and the only way I could think of to do that was to throw my hat in the ring."
Lem: "I thought it was exciting when I first saw competition. The more I did it, the more I felt connected to the industry. And I started to see my skills as a coffee professional improve after every single competition."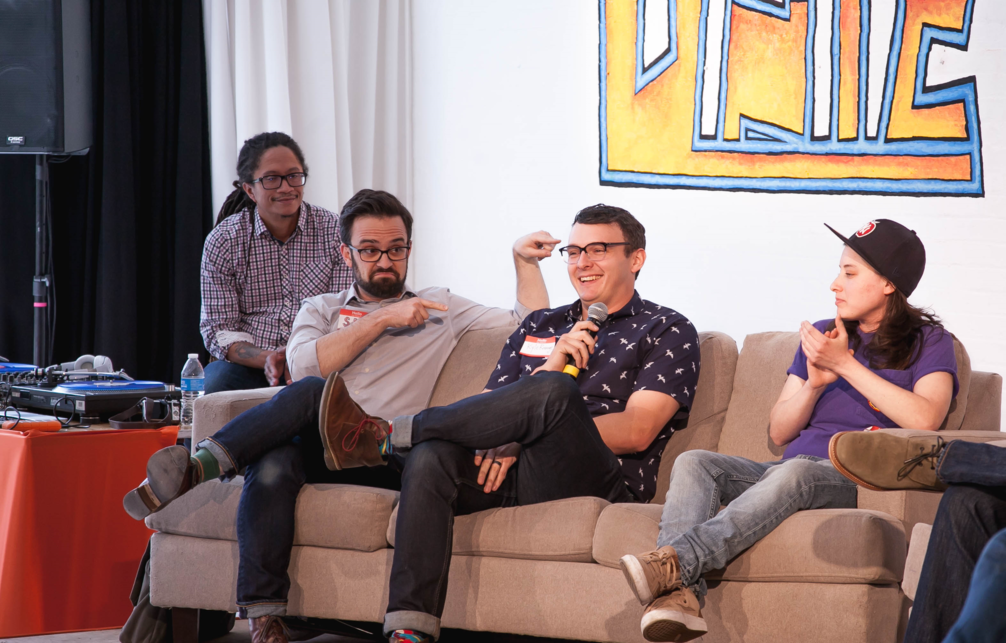 What's been a rule change that has improved competition since you first started judging?
Michael: "One of the significant changes is with the signature beverage – it was starting to be this thing that had nothing to do with coffee. But now, the baristas push to be more creative and really link their coffee to their signature beverage, which wasn't always the case."
Brent: "So for me from a judge's perspective, we have made the judges' score sheet so much simpler and easier to score, and understand where everything is coming from. We used to have to judge the appearance of the cream on whether or not it was a "beautiful red tone," or whether it was an "ugly red tone", and that was probably one of the hardest things to judge, because you had to also sit there and explain that to the barista competitor."
Brent: "The opening up of the milk beverage concept has created a lot of milk beverages to come out. Just the removal of that strict guideline for a cappuccino."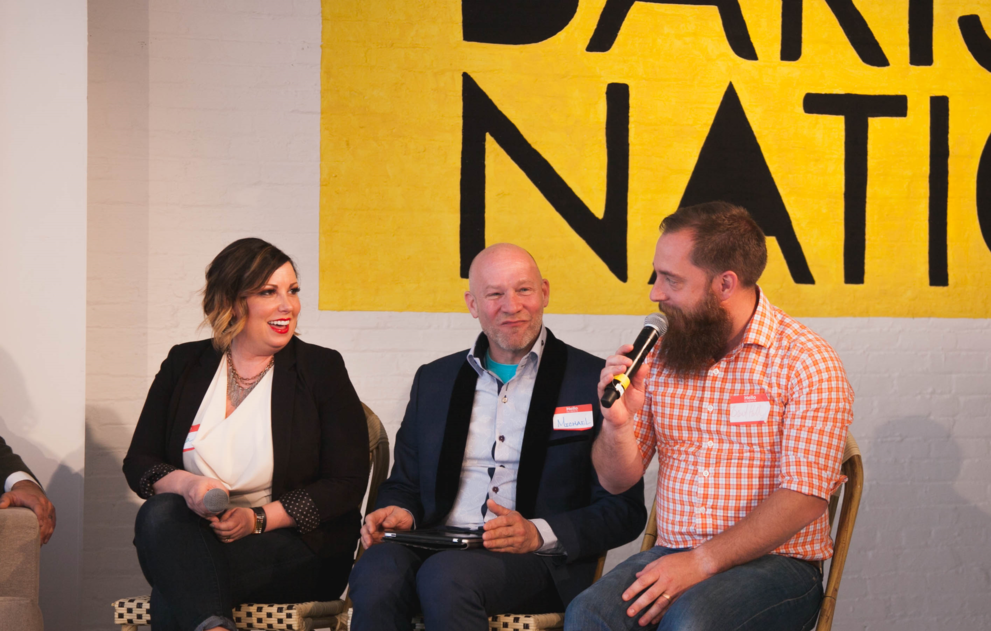 Have you made a signature beverage that you would ever serve in a café?
Lorenzo: "I've never made a drink for competition that I would say yes, this is going to go on the menu and regular people are going to love it. Because they're just weird and they never work for me. The score sheets are imbalanced in my opinion for what most people are seeking in a beverage of that kind."
Sam: "For me, the standard is, can I hand this to somebody who has no idea what the deal is with the signature beverage and concept, and have them take a sip and go 'oh that's delicious.' And if that doesn't happen, scrap it and start again. And that's also led to every year, the signature beverage getting simpler. Every year, we try to get closer to signature beverages that you can serve in a shop."
Anna: "I think a lot of it similar even just in the bar industry. Just start with that good foundation of great coffee, or foundation of good alcohol, and then build off of that in a way that highlights it. I love that things are a little simpler, because it goes back to just good coffee."
Sam: "I don't think anybody out here runs a café where the service looks anything like barista competition. You're not sitting in front of four people, you're not just serving singles, there are no signature beverages. And that's totally okay. We don't have to create a competition where you can do exactly what you're going to do in the café. The point of competition is to figure out how to push the envelope and how to be better, and that means doing a lot of stuff that you would never do in a café."
Lem: "There is a correlation – in a café, we sell two things – high-quality hospitality, and a high-quality product. And that's what we do in the competition. I think that translates to what we do in the café. It's just how we do it in the café is a lot different because we've got 100 people in line. In competition, we have four people we can take our time with to create this experience. Where in the café, we're creating 30 seconds-one minute experiences with people. And that's the challenge right there – how can you deliver that hospitality and high-quality product in such a fast-paced environment."
The question of the Geisha – are brewing and barista competitions becoming who can buy the most expensive, beautiful coffees?
Michael: "I stopped writing these on my sheets. They'll say they're using 90 Plus Panama Geisha and thinks it automatically makes their coffee excellent – that's not always the case obviously."
Jenna: "You definitely have an advantage when you're working for a company that is able to support you and has access to exceptional coffees. That is how you will do better, no matter how much heart and passion you have – you're going to hit a dead end. And that is the game."
Lem: "I think it's a barista competition, so we should change the score sheet to focus more on the barista. Let's put more points on the technical score sheet, let's put more points on maintenance, your bar flow, how you're presenting the coffee, instead of putting so much weight on the actually coffee itself."
Sam: "Barista competition has never actually been a financially-inclusive game ever. Doing barista competition is extremely time-consuming. In order to make the time, you need to be able to get paid around barista competition. Being on a salary helps, having a company that's willing to pay you while you're at competition helps. And then you have thousands of dollars in travel expenses. You've got the willingness of your company to either buy a grinder for you or not, to put together training space for you, to buy you the right espresso machine to train on. All of these things enable people to train and compete in a way that allows them to win. All of those things are intensely financially-prohibitive."
Jenna: "I don't think there is any way to make it cost less. I think it's just a matter of finding people who express interest who aren't of this similar demographic, and encouraging them to do so. A lot of people are interested in competing, and don't have the opportunity to do it. But there are companies who are constantly putting people out there. So it's on the companies, I think, to support the people that want to compete."
Anna: "The resources are out there. If you are a barista working in a no-name coffee shop, maybe they really don't care that much about quality. Maybe they don't have the best coffee available. But somebody's who really inspired and really wants to persevere and compete can do it. You have to be resourceful, you have to work hard, you have to put yourself out there, you have to make contacts with people. But anybody can do it."
Sam: "No, it's not the WCE's responsibility, or it's not SCA's responsibility to create a level playing field in competition. Having said that, if they did, the competition would sure be a lot more interesting."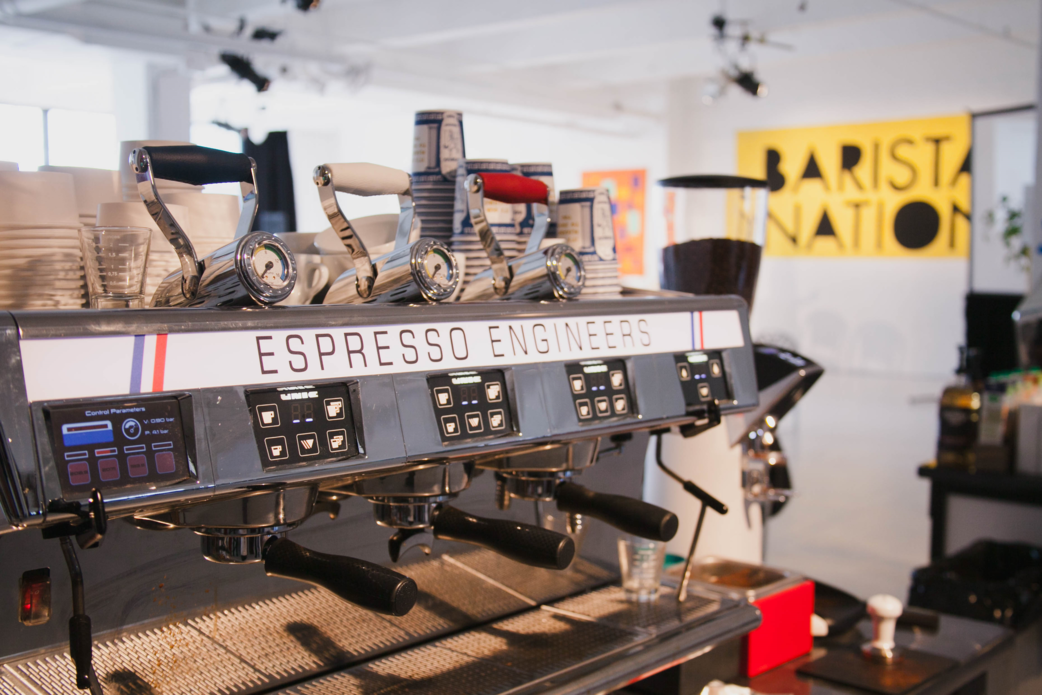 Why Don't We Have a Female World Barista Champion?
Jenna: "Because it's hard to be a woman. It is a factor in competing, it's a factor in the way you are perceived. People who are not men, how they talk is different. And that's going to affect service. And it's the same thing in the coffee shop, and walking down the street. It is not unique to coffee for there not to be a woman. There is no woman who has been president of the United States. This is not special. It is unfortunately regular."
Michael: "I think from a judge's point of view, we're definitely not judging that aspect at all. We're judging what we get taste-wise in the cup, the presentation. But I really quite honestly can say as a judge that I've never been influenced by gender whatsoever."
Jenna: "It's a bias that you don't understand that you have. You do not have control over it. We just finished talking about who has access to these competitions. We'd all be very foolish to think that there aren't so many women who want to do it, but because of these unconscious biases, don't have the opportunity to do it."
Anna: "It's been exciting, because in Austin, I think a third of the competitors were women, which was really great. But we've got to up our odds, we've got to get more women competing, that's the thing. It's about numbers – we need more women we have stepping up and taking it seriously and competing."
Anna: "It's hard to really pinpoint and be able to say if there 100 percent is no bias happening. I can say, as a judge, I truly feel like in any competition I've judged, that I personally look at the work, or I look at what I'm tasting. And that is how I personally score things. So I feel like I'm fairly confident, but who are we really be able to say 100 percent that we're not biased. I don't know what the answer is to that."
Brent: "We fight so hard in those deliberations to make sure that we are judging fairly. We are trying to score as close to the rules and regulations as possible. The way they have been written, and the way that we have simplified the score sheet, allows us to remove, as much we possibly can, any bias that would be there – be it are they using a Geisha, or is this person female, or is this person white or black. We're trying to as best we can judge the drink, not the person. I'm not going to sit here and say that there's no bias. That would be stupid of me to say that there's no inherent bias whatsoever. We try to though, based on the rules and regulations, curb any possible bias that could exist out there."
Sam: "Is there bias in judging? Yes, of course. There are people up there, and we're trying to objectively judge an inherently subjective experience. And anywhere that there is subjectivity in scoring, that's where the room for uninterrogated bias creeps in."
Lem: "I love how this dialogue is really sparking the notion of breaking down these biases. We can continue and keep pushing. My biggest question to myself, and to you all, is where are the brothers at? How many brothers competed this year? None. Why is that? We need to break down these barriers. We need to give access to people who want to be in the competition. I'm just going to continue to do what I do and hopefully inspire people of color to compete."