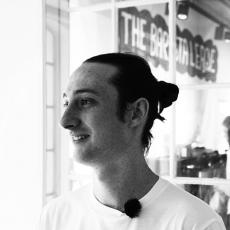 Try Steve's Favorite
Urnex Product
"It cleans everything!"
What is your current occupation and employer?
Da Matteo in Gothenburg, Sweden as a barista, trainer, and working in events.
When did you know you wanted to turn your passion for coffee into a career?
In 2016, after winning the Swedish nationals and starting The Barista League I realised how many awesome people there were around in the industry and how many different paths there were for you if you just work hard to take them.
Who is your coffee role model?
I really appreciate the transparent and non-compromising, no-nonsense styles of people like Tim Wendelboe and Klaus Thompson – but there are so many amazing people everywhere that I have had the chance to learn from it seems unfair to pick one.
What's the best piece of coffee-related advice you've received?
Maybe not advice per se, but my first competition coach Emil Eriksson used to just continually ask me 'why?' I think being constantly self-critical and asking yourself – why are you doing this and is this really the best you can do – is something that keeps driving me to be better.
How did you first decide to compete in a coffee competition?
All the founders of the first roastery I worked for were previous Swedish champions, so I didn't feel like I had a choice with so much experience and help around me.
How many coffees did you taste before choosing one for the national competition in Germany?
My first two years of competing I swapped coffees in the last week before competition - stressful. This year I only decided to compete when I first tasted my competition coffee, so just one.
List all the national and world coffee competitions have you competed in.
2015 Swedish Barista Competitor
2016 Swedish Barista Champion
2016 World Barista Competitor
2017 Swedish Barista Champion
What is your favorite Urnex product?
Cafiza – it cleans everything!
What is unique about coffee culture in Sweden?
The culture here is very focused on brewed coffee and very much on the fika phenomenon. So instead of an early coffee on the way to work it is more common with a late afternoon coffee, cake and social catch up with friends.