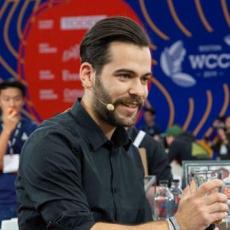 Try Michalis's Favorite
Urnex Product
"I love Biocaf! Not only because of its cleaning power, but also because it is all-natural!"
What is your current occupation?
I am the co-owner of The Rabbit Punch coffee shop in Greece.
List all the coffee competitions you have competed in.
World Barista Championship 2019 2nd place
Hellenic Barista championship 2019 1st place
World Coffee in Good Spirits 2016 1st place
Hellenic Coffee in Good Spirits 2016 1st place
How did you get into the coffee industry? When did you know you wanted to turn your passion for coffee into a career?
I started working as a waiter in 2007 to earn some extra money. But I met friend who was a barista, and I started learning more things about the coffee world. So in 2009, I started working as a barista! In 2011, I made the decision to stop with my studies as an electrical engineer and I turned my career to the coffee industry. I loved my job as a barista, and that's why I postponed all others!
How did you first decide to compete in a coffee competition?
It was a team decision and one of my dreams! Tasos helped me with my training and support. Challenging myself everyday with training is one of the best feelings I have ever had, and I cannot imagine myself without it!
You finished in 2nd place at WBC last year. What did it mean to you to have such success in your first time competing in WBC?
Representing Greece for me is a great honor!! Barista competition is so unique. In my mind, I wanted to be 100% ready as a barista to be there. But the key of my success was to work hard every day and my team! I am so proud for my country and my team to get the best place that we have ever had at WBC. No matter if we are a small country, we are making an impact in the coffee industry, and this is very nice for the Greek community.
Do you think your experience competing at and winning the 2016 World Coffee in Good Spirits Championship helped you succeed at WBC?
For sure, my competition in 2016 helped me to gain a lot of experience! That's why after WCIGS I tried to be on the other side of the stage as a judge of some national competitions to understand the meaning of be competitor in general.
What is the best coffee-related advice you have received?
Don't be thinker ... you have to be doer!
You're a co-owner of The Rabbit Punch in Athens, which serves coffee, cocktails and brunch / lunch. What inspired you to start an establishment with so many culinary focuses? What are the biggest challenges that come with that variety of services?
Customer service is something that I am really passionate about. It's not about who you are, but it's about making your customers happy every day! By serving them quality products and making their day better, you are always happy to explain everything to them. The biggest challenge is to pass your passion about coffee to them and give the full experience of a good cup of coffee.
Describe the importance of cleaning or clean equipment in making the best coffee beverages?
One of my addictions is the clean equipment! I can't work with dirty equipment, and we will never taste the best quality of our products if we are not cleaning our equipment every day!
What is the funniest/most memorable experience you have had at a café?
Being with my parents in a specialty coffee shop and explaining to them what I am doing haha
What is your go-to beverage order at a café?
Espresso first.
What is your favorite origin country, region or farm?
I like all the origins, but right now I really like coffees from Panama.
What is unique about coffee culture in Greece?
The culture of freddo is something so coooool! Freddo is cold espresso served over ice. I think everyone has to try it!
What is one specialty coffee trend you would like to see gain popularity this year?
I love cold coffee! This is what I would love to see. Cold espresso like freddo in Greece.
Where do you see yourself in 5 years?
I don't know the future, but for sure I would love to follow my dreams no matter what! I would love to do more with coffee and to pass the boundaries of specialty coffee!