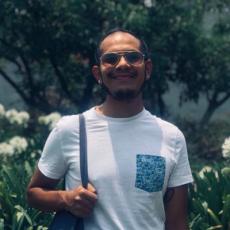 What is your current occupation and employer?
I am a barista trainer for Etrusca Comercial in Mexico. Café Etrusca is a very versatile and multifaceted company. I love that we are never still, there is always somewhere to go, something to do and of course something to learn. And I love that I have the opportunity to learn more about the coffee shops of my beloved country.
List all the national and world coffee competitions you have competed in.
- Barista Championship of Mexico 2009
- Barista Championship of Mexico 2010
- Barista Championship of Mexico 2011
- Barista Championship of Mexico 2012
- World Barista Championship 2013
- Brewers Cup of Mexico 2014
- World Brewers Cup 2014
How did you get into the coffee industry? When did you know you wanted to turn your passion for coffee into a career?
I started working at the cafe out of necessity, since I had to work to pay for the expenses of my studies. But once I took my first espresso course, and could make a better cup of coffee with my training and a more refined technique, I knew I wanted to work and live with coffee.
What's the best piece of coffee-related advice you've received?
Never be afraid! Sometimes things do not go as planned, but it is always important not to be afraid, try again and again until you get the desired result.
Who in the coffee industry has served as an inspiration to you?
WBC Champions James Hoffman and Alejandro Mendez, and of course my boss Arturo Hernandez.
What's one piece of advice you could give that would help make an average barista become a great barista?
The first thing is to love coffee! Be passionate and find what captivates you and motivates you in coffee. Follow your dreams, no matter how big and hard they look. If you think about it and really want it so much, nothing is impossible! Train your senses and train your skills, like a great sportsman who trains for hours and who breaks their own marks. Demand more yourself always!
As a barista trainer, what is your favorite topic within coffee to teach your trainees?
Definitely the optimal extraction of coffee is the topic that I like the most. And the cupping of coffees. In this way, students can learn to differentiate quality coffees from commercial coffees and can understand the good preparation of their coffee.
Describe the importance of cleaning or clean equipment in making the best coffee beverages.
The importance of cleaning equipment is essential for many reasons. To keep the equipment in optimal conditions. Extend the useful life of our coffee equipment. To be able to taste the maximum potential of our drinks without additional flavors due to a lack of cleanliness. And to eliminate the bitter taste in our drinks.
Cleaning speaks volumes about our work. As well as the respect we have and give to our profession. Respecting the value of our coffees and drinks. From the work of the producers, roasters and valuing the loyalty of our clients, it is our responsibility and it starts from a cleaning of our work area and equipment.
You have been a barista competitor and coach: which one did you enjoyed more?
I have always liked both! Each of them has its exciting part. But if I had to choose, I would stay as Competitor Barista. I love being able to give a presentation of something new for the judges, and to give the opportunity to try a unique coffee and to have a unique experience.
What do you think has been the most exciting discovery or development in the coffee industry in the past year?
I don't know if it's a discovery from this past year, but working with slow and prolonged coffee fermentations to achieve an exotic profile is quite exciting. Also, the development of biodegradable products for use in the cafeteria. Lastly, the implementation of coffee varieties in the cultivation systems and machinery to select the degree of maturity in the coffee cherry.
What is your favorite Urnex product and why?
First is Cafiza, because it is very versatile and effective. It is important to have a clean espresso machine to make a good coffee. Second is Grindz, because it helps a lot to have a more accurate grind size, and it keeps the millstones clean.
What makes coffee culture unique in Mexico?
As a coffee producing country, Mexico has a lot of diversity and variety in cafes. The traditions are very different in each region, but the quality of the service, and a great smile, are characteristics of the people that love coffee in Mexico.
What is one specialty coffee trend you would like to see gain popularity this year?
Due to the current conditions worldwide, I would like the trend of quality coffee consumption at home to gain place and position vs. commercial coffee. Achieving consumer awareness at home by using local roasteries will be the best ally of small coffee shops.
What is your go-to beverage to order at a café?
It depends: if I know the bar and I've have had their coffee before ... espresso! But if I do not know the café, and I do not know how they prepare their coffee, maybe first I ask for an infusion.
What is your favorite origin country, region or farm?
Uuuyyy… surely the first one is from Mexico! Spinal Farm Garnica by Juan Gabriel Orduña! I do not know if I have a favorite overall. But coffee from Ethiopia seems spectacular to me. And Kenya! And I love the cafes of Panama.
Outside of coffee, what do you do for fun?
Going out with my family, riding my bicycle, fixing my garden and my plants, and cooking make me very happy and that I enjoy a lot.
What is your favorite brew method at home and why?
V60. It is very functional and fast, and the coffee prepared is very delicious, especially when shared with family or friends.
Where would you like to be and what would you like to be doing 5 years from now?
I would like to have my own coffee company, and continue working in my current company since I love my work and the growth that I have had in it.